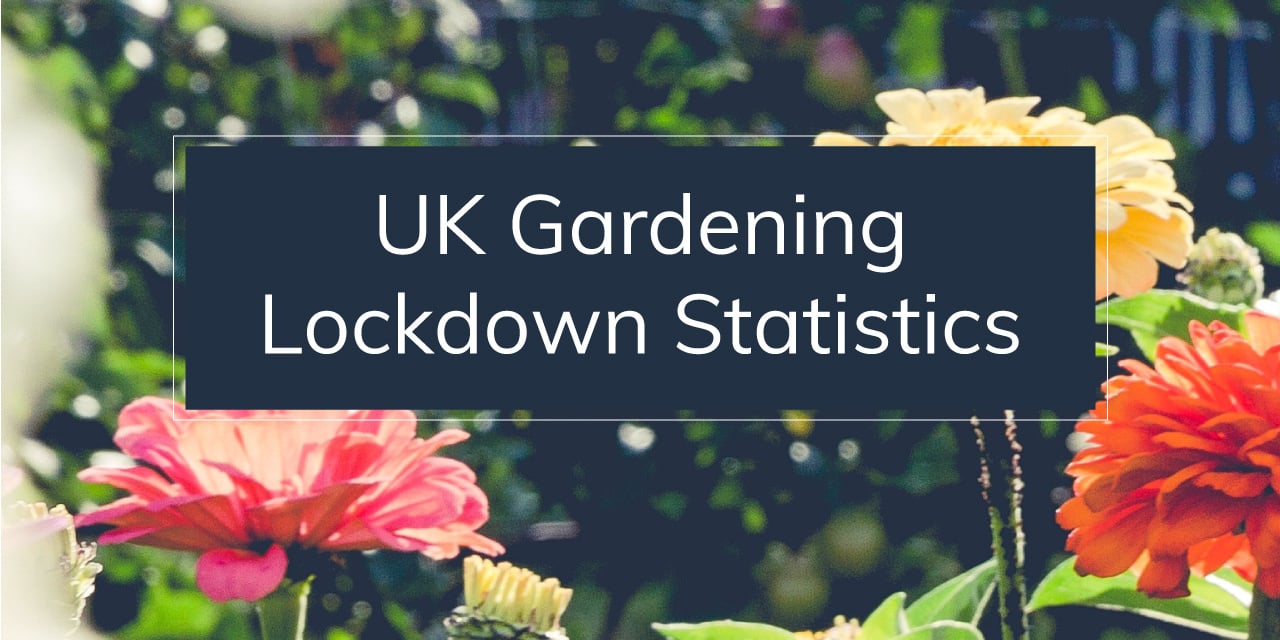 In September 2020, we decided to conduct a piece of research to find out whether the UK lockdown had given Brits the green light to become gardening fanatics. With households locked into their own homes, with an allowance of just 1 hour of exercise per day, people had the option of staying indoors or making the most of whatever private outdoor space they had. So, we asked whether people had spent more or less time in their garden during the lockdown. The research that we found brought up a few surprises, so read on to gather all of your gardening statistics.
WHO DID WE SURVEY?
We asked 650 people from across the UK from all age groups to ensure we had a wide variety of responses. From young to old and from England to Northern Ireland we wanted to know whether who had spent more time in their garden and whether the national lockdown had really made that much of a difference to our gardening habits.
We conducted the study using Google Surveys, doing this meant we could have a quick turnaround on the stats as well as having the stats broken down, so we can dive into all of the data.
WHAT WE FOUND
As previously stated, we asked people from across the UK and didn't restrict any age ranges from answering our questions to ensure we received a balance report.
The report brought back several interesting finds, including how people in England had spent more times in their gardens than the other three nations (Scotland, Wales and Northern Ireland). But what about the more important findings, like which of our age ranges were gardening more and we'll also look into the benefits of gardening and why we should all be spending more time outdoors.
According to our data, 77% of the people we asked in the UK were gardening more or the same amount as before the lockdown began. Which is really great news, as not only does this mean we're getting more Vitamin D from the sun, we're also reducing our stress levels, which right now, is more important than ever.
93% of women said they were now gardening more or the same amount as before the UK went into lockdown, which really does come as no surprise, as on average women tend to garden more than men, according to our friends over at Ask Wonder.
What was a surprise though, was that of the 93% of women who answered it was the 18-24 year olds who were gardening more. As the research they had conducted showed an average female gardener was aged 55, so does this mean that a younger demographic is taking up horticultural hobbies.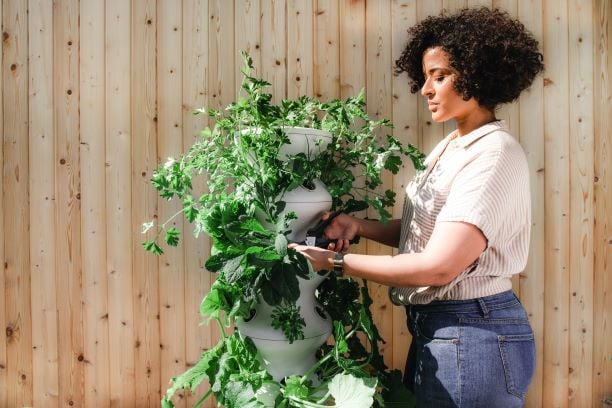 The same however cannot be said for men in the same age bracket, as only 8% of the 18-24 year-old males had been gardening more than they would normally, slackers!
74% of the younger UK population, aged between 18 and 24 said they had been gardening less than before, but with one in eight UK households not having a garden or private plot, this huge figure isn't such a surprise. The office for national statistics has dug up (pardon the pun) some interesting figures about the UK's gardenless households, with London holding the title of the most households without a garden, with one in five having no outdoor space.
Only 9% of the people we asked were gardening less, so it is true, the UK has gone mad about gardening. Overall, with people gardening in the UK more than they were before the lockdown its fair to say that we need quality time outdoors to live happier and healthier lives.
So, what is it about gardening that the UK love so much? It's fairly well documented that the outdoors reduces stress and increases your exercise levels, did you know you can burn up to 400 calories per hour just by pulling weeds and planting flowers! That's a whole lot of calories for very little work. Those of you who live in the UK will know sunny weather isn't something we have much of, so when it does come out so does our taste for gardening. With sunlight providing a source of Vitamin D its good to get out and get fresh air, especially when you're limited to going outdoors with the restrictions we've had.
Although it isn't surprising that people gardening in the UK increased during the lockdown it is surprising that younger women got stuck into their gardening more than anyone else did. Here at Rattan we always encourage people to go outdoors in their gardens whether it be to relax or to look after their patch, so everyone looks after themselves and the planet.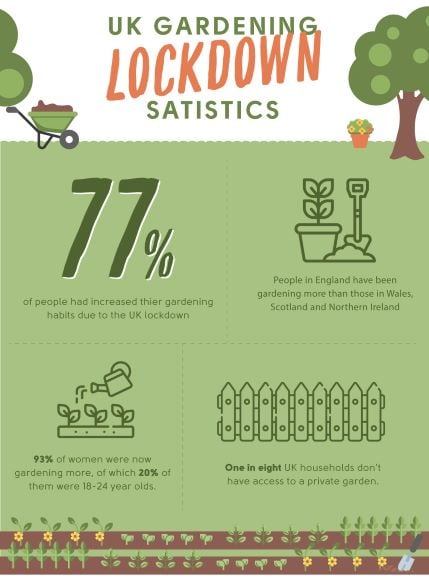 UK Gardening Statistics breakdown
77% of people had increased their gardening habits due to the UK lockdown
9% of people were gardening less, so our friends and neighbours have all become expert gardeners during the lockdown
93% of women were now gardening more, of which 20% of them were 18-24 year olds
One in eight UK households don't have access to a private garden
Enjoyed reading this?
Sign up for our emails below, so we can send you blogs on gardening tips, as well as updates on our sales, so you don't miss out on those garden furniture bargains!