Rattan Garden Furniture Categories
Our Most Recent Endorsements
Finance and Credit Options
Wondering where to buy rattan garden furniture? Well, with our two finance offerings we enable you to spread the cost of your purchase over six or ten months, with 0% APR and no deposit through our finance options. Our interest-free finance packages allow you to relax on your furniture without having to worry about the cost.
Price Match Promise
At Rattan Direct we guarantee we will not be beaten on price for any of our furniture. Our price match promise covers our full range, so if you find rattan furniture in stock cheaper elsewhere, we are more than happy to match it!
Be Inspired with our rattan furniture blog
Keep up to date with the latest news, style tips, guides and more with the Rattan Direct Blog.
About Us
Browse our modern rattan garden furniture at Rattan Direct, and find affordable, stylish and long lasting rattan collections. We design our products in-house so we can combine our love for furniture with on-trend looks. We've been treating the globe to our furniture sets since 2006. Our extensive range includes everything from
rattan sofa sets
, perfect for lazy days to rattan dining sets that make al fresco dining extra special, or how about
rattan fire pit dining sets
, ideal for entertaining. Need we say more? We want the UK and beyond to enjoy their garden, and you'll do so with our affordable rattan garden furniture. So, explore our ranges and find something you love.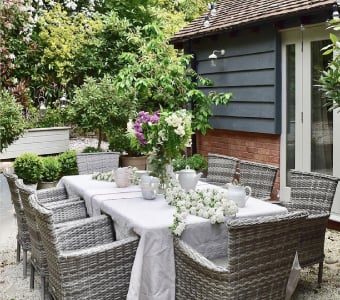 Unique Designs
Bespoke rattan furniture products for you to enjoy in your garden. Designed in-house, our contemporary rattan sets come in a range of styles to suit a large variety of garden spaces. Our functional module furniture sets can be adjusted to fit neatly into your garden, and the natural weave will blend into your outdoor space.
Ranges of Colours
Flick through our website to find a collection of rattan furniture styles in a range of colours. Whether it's a contemporary black rattan set with a clean vanilla cushion sat on top. Our stylish pieces of furniture have a variety of contemporary colourways including double flat grey and chocolate. Our premium truffle weave with champagne cushions, will bring an elegant look.
Maintenance Free
Our furniture is stylish, unique to you but most importantly long lasting and maintenance free. Our aluminium frame is powder coated, which will prevent rust building up on your set. We offer a FREE outdoor cover on our garden sets, for an added protective layer. 2-year guarantee against the cracking or fading on our synthetic weave, which ensures you're purchasing a quality rattan product.