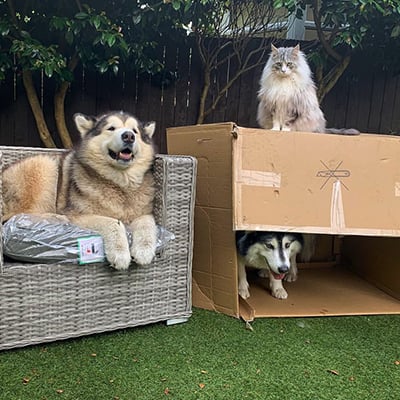 Rattan Clean & care guide
This care guide is here so you can make the most out of your furniture. Ensuring it has a long lifespan, you'll need to know how to care for our products. With a range of products with varying levels of maintenance needed, this product care guide gives you all the tips and tricks to keep your furniture in pristine condition.
How to clean rattan furniture
Follow these steps to clean your rattan furniture:
Use a handheld vacuum or a brush attachment to remove loose dust and soil.
Use a toothbrush, cocktail stick or any other fine tool to remove stubborn soil or debris.
Using a bowl of warm, soapy water or a garden hose, remove all soil and debris and scrub thoroughly.
Collect only the bubbles with a soft cloth and wash the rattan surface with this.
Use a toothbrush to apply the bubbles to cracks and crevices.
Place the furniture outside in the sun, or a well-ventilated area and allow it to dry thoroughly.
How to care for rattan furniture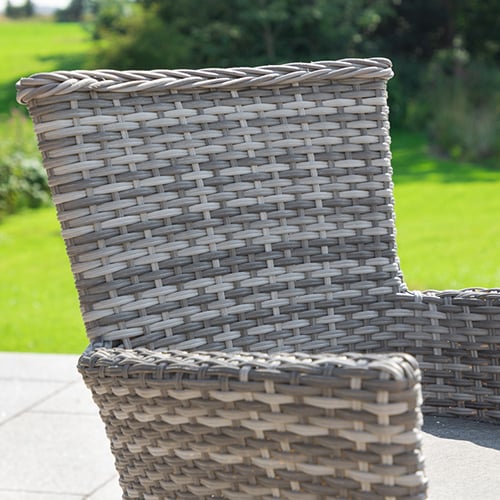 How long does rattan furniture last?
Synthetic rattan furniture can last as much as 20 years outdoors, even if left out all winter. This is based on whether the furniture is made form strong aluminum frames. And also, if the weave is strong and covered in a UV protective coat.
All rattan is weather resistant and relatively easy to clean and maintain, but as with any well-made furniture, a little TLC goes a long way. Here are a few wicker furniture care tips which will help your furniture look its best throughout its long life.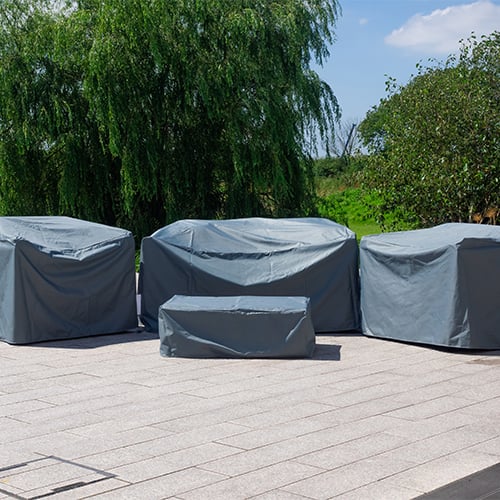 Garden furniture covers
The most effective way to keep your garden furniture looking beautiful is to cover it, both during the winter months and whenever rain is expected. These covers are readily available from many different manufacturers and can fit almost any piece of outdoor furniture. The best garden furniture covers are made of polyester with a PVC backing and water-taped seams. As this type is both showerproof and breathable, they are ideal for furniture made of rattan and other natural materials.
Store cushions
Most outdoor rattan furniture cushions are 'showerproof', not 'waterproof'. This means that if they are allowed to become sodden, they can become mouldy or discoloured if left out for long, especially in cold weather.
Avoid direct exposure to the sun
The second key to garden furniture protection is minimizing its exposure to the sun's harmful UV radiation. The same energy which can give you a sunburn can bleach or even weaken the material of your garden furniture. This is especially true for synthetic, plastic-based materials but holds true even for natural rattan.
Rotate Chairs
There will inevitably be one part of your garden, patio or outdoor space that receives more sun or weather than other areas. These factors contribute to some pieces of your furniture getting more wear than others. Simply rotating your chair positions, like the tyres on your car, can help them wear evenly and extend the life of the set.
Moving furniture properly
Rattan garden furniture is both light and sturdy, ensuring a long life span, as well as being easy to move around your garden. However, this can encourage users to be very cavalier as to how they pick up and move the pieces. If you aren't careful, you can still damage the woven material. Be sure to pick the pieces up only by their frames, and never by the woven panels.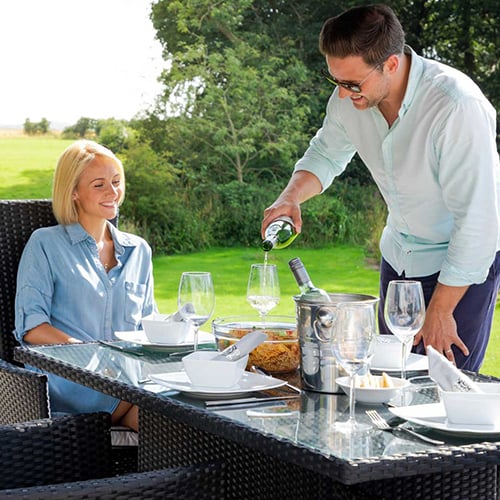 Clean up spills immediately
You're probably wondering how Rattan garden furniture lasts so long. Well, if you clean your rattan furniture regularly, you can expect it to last for upto 20 years. If any liquid spills on to the piece, clean it immediately with a damp cloth. Nothing more should be needed, and there should not normally be any permanent stain.
Click here for tips on cleaning your furniture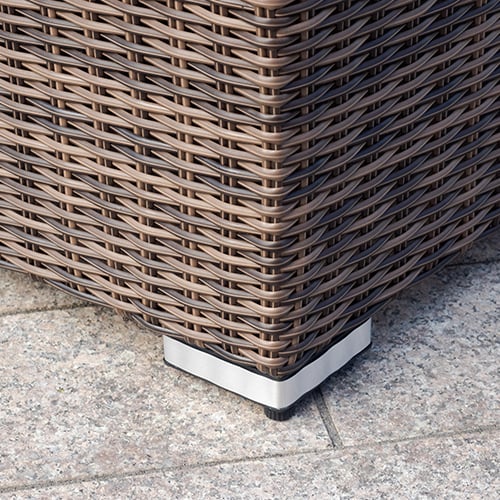 Protecting furniture feet
When people think about how to preserve wicker furniture, they often over look the pieces'feet. Depending on the design, these might be plastic, wood, rattan, or even waterproof powder-coated steel. Make sure the feet are not dragged across concrete or pavers when you move the furniture and keep them as clean as the rest of the piece. You shouldn't need to do much more than that.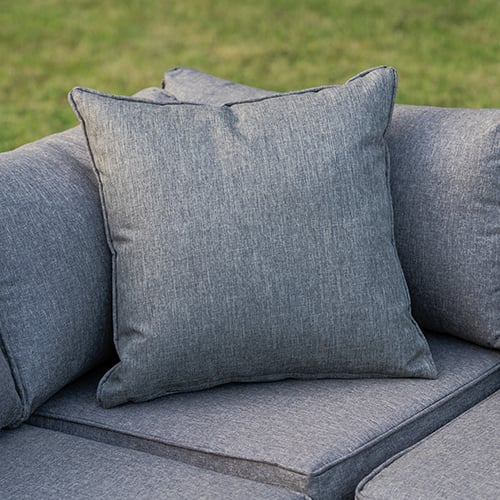 Use cushions or pillows
Another aspect of rattan furniture care that is often overlooked is the use of cushions. Cushions are not fitted purely for the user's comfort, but also to extend the life of the chair. Wallets, cell phones, keys, pens or other objects carried in the pocket can press sharp angles into the woven surface and damage it. Cushions spread the pressure out evenly, and place much less stress on the material. Our outdoor cushions are also shower proof. So, if it does start raining, you don't need to panic, although we do recommend bringing them inside, so they stay protected.
Repairing or restoring rattan furniture
Rattan furniture restoration isn't tricky, and by following the steps below, you can restore your furniture quickly. Here are the basic ideas you'll need to start refurbishing rattan furniture:
How to fix splits and cracks
Rattan can become dry, split and cracked over the years, but it can still often be saved. We recommend applying boiled linseed oil once a year for this purpose. Use a large paint brush and use as much oil as the rattan will absorb. Then just wipe the remainder away with a soft rag.
How to paint rattan furniture
We find that the easiest method is to use spray-paint. Clean the item and let it dry. First, apply a thin primer coat, and then 2-3 thin layers of your chosen colour. Be sure to allow the paint plenty of time to dry between coats.
How to refinish rattan
Another way to restore rattan furniture is to refinish it. As always, begin by cleaning the piece and letting it dry completely. Apply a 'liquid sander' as rattan is all but impossible to sand normally. If you are applying the same colour finish as before, use two thin coats and allow to dry again between coats. If you are using a different colour, you may need to use substantially more layers to get the desired effect.
So now you know the basic techniques you'll need to clean, maintain and even restore your rattan furniture. Keeping and occasionally refinishing your rattan garden furniture will significantly increase its life-span, and make your garden seem that much more welcoming to guests and your own family alike.
So, now you know a bit more about rattan in general, and what to look for when buying rattan furniture. Choose wisely, though, as a good set of rattan garden furniture will last you many years!
Still have questions? Give us a call on...

0161 408 0494