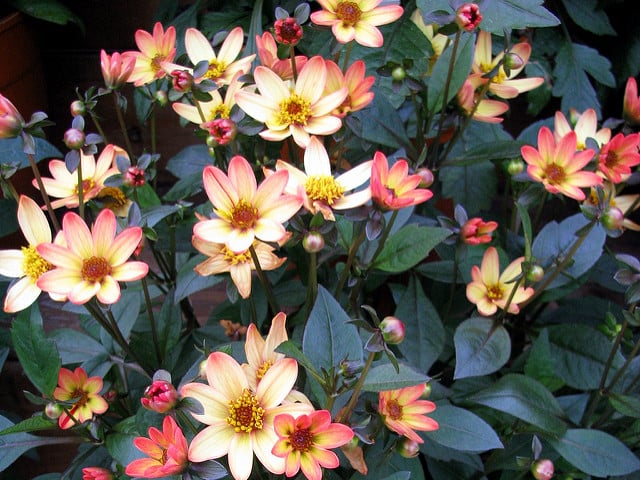 It's the August bank holiday in England, Wales and Northern Ireland and, as is traditional, the weather picture is mixed. Here are three tips for what to do in the garden this bank holiday . Do what you can – it all makes a difference.
1. Be in the moment
You know how the house looks cleaner and more cared-for if you vacuum the floor? The garden is the same, so just get out the mower and do the grass.
Now you're in the mood, trim the hedges.
Nip round quickly and weed. Focus on getting rid of annual weed seedlings like chickweed and nettle, and pernicious perennial weeds such as couch grass, bindweed, dandelions and ground elder. I leave seedlings of biennial flowering plants as they will provide flowers in the spring for beneficial insects, which help to keep common pests under control.
Pull out annuals. Deadhead flowers (dahlias, cosmos and pelargoniums, for example) as you go – this will encourage more flowering into September.
2. Look forward and take action
Your containers could be looking a little bare if the annuals are over or almost over. You could replace them with pot chrysanthemums. They'll be great until the first frosts and if you bring them inside they will flower for a couple more weeks. Winter flowering pansies or the hardy flowering heathers will also look good. Daisies and wallflowers are good for winter bedding in the flower beds, and will burst into flower in the spring.
Sow hardy annuals directly into the ground. These are summer-flowering plants which will flower earlier if you sow them now. Try these which will not need any protection over winter: pot marigold (Calendula officianalis), cornflower (Centaurea cyanus), larkspur (Consolida), flax (Linum grandiflorum), love-in-the-mist (Nigella damascena), honesty (Lunaria annua).
What about something to eat? Sow winter salad leaves now. Try lettuce, lamb's lettuce, mizuna, pak choi or any of the others listed in our blog. Experiment, try it out!
And for Christmas! Plant up pots with 'Paperwhite' narcissus bulbs for fragrant indoor displays or presents this Christmas.
3. Look back and reflect
This tip requires a chair and possibly a drink. Ponder what's worked well in the garden so far this year and what you could try out in the future. Congratulate yourself.
I'm particularly pleased that I bought a couple of borage plants at a plant sale in the spring. They filled a gap when some other plants failed (long story) and bees love them. The sweet peas have also been amazingly good, so it was definitely worthwhile growing them from seed on the cool bedroom window sill over the winter.
Have a lovely bank holiday.
Enjoyed reading this?
Sign up for our emails below, so we can send you blogs on gardening tips, as well as updates on our sales, so you don't miss out on those garden furniture bargains!