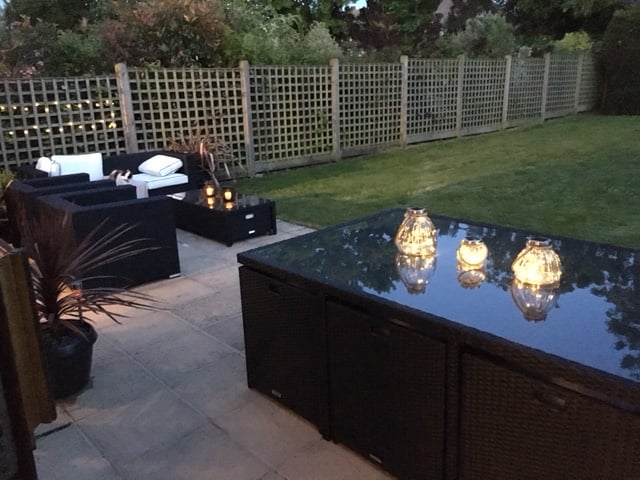 We've had a taste of fantastic weather over the last week or so. It's definitely been nice enough to sit outside and even sunny enough to catch a bit of sunburn. A parasol is part of the prescription for avoiding sunburn, and for sitting outside – look no further for recommendations of what will suit your outdoor space.
On the balcony
Although balconies vary in size they tend to be on the petite size. If there's room for a chair and a table, take a look at our sweet balcony sets.
The Rio and Roma ranges are simple and good looking, and the Orlando garden vase set stacks away into ... a vase, saving space where it's needed.
Your outdoor space is a small courtyard
Choose a bistro set if you don't have much room for seating or dining in your courtyard. Have a look at the Cambridge Garden Bistro round set or the Cambridge small round table set.
If your courtyard's a private suntrap then you could stretch out on a Cambridge sun lounger to match.
And the rattan garden pots will fit in quite nicely! They come in a set of three and are available in four colours: black, chocolate mix, truffle and grey. Just add a few jungly plants and you could be on holiday!
Out on the deck
The deck is somewhere comfortable to relax. The weather being what it is, you'll need showerproof cushions but we've got that sorted as all our cushions are showerproof.
The Florida range is boxy and minimalist and the seating is super soft. It's also modular so you can fit it together to suit your requirements exactly.
The deck's a great place for eating alfresco. Near enough to the house to bring out bowls and dishes and platters easily and not too far to make it a trek each time. We've got everything you need to make your choice of tables: small, large, round, square or rectangular? And your choice of chairs: upright, reclining, thick cushions perhaps?
Have a look at the Cambridge dining sets for a great Sunday lunch or dinner party. And the Barcelona cube set for a more contemporary solution.
Any of these will make your outdoor space much more usable.
Large garden
With a larger garden you can move away from the house and spread out a little. It's a lovely idea to place a sofa set where you can admire the garden. We've got quite a choice and each garden piece is available separately so you can create a combination that works just for you.
And poolside?
Sun loungers, obviously. A side table always helps and there's one in every sun lounger set.
Over to you – relax alone, socialise or entertain. Whatever you choose, enjoy your outdoor space!
Enjoyed reading this?
Sign up for our emails below, so we can send you blogs on gardening tips, as well as updates on our sales, so you don't miss out on those garden furniture bargains!