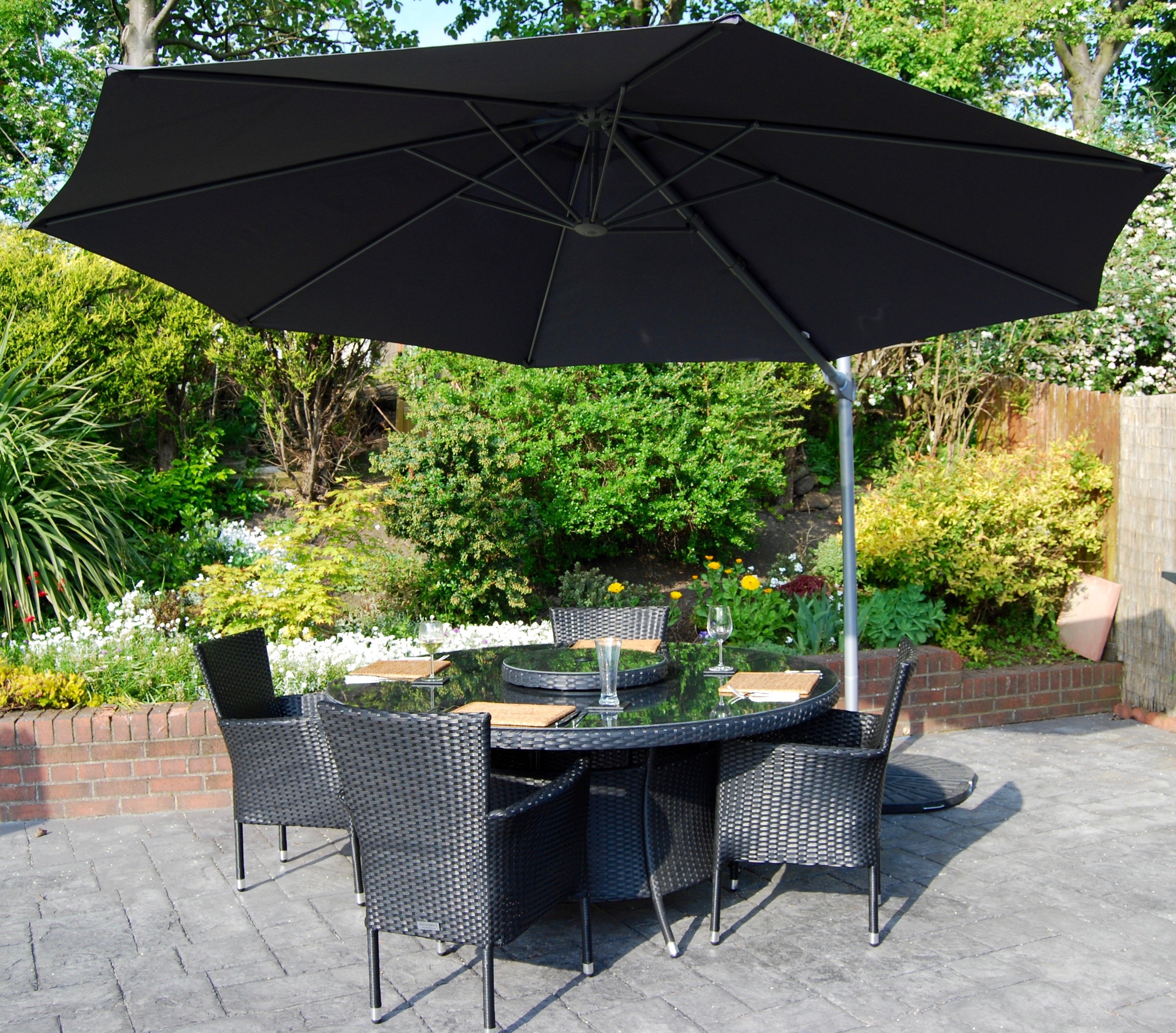 It's remarkable how useful a garden parasol can be and how it adds a sense of fun and occasion. It's essential for relaxing around a shady table enjoying a long and leisurely lunch. And it's such a relief to cluster under the parasol, sheltering from that sudden summer downpour.
What can a garden parasol do for me?
It gives you the option of having a break in the shade and cooling down a little with a long drink. Spending time in the shade between 11am and 3pm is good for your skin.
A parasol cuts down glare so you can stop screwing your eyes up and relax.
Any delicious food on the table is likely to remain delicious for longer.
A garden parasol will shelter your guests from an imminent soaking. A garden parasol has saved many a dinner party and it could save yours!
Would a market parasol suit?
A market parasol provides shade and a sense of fun in spaces like small patios and some balconies. Arrange a table decoration around it, such as a circular succulent pan or a small flower arrangement and you're sorted!
At present, if you buy one of our outdoor dining sets, you'll receive a free parasol too. Then you'll be in pole position for sunny days and alfresco dining.
Or perhaps a cantilever parasol?
A cantilever parasol is the market parasol's big, sturdy and three-metre-tall cousin, and has a different design. The canopy appears to hang with little support, being cleverly attached by its side to a freestanding pole. The counterweight is provided by a heavy base, either a quality plastic base which can be filled with sand or a separately available granite base and individual weights.
Sturdiness and good quality is built into this design, and little maintenance is required. The frame is aluminium so there's no need to be concerned about rust. The parasol itself has eight ribs which make the canopy reliably rigid. It has a smoothly operating crank system (fun!) and extra tilt function (fun!) which will tilt the canopy to a 45 degree angle, left or right. The canopy is available in chocolate and cream or just black. It is removable and can be machine washed.
At present (February 2017), there's £150 off the fabulous cantilever parasol when you order a garden sofa set or a garden cube set. If you move now you can finalise your outdoor seating arrangements at a good price. You'll be relaxing whilst the rest of the crowd are still trying to get their ideas together!
Enjoyed reading this?
Sign up for our emails below, so we can send you blogs on gardening tips, as well as updates on our sales, so you don't miss out on those garden furniture bargains!