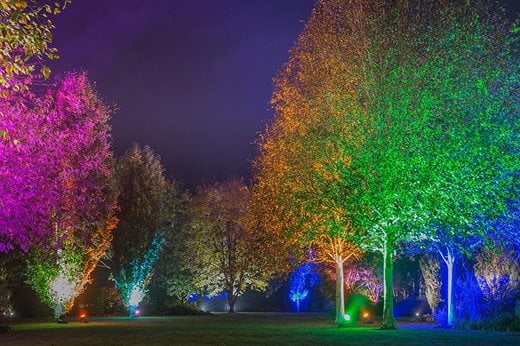 We need light in the garden more today than ever.  21st December is the winter solstice and, in the UK, that means we have the fewest hours of daylight of any day in the year. It's commonly called the shortest day of the year. The good news is that after the winter solstice daylight hours increase, gradually but noticeably, over the coming weeks.
Create more light in the garden
The time of sunset is still too early for most of us to get outside after a working day, unless it's with a good torch, street lights or lights in the garden. I know it isn't the weather for sitting outside but a brief walk or just being outside, even for a short time, can be just what you need and want to wind down at the end of the day. And you don't have to go outside to benefit from light in the garden. If you have visited any of the National Trust, RHS or other winter garden 'Illuminations' you will know how and why light in the garden can cheer you up. At Christmas, many people add outdoor lights to trees, houses and chimneys - and these welcome lights raise spirits and a smile. But we need light that is less, well, Christmassy, for much longer than this festive season.
Choosing lights for the garden
Garden centres and DIY shops are full of different garden lights: mains, battery or solar powered; LED or fluorescent; remote controlled or sensors (often abbreviated to 'PIR' lights). There are lights on spikes in the ground, hung from trees and fixed to walls. Each and all can make a huge difference to the look and feel of the garden, inviting you out and to explore, lifting your spirits and making you smile as you enjoy an illuminated corner or plant. But it is hard to know where to start.
Good sources of ideas and advice are specialist suppliers or DIY superstores with in-store advisers, like B&Q and Homebase, which offer advice online and local garden centres. To get you started here is a quick tour of what works in my garden on this, the darkest of days, and throughout the year.
Fixed mains-powered wall PIR lights guide me from the gate to the door and to my garden shed (and on to a seat where I can enjoy a quiet cup of hot chocolate....)
Solar-powered ground lights mark the route through the garden to the compost heap
Small uplighters show off a few special plants and shine on the bark of my new silver birches
A floating battery-powered LED light in the pond makes the fountain sparkle and shimmer.
Tomorrow - I am going shopping for some festoon, garden party or string lights (not only for parties!) to lead my eye to the end of the garden and, lifting my spirits, up into a lovely old tree.
And I might buy some lights to add to dodgy steps and make the journey to the shed a little easier and more inviting.
My top tips for garden lights
LED bulbs last a very long time, are good value and easy to care for.
'PIR' lights that turn on and off automatically in response to movement or light levels are good for security and safety.
Solar-powered lights add ambience and a 'feel good' factor, but on overcast days don't do much to light the garden so use them where you want a patch of soft light.
Mains-powered lights must be installed by a suitably qualified electrician.
Battery-powered light 'kits' are generally easy to use.
Add light colours in plants and pots
Light colours are easier than dark colours to see at dusk, dawn and in twilight. Choose plants with yellow or grey leaves and put them where they will catch the last rays of the setting sun. Plant trees and shrubs with light silver or green bark. And treat yourself to some of the earliest flowering Christmas roses (Helleborus niger) you can find.
Light coloured pots, paths and gravel help too. Away with black: for winter, choose cream, grey or silver.
Beware!
Light pollution is a problem for wildlife.
Whatever you do and however you do it: adding light in the garden makes the most of your garden and helps cheer a grey day. Perhaps I might just buy an illuminated reindeer ...
Enjoyed reading this?
Sign up for our emails below, so we can send you blogs on gardening tips, as well as updates on our sales, so you don't miss out on those garden furniture bargains!