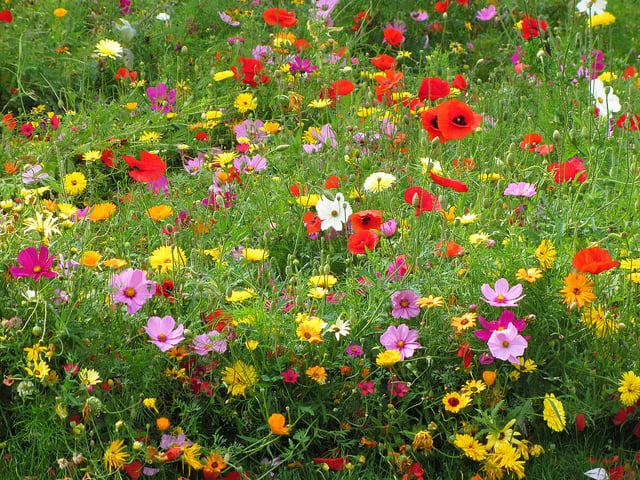 World Environment Day is on 5th June and it's all about connecting people to nature. Get outdoors and into nature, appreciate its beauty, and think about how we're part of nature and how intimately we depend on it.
Do you have a garden or any outdoor space at all? Here are four ways of connecting yourself more closely to nature. Each one has a little magic associated with it.
Make garden compost
Why? Gardens are living things and need to be fed to keep on growing, flowering and producing. Garden compost does this job – it's very high quality homemade fertiliser. It also improves the structure of the soil, helping roots to grow and conserving water.
How? Many of us have Dalek compost bins from the council or you can make your own very easily from pallets. Once you've got your bin, making compost is a very straightforward thing to do. Put in layers of vegetable peelings, grass clippings, hedge clippings and single sheets of newspaper. Wait for a few months. Turn the heap from time to time and don't let it dry out. Take out beautiful, clean smelling and very valuable compost.
The magic? Worms just appear, as if from nowhere. And worms are a gardener's best friend.
Be an organic gardener
Why? You'll limit your exposure to pesticide residues (that's good for your health) and you'll encourage and protect wildlife (that's good for the environment).
How? Improve your soil and make your own compost (we covered that above!), choose naturally disease-resistant plants and patrol your garden for problems. Learn to live with imperfections. If you need more reasons, find some here.
The magic? You'll feel good, however much or little you do.
Create wildlife habitats and keep them going
Why? Your garden will slot into the mosaic of linked natural havens stretching across the entire country. The more pieces in the mosaic, the better it is for the environment.
How? Make sure you have plants which attract bees and butterflies, dig a pond, build a log pile, a bee hotel or a toad abode. Put up nest boxes and bird feeders. More ideas here.
The magic? Your garden will become a fascinating and even more pleasant place.
Observe and identify the plants and wildlife in your garden
Why? You'll be continually learning about how nature works, and gardening will be easier and more fulfilling. And you'll be spending more time with beautiful things.
How? Sit quietly and watch. Watch closely. Do it lots. Buy an identification book or two to help you out. Use the Great British Bee Count app or take part in the Big Butterfly Count or contact your local wildlife trust.
The magic? You'll find yourself relaxing.
Connecting more closely to nature through your garden is a year-round thing. It's also a great way of taking part in World Environment Day!
Enjoyed reading this?
Sign up for our emails below, so we can send you blogs on gardening tips, as well as updates on our sales, so you don't miss out on those garden furniture bargains!