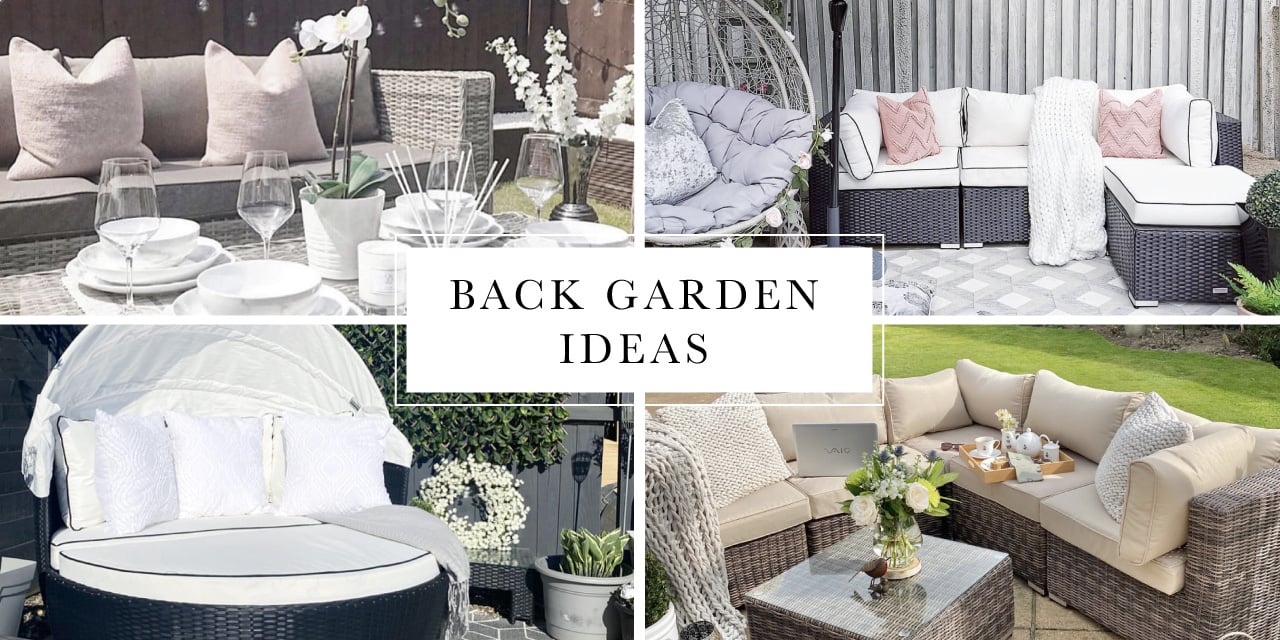 If you've been "umming" and "ahing" about getting your back garden ready for the summer, then maybe some of our back garden ideas will give you the inspiration you need to create a stunning outdoor space. Our tips and tricks blog posts always give our readers the inspiration they need to create a stylish garden that they've always dreamt of. So, let's dive into our first UK back garden tip.
1. DECKED AREA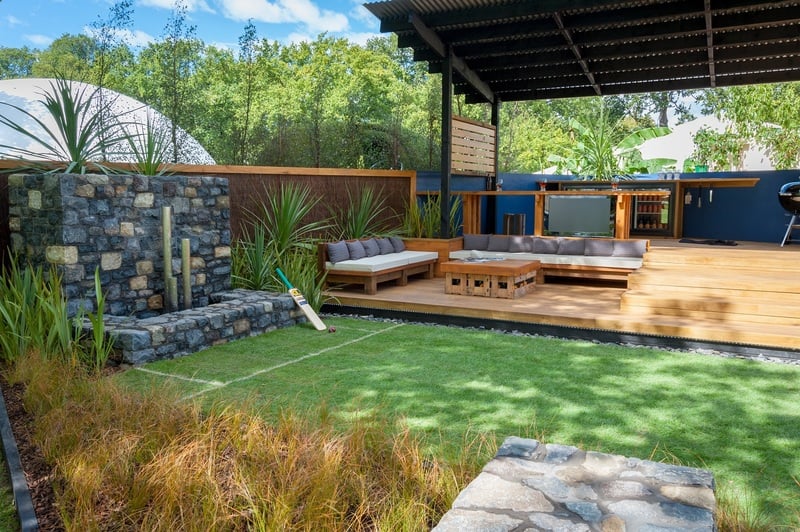 We absolutely loved this back garden decked area, it's a super-simple layout that is very effective. The borders in the lower part of the shot are filled with wild grass, an easy to maintain plant that is self-sufficient. The grass in the centre is perfect for those of you with kids (spot the crick bat in the centre). And you can watch your kids playing from the decked area which features two large sofas, ideal for entertaining and lounging. The decked area sits beneath a corrugated iron roof, which adds protection and ensures you can relax outdoors even when the weather isn't up to scratch.
2. PERGOLA AND LIGHTS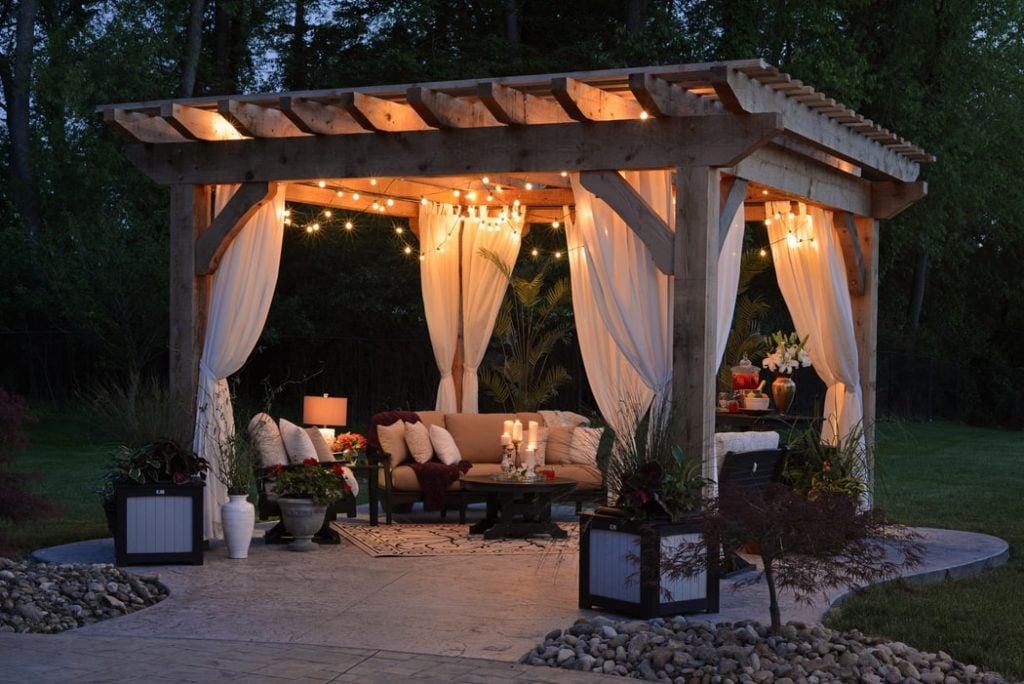 Wow! This pergola and lighting are stunning. This is something you can easily achieve in your garden. Pergolas are the perfect addition if you want to stay outdoors throughout a summers evening. The best thing about Pergolas is you can decorate them, not just with lights but with plants that will grow and intertwine to create a more natural look in your garden.
3. DINE AL FRESCO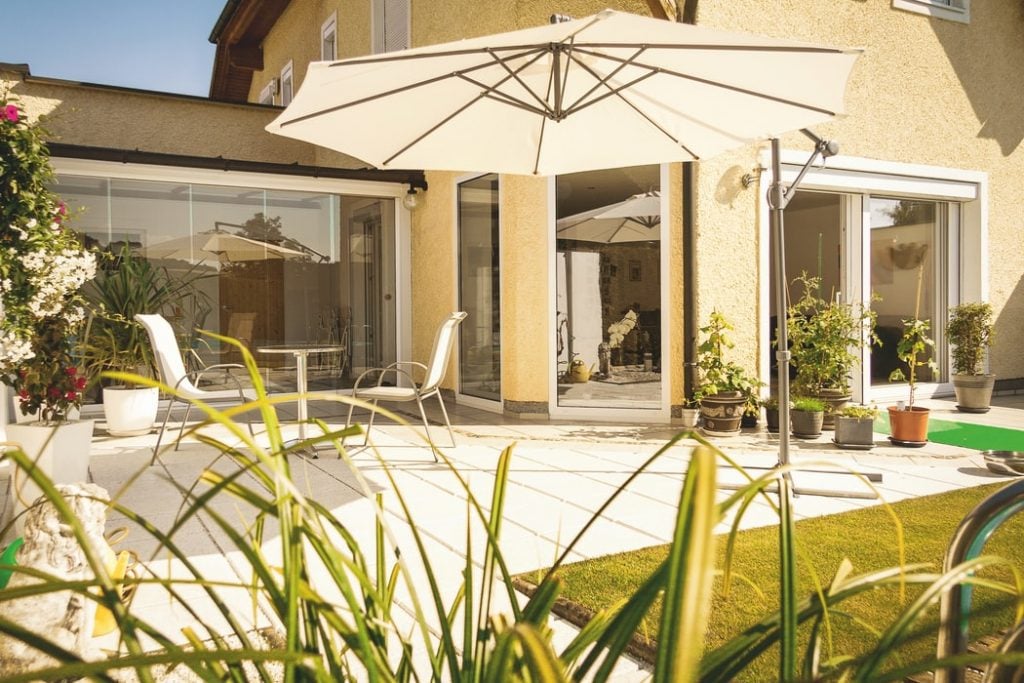 Dine outdoors all summer long on a patio space like this one. This garden is a really simple design with a white dining set, white cantilever parasol and cream stone it's a look that will stand out in the summer. You can picture you and yours dining at the round table while you enjoy a cold beer as you make the most of the summer sun.
4. BRIGHT CUSHIONS + ARTIFICAL GRASS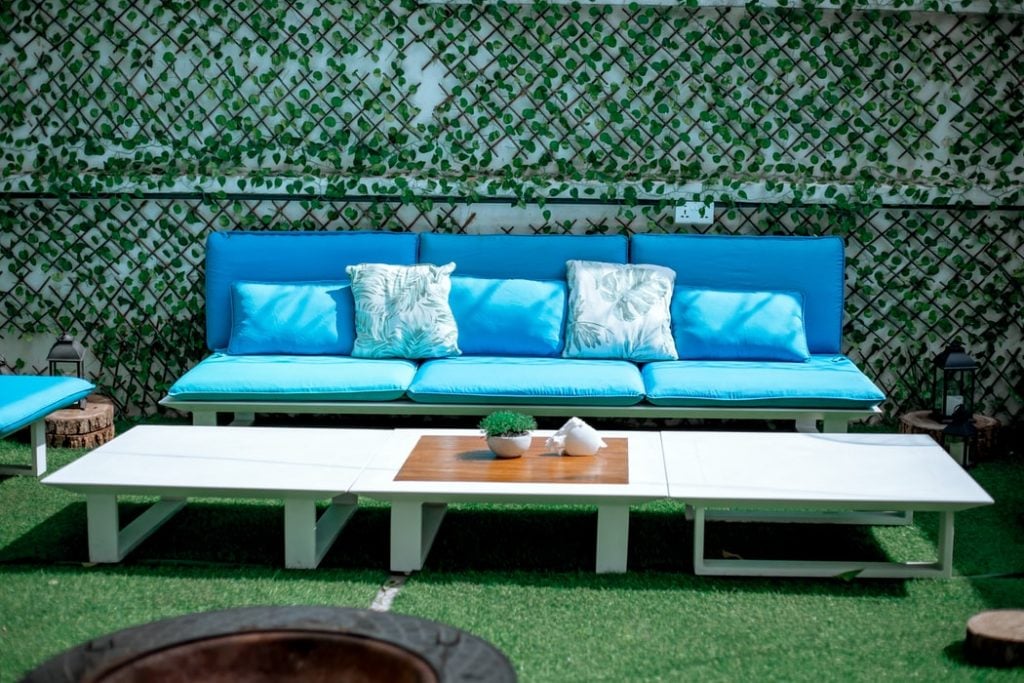 Talk about high impact and low maintenance! This outdoor sofa section is sat on artificial grass, allowing you to relax all summer long. No weeds, no lawn mowing just good old fashioned chilling out – what's not to love? The simplicity of the white garden furniture is sleek and ultra-modern. You can find a white garden sofa set here from our Madrid range. The ivy wall in the rear of the shot brings the whole look together, and we have to admit this is one of our favourites!
5. OUTDOOR ACCESSORIES (RUGS+TREES)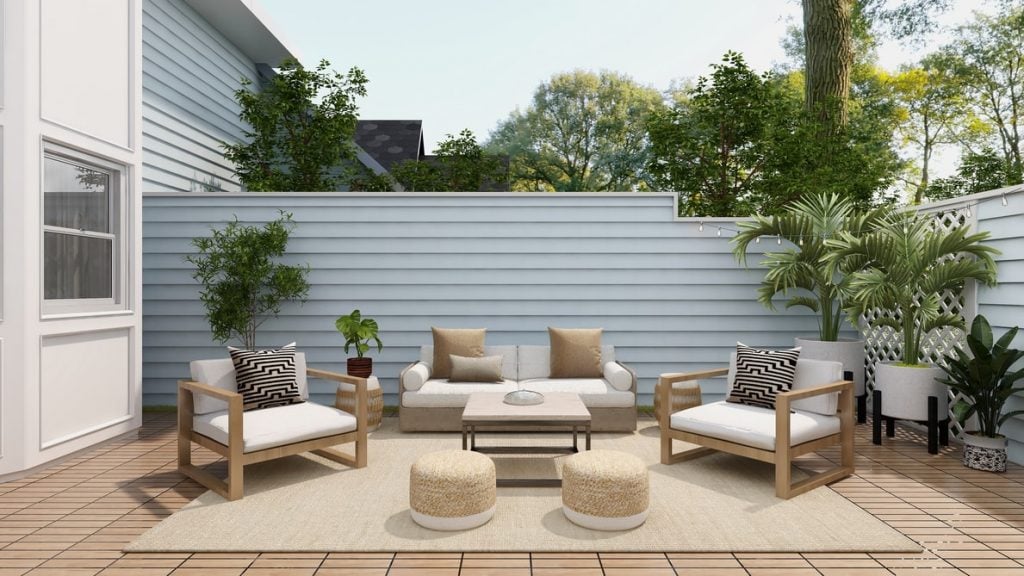 OMG! Guys (and gals) seriously, take a look at this one. Okay, so it's not in the UK, but that doesn't mean you can't create something similar in your home. Let's start from the bottom. The patio flooring is something you can easily create in your own back garden; you could even use a decking if you wish. The outdoor rug which perfectly matches the furniture that sits on it is one of the best features of this back garden. Plants are dotted around which is another feature you can easily replicate in your UK back garden. Finished off with a pale turquoise fence this back garden is one of the best we've seen so far.
6. FUNKY/MODERN SPACE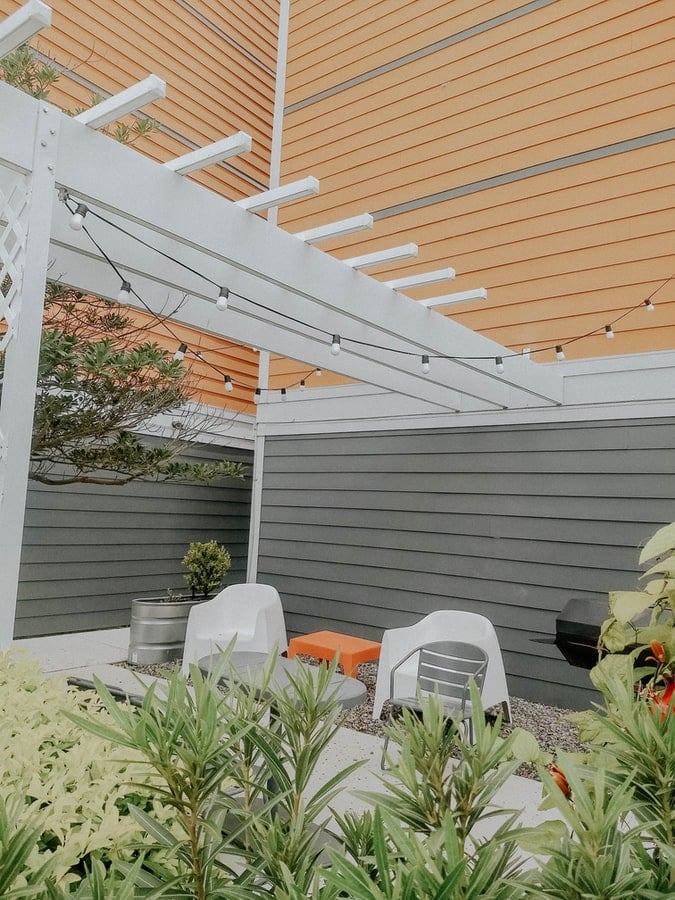 This ultra-modern look is a little different. It features a homemade pergola which allows for trees and lights to dangle for a unique look. You can build your own pergola by following this guide on how to build your own pergola. With a pebbled area and a patio section, this back garden is suited to those of you who want minimal maintenance. The orange and grey colourways contrast and bring a stylish finish to this back garden.
7. FENCING TO BREAK SPACE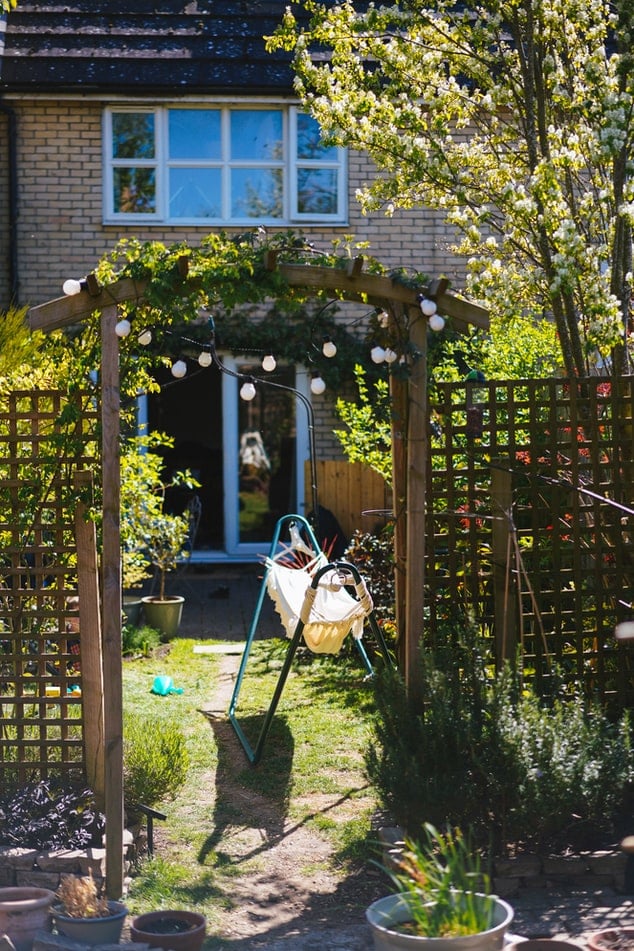 If your garden is big enough then you could break up space by adding fencing. The fencing here breaks up space as well as offering added privacy. Use the first half of the garden for green space, with grass and flowers. The rear of the garden should be used for dining and chilling out as it is secluded and allows you to chill out without worrying about nosey neighbours!
8. RAISED DINING AREA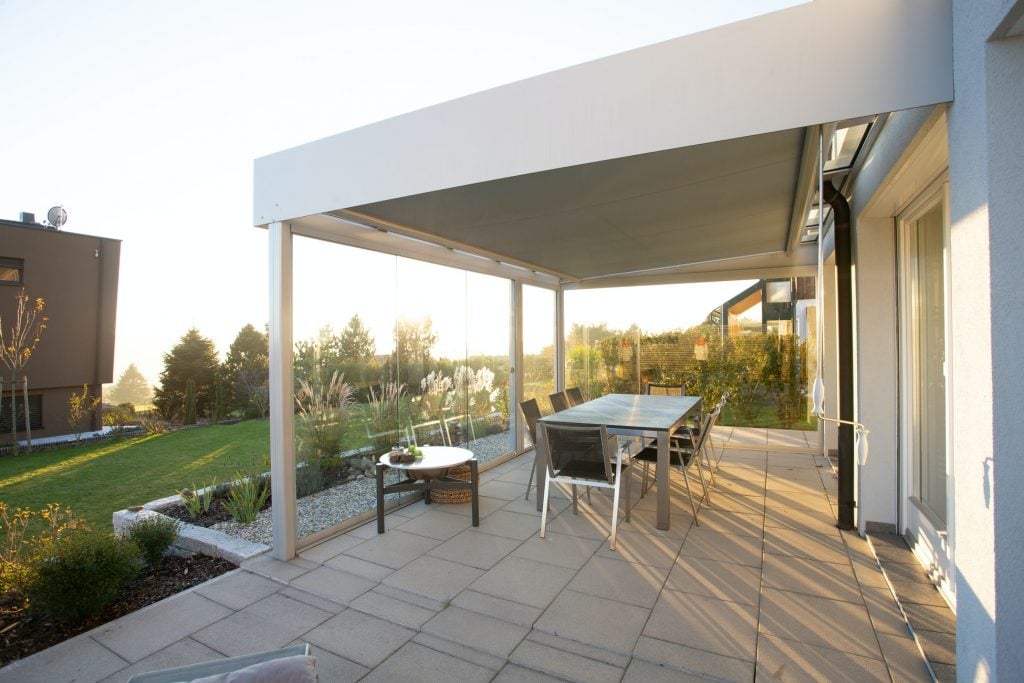 Although on the last back garden idea we talked about having the dining space to the rear of the garden, there is also no reason why it can't be at the front. Adding a high raise patio that your garden sits on allows you to check out the rest of the green space below. This garden features a large covering similar to that of our Palram Veranda. This Veranda allows you to enjoy the wonders of outdoor living without the worry of the rain spoiling your day.
9. HANGING CHAIRS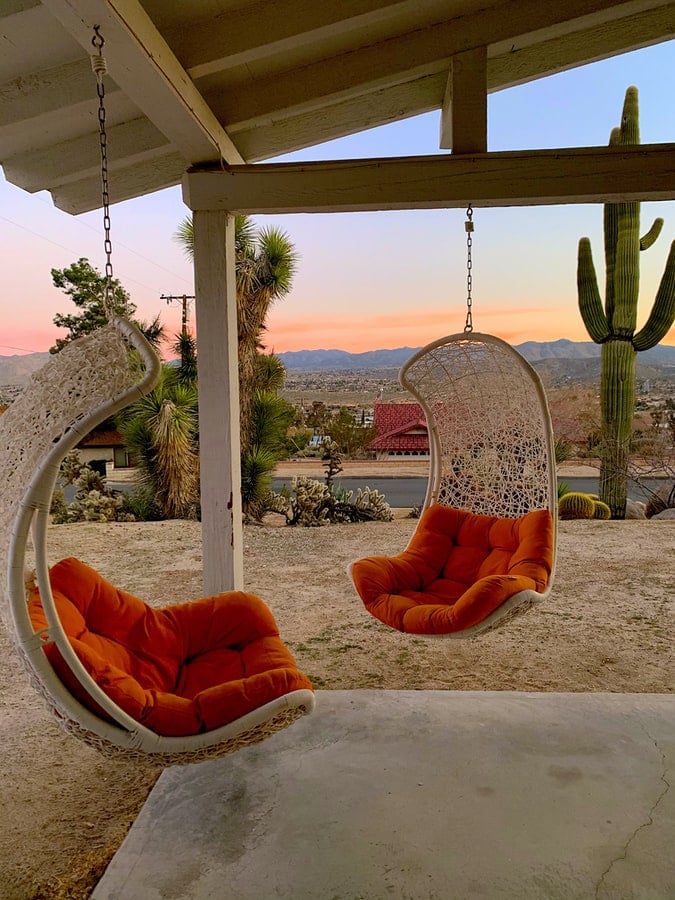 If you love to relax outdoors, then a hanging chair is a really cool addition. They can be easily attached to a garden tree or a shed, similar to the one pictured below. The beauty of adding hanging chairs is that they completely change the use of your garden, and there's next-to-no effort involved. We love the look of these hanging chairs, and we think you will love them in your UK ack garden as well!
10. SLATTED FENCING FOR BACK GARDEN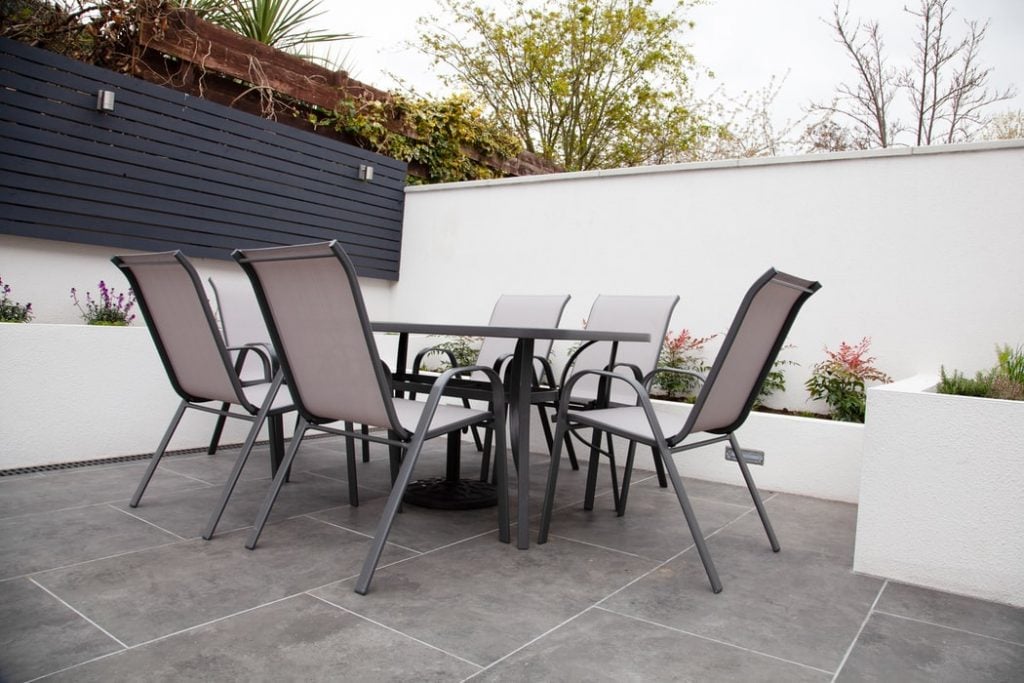 Last but by no means least is the introduction of slatted fencing. This style of fencing is becoming all the more popular. The use of stylish slatted fence panels pictured below is really on-trend at moment, and it isn't hard to see why. The beauty of adding a slatted fence to your back garden comes when they are coupled with lighting. The lights will shine through the slats and create a completely unique atmospheric feel for your garden. Add this look to your back garden for an ultra-modern finish.
Enjoyed reading this?
Sign up for our emails below, so we can send you blogs on gardening tips, as well as updates on our sales, so you don't miss out on those garden furniture bargains!