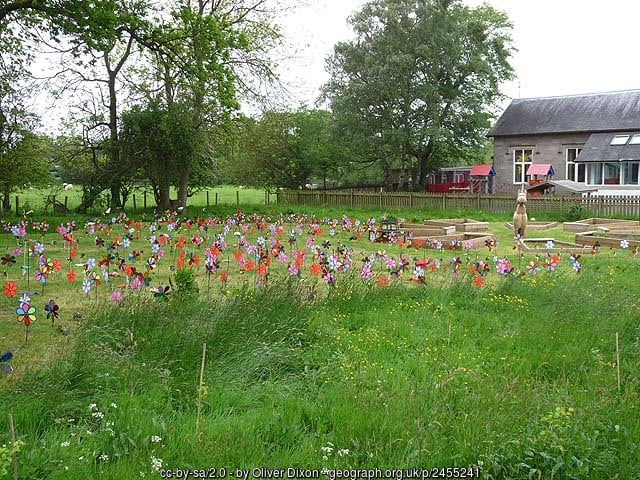 Many years ago I volunteered to help a local school create school gardens that could provide quiet places for children to enjoy breaks and which involved them in improving their school. We started small, with an overgrown patch of what was once a garden and within a term it was a pretty bed of herbs and flowers, with a stepping stone path to a seating area where children and staff could relax. Success!
In the autumn term a neglected space between temporary buildings was cleared by adult volunteers, and children planted three apple trees and three blackcurrant bushes. More success! Over the winter a series of small vegetable plots were created and in the spring the children sowed, planted and grew vegetables and plants to sell at the school fair.  It was great fun for everyone involved and over the years the school gardens became a part of the school's everyday life.
Support school gardens in your area
Lots of schools make great use of their gardens.
The RHS Campaign for School Gardening is aiming to encourage more children in more schools to get gardening, enjoy the outdoors and the skills they develop and produce food and flowers. It's free to sign up and schools that do receive lots of information, free seeds and seed labels, posters for classrooms and stickers for gardeners. To support good gardening and engage children and staff in great ideas, the school and its gardeners can use a wide range of wonderful resources, receive a newsletter packed with gardening ideas, enter competitions and receive rewards. Secondary schools and their student gardeners can also access information about careers in gardening.
Why are school gardens and school gardening important?
School gardens are good for children, and schools. The RHS has shown that school gardening projects help children in all sorts of ways, including:
better physical and mental well being
new skills and confidence in teamwork and communication
better numeracy and literacy
developing healthier lifestyles
and better understanding of the environment and food.
School gardens help make a place look and feel loved and, like the garden I helped to develop, they can create places of peace and quiet that offer the chance to enjoy being in a garden.
Why now?
Spring is a great time to encourage outdoor fun, creativity and learning at school. And gardening in the spring offers the best chance of quick wins that will encourage more activity next term.
Extra support for local school gardens
In Somerset, the county Gardens Trust offers support to school gardens and gardeners, including grants. Find your local garden trust on the Garden Trusts website and find out about local help for local schools.
Even more ideas for school gardens and gardeners
As well as the RHS Campaign and resources, there are lots of resources to support school gardening projects, some linked to the school curriculum, such as 'Gardening with children' . It offers regular blog with topical suggestions for things to do in the school garden. This month's blog is all about blueberries – those yummy superfruits that so many children love to eat.
Could you encourage local schools to sign up to the RHS campaign? Or perhaps volunteer to help start or improve a school garden?
Enjoyed reading this?
Sign up for our emails below, so we can send you blogs on gardening tips, as well as updates on our sales, so you don't miss out on those garden furniture bargains!