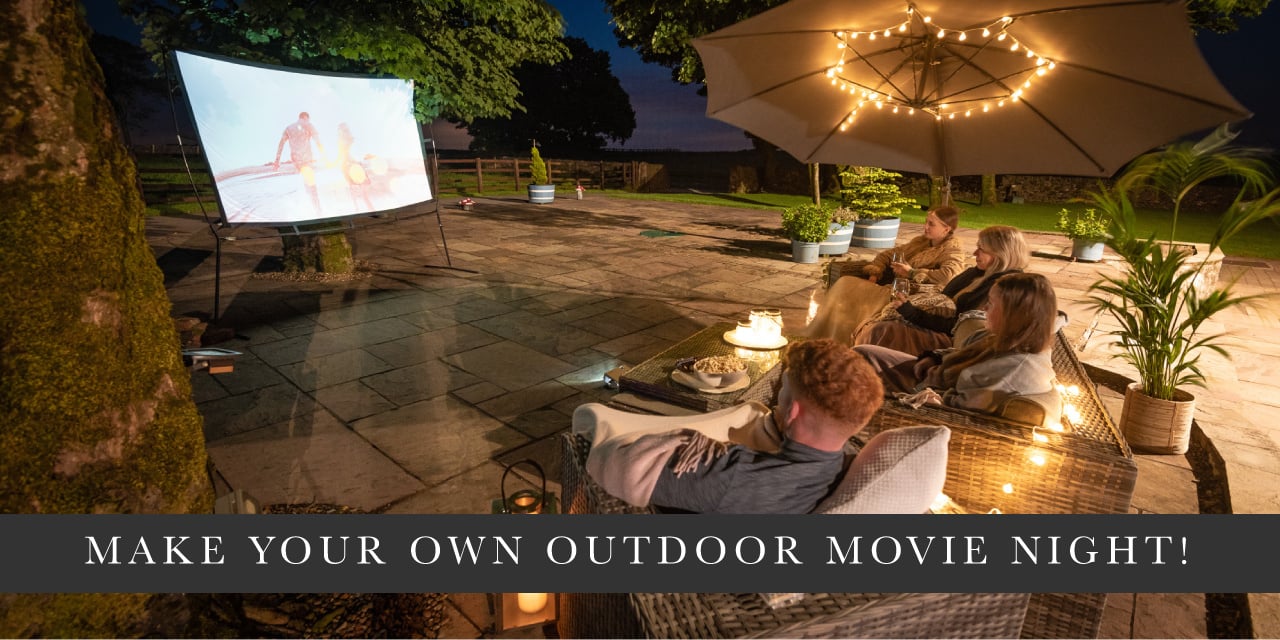 How to make an outdoor movie night
Find the best location in your garden

Buy a projector

Create the perfect seating arrangement

Decorate your garden

Drinks and snacks are a must

Pick your movie
Ditch your usual movie night on the couch and watch your favourite blockbusters out in your back garden, with a super simple movie night set-up. Grab your favourite movie night treats, invite your friends, sit back and enjoy your movie of choice. In this blog post, we're going to give you all of our suggestions so you can create the perfect movie night, with decorating tips, seating arrangements and our choice of projector and screens. 
Find your location
Back gardens come in all shapes and sizes, so we get that you might not have loads of room in your outdoor space. If you have tonnes of space in your garden, then try and find an area where there are trees so you can tie up your screen with ease. If you're lacking in space you don't need to worry
Make your set up 
You can go one of two ways with creating the set-up for your outdoor home cinema, and it all depends on your total budget. Check out our movie night on a budget ideas below so you can create an outdoor cinema experience without breaking the bank. You can find projectors for around £30, and although this will cost a little more than the cinema, after hosting just 2 or 3 movie nights you'll already have saved money, so it's worth the investment. In terms of a screen for your outdoor cinema, you can find these on Amazon for as little as £5, check out this one we found. 
Movie night on a budget
There's certainly nothing wrong with making your cinema night with things you already have around your house. Take a look at the list below for some ideas on how to make your movie night on a budget.
Use a bed sheet as your cinema screen

Find a cheap projector like this on Amazon

Use bean bags, pillows, rugs and duvets to make your garden as comfortable as possible
Seating
As we mentioned above, you can create an outdoor movie set up with things you already have at home, including bean bags and duvets. But, if you want to create something like this…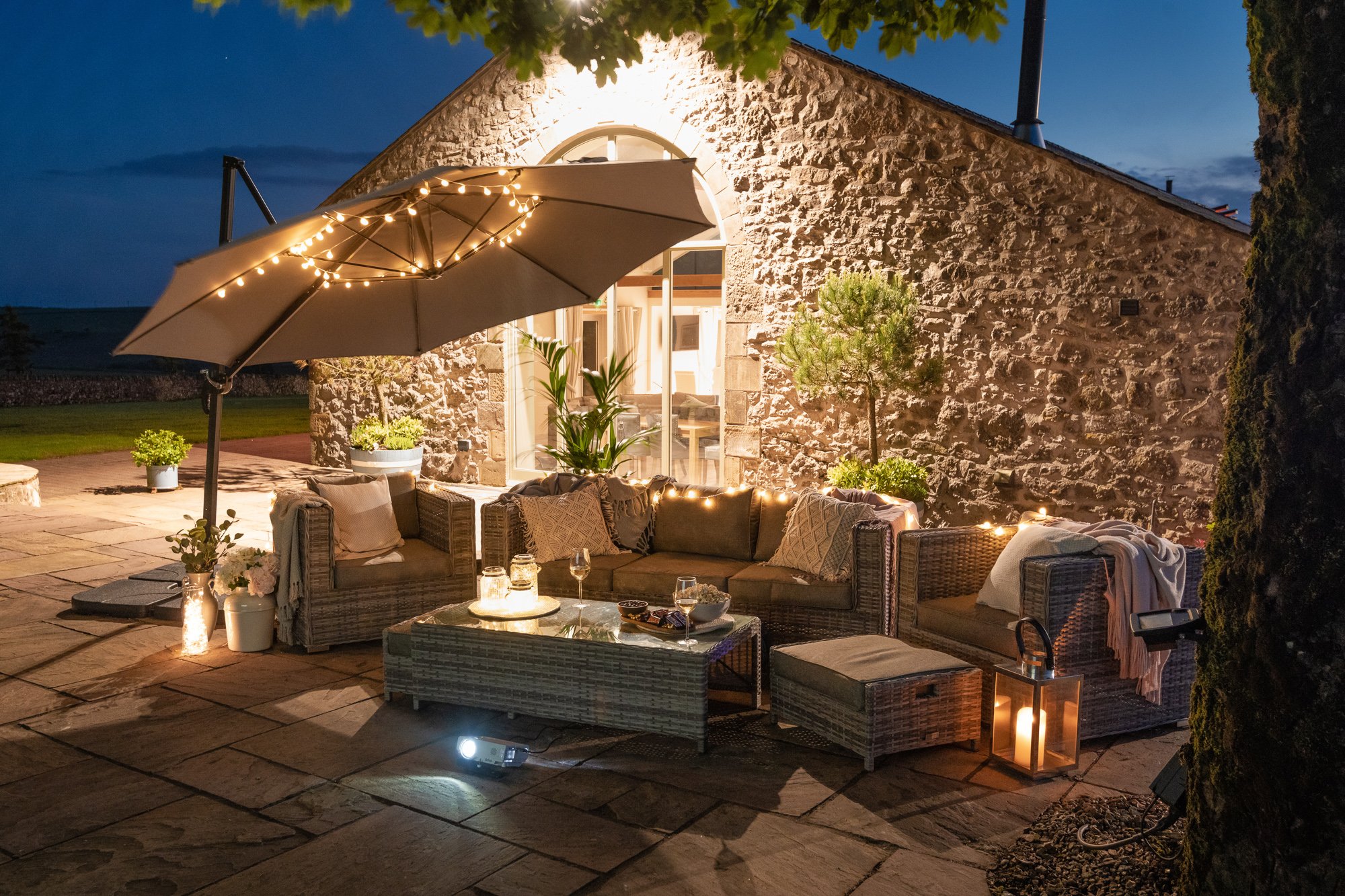 Then you'll have to grab one of our Ascot 3-seater sofa sets. We might be a little biased, but these will take your movie night to the next level. With space for up to 5 people to sit and footstools for you to properly lounge out on, these sets are a must buy. 
Decorating your garden
Glow in the dark lanterns and sticks will give your garden an even cooler look as you and your friends sit back ready to enjoy your film. Or if you're on a budget, use some candles from your house and place them on our coffee table.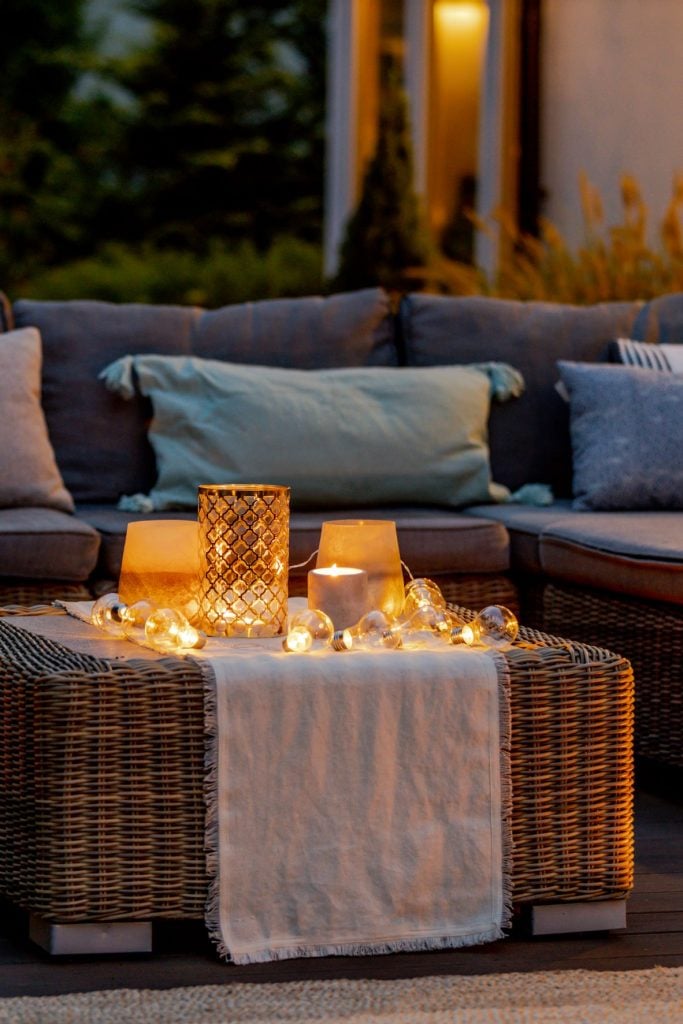 Drinks and snacks
We've all got our go-to's, whether it's a classic choice of popcorn or a bag of chocolate that you just can't wait to tuck into. Your choice of drinks and snacks is what really brings a movie night together. We suggest buying a range of your favourites and putting them in bowls on our tempered glass coffee table. Tuck in and try not to eat them all before your movie starts!
Pick your favourite movie
Now you've turned your garden into the ultimate outdoor movie night experience, it's time to pick your film of choice. I'm sure we've all been there before, scrolling through Netflix trying to find a movie that tickles your fancy, and eventually, you pick something you've seen so many times you could quote the entire film. So, instead of doing that, why don't you make picking a movie a little more exciting with this movie picker which will save those predictable family arguments. Print your movie night picker at home and then simply follow the instructions. 
Enjoyed reading this?
Sign up for our emails below, so we can send you blogs on gardening tips, as well as updates on our sales, so you don't miss out on those garden furniture bargains!