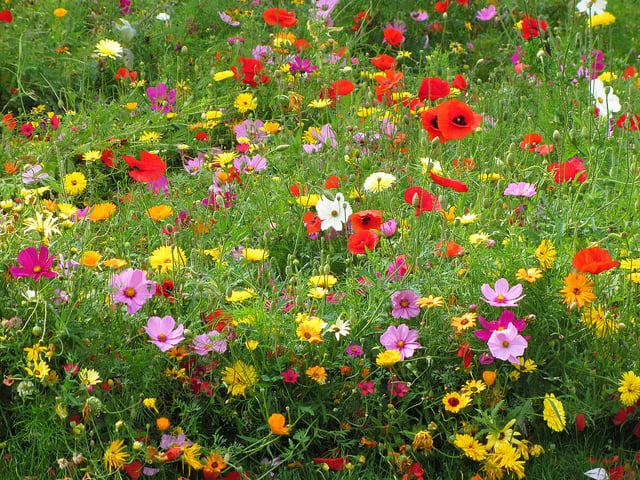 Mowing, weeding and watering are the most disliked jobs in the garden. Follow our suggestions about working with nature to create a low maintenance garden. After the initial work you'll soon see the benefit.
Gardening is made very, very much easier when we work with nature and our soil conditions, climate, rainfall and local wildlife. You may have to rethink some of your ideas about what makes a garden but it's a small thing in order to make your garden easier and more enjoyable.
Most disliked maintenance tasks in the garden - results just in!
These are the most disliked tasks in the garden, according to a straw poll conducted this weekend.
Mowing – and everything to do with the lawn including edging, feeding, aerating and watering.
Weeding – of any kind.
Watering – including pots, containers, window boxes, flower beds, veg plots and the lawn.
Respondents said they would do almost anything to stop having to do these jobs, again and again and again.
Many people said that for a variety of reasons they can no longer undertake these tasks, that their garden looks a mess and they feel sad about it.
You are allowed to get rid of the lawn
Yes, you are! You don't have to have a lawn – or any scrap of grass – for a garden to be a garden. In a trice, you've done away with mowing, trimming, edging, feeding and watering it.
But what can I put in its place? Here are four suggestions. The first three work well together.
Very wide beds of plants around the base of any lawn trees. Woodland plants such as cyclamen are good because they get along well with tree roots and don't compete. Other bulbs also work well, as does evergreen ground cover such as periwinkle or ajuga.
Other wide, bold beds full of plants. If your beds are wide you won't have to think about pruning shrubs to restrict their size (but plants that grow slowly or do not need trimming or pruning are also a good choice). If your beds are full of plants then weeds can't germinate and grow in the bare earth.
Wide gravel paths over a weed control membrane, with occasional paving stones or flagstones for variety, for strolling and sitting. They allow water to drain away freely and are easy to care for. You can make generous and attractive places to sit in the sun and in the shade.
Artificial grass. One of the most successful low maintenance gardens I know is a tiny front garden of artificial grass with a border of low maintenance, colourful heathers.
How to give up weeding
Weeds love bare earth where they can germinate and grow. Our secret weapons are (a) an abundance of plants and (b) thick layers of mulch.
(a) As ever, work with nature to ensure an abundance of plants. Choose plants that nature has developed to survive in your climate and your soil type (acid or alkaline), and your conditions. You could have a mixture of evergreen and native plants including easy-going shrubs, perennials, bulbs, and ornamental grasses. Or you could edit your choice of plants to a capsule collection: between five and ten varieties that you'll get to know well. The secret, remember, is abundance – great swathes of plants.
(b) Mulch, just as nature does. It really is magic. It conserves moisture, keeps down weeds, keeps the soil an even temperature, feeds it and improves its structure. It helps to release the nutrients plants need and gives them a good foundation for growth. Use compost to mulch your garden deeply (5-15 cm or more) from autumn to spring.
You can mulch with pebbles, gravel and slate as well. This helps with moisture, weed and temperature control but you don't have compost's extra benefits of feeding the soil and improving its structure.
Three ways you can stop feeding and watering
Make and keep good soil by improving it with compost. Use whatever kind of compost you can manage - from wormeries, compost heaps, compost bins, advanced compost systems. And mulch with compost, of course, to conserve moisture. Soil is the foundation of a garden, and good soil makes for a healthy and beautiful garden. It's so full of microscopic life, nutrients, water and air that you don't have to feed your plants.
Choose plants that love the amount of rainfall your area gets. Perhaps err on the side of drought-tolerant plants.
Get rid of your pots and other containers. That's a lot of watering eliminated!
A bit much?
Have a look here and here for some less extreme maintenance solutions!
Enjoyed reading this?
Sign up for our emails below, so we can send you blogs on gardening tips, as well as updates on our sales, so you don't miss out on those garden furniture bargains!