We all love to spend time outdoors, and if you've got a garden it's all the more enjoyable. But maintaining a garden can be time consuming, not to mention downright expensive. While a lot of people have green fingers and enjoy tending to their garden, others find endless weeding and lawn mowing a drag. If you're looking for ways to keep your garden low maintenance, try some of these tips and tricks to keep your garden looking spruced up without all the hassle.
Slow growing plants
Some shrubs, plants and trees require a lot of pruning and trimming to prevent them from becoming overgrown and taking over the garden. However, others grow slowly and require little to no maintenance. Make sure when you're buying plants that you choose slow growing varieties, or species that remain on the small side. You'll find there are plenty of dwarf versions of your favourite plants that will grow happily in containers.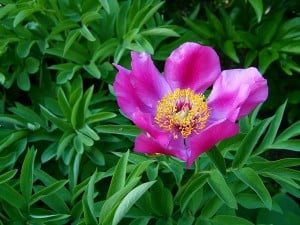 Low maintenance plants
Some plants are very demanding – they might require daily watering or only grow in specific soils. On the other hand, there are some plants that thrive in almost any conditions. If you want your garden to look good with minimal effort, its best to choose the low-maintenance varieties. That way you don't have to worry about going on holiday and coming back to a flower bed full of dried up shrubs.
21st Century Lawn
If you like the idea of having a lush green lawn to relax on during the summer but detest the thought of having to mow it every other week, there is another option. Many people are opting for astro-turf instead of natural grass. While you might think it's a material reserved for school sports pitches, astro-turf is becoming an increasingly popular garden feature. It doesn't need cutting, there's no chance of weeds growing in it, and there are new varieties out there that really do look like the real deal. Astro-turf can be quite costly to install, but once it's down it will last for years to come.
Keep the weeds at bay
There's an easy, low-maintenance way to prevent weeds from taking over your garden – simply don't give them any room to grow. Spread gravel, slate or wood chippings around your plants for an attractive feature that prevents weeds from taking hold. There's a huge range of gravel options, from large, colourful stones to darker shades. Get creative and contrast them with brightly coloured flowers or plant pots. Using different coloured gravels for raised areas creates a striking look.
Upcycling
Shelling out on new plant pots and fancy containers can be costly. Instead, get creative with what you've got to your disposal. Upcycling old tin cans, worn out wellies and even chests of drawers to make creative planters not only saves your pocket, but makes a striking garden feature - a talking point for visitors. There are tons of great ideas on pinterest, so let your creative juices flow.
Enjoyed reading this?
Sign up for our emails below, so we can send you blogs on gardening tips, as well as updates on our sales, so you don't miss out on those garden furniture bargains!