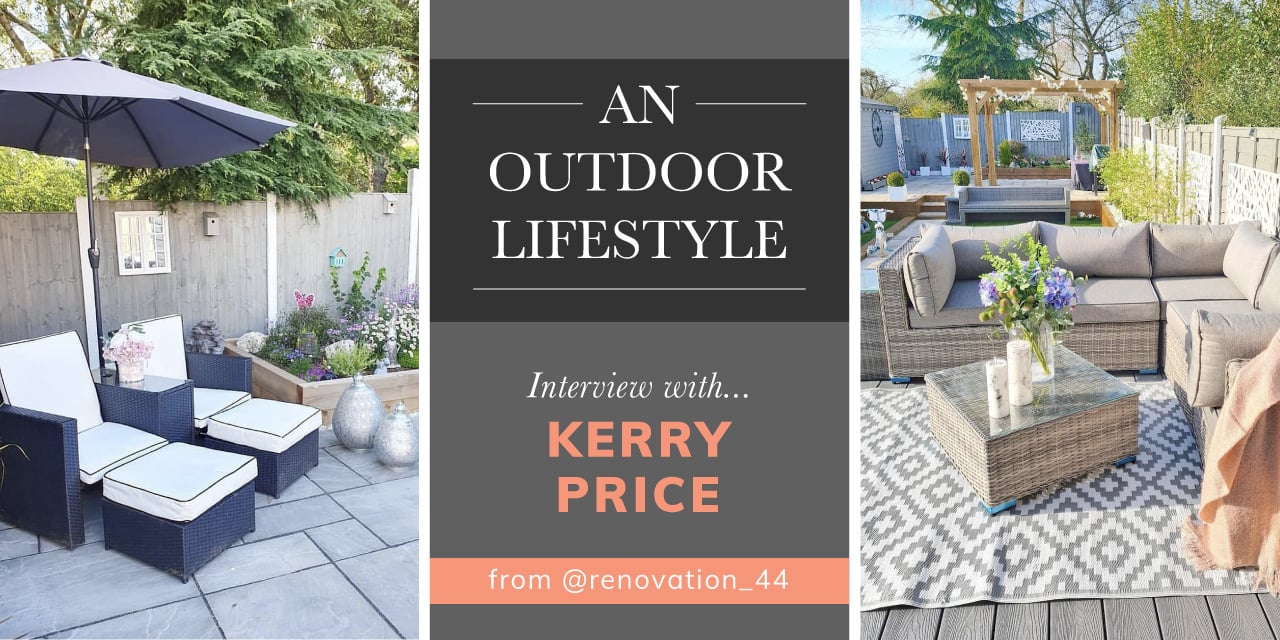 As Spring turns to Summer we begin a brand-new garden blog series 'An Outdoor Lifestyle'. This blog series will see us interview a range of garden lovers, to find out what ticks their garden boxes! We hope this blog gives you, our reader, a chance to be inspired by stories that will allow you to go and create an outdoor space that you'll love.
In the first of our 'An outdoor Lifestyle' blog interviews, we chatted to Kerry Price from @Renovation_44. Kerry, who lives at home with her husband John, their two children and three dogs, has created an outdoor space that we would all dream of.
Kerry's garden features several areas from a decked area to a patio section that is covered with a stunning wooden pergola. We asked Kerry what she loves about her garden "What I love most about our garden is that we have designed it all ourselves." Kerry and her partner John had a "vision" and John made sure that these visions came to life. John, with his shovel in hand, began to redesign the look of their garden.
LUXE DECKING
Kerry's outside space clearly means a lot to her and her young family, as the bi-fold doors that separate the living space and decked area draws the outdoors in. As we step onto the grey decked, we can begin to take in the stunning space that Kerry and John have created. Kerry says that she "Loves the raised decking area that overlooks all of the garden." This raised decked area can be found at the outdoor look, just look for the deep embossed if you want to match the look that Kerry has created. The outdoor look is a garden company that supplies contemporary decking and artificial grass – Go and check them out!
This decked area also features a modular corner sofa set from us here at Rattan Direct (maybe that's why this is Kerry's most loved area). All joking aside this section really does bring the wow-factor! You can envisage Kerry and John relaxing here as their dogs and little ones play in their own play area, another great idea that ensured everyone was happy with the creation of this garden.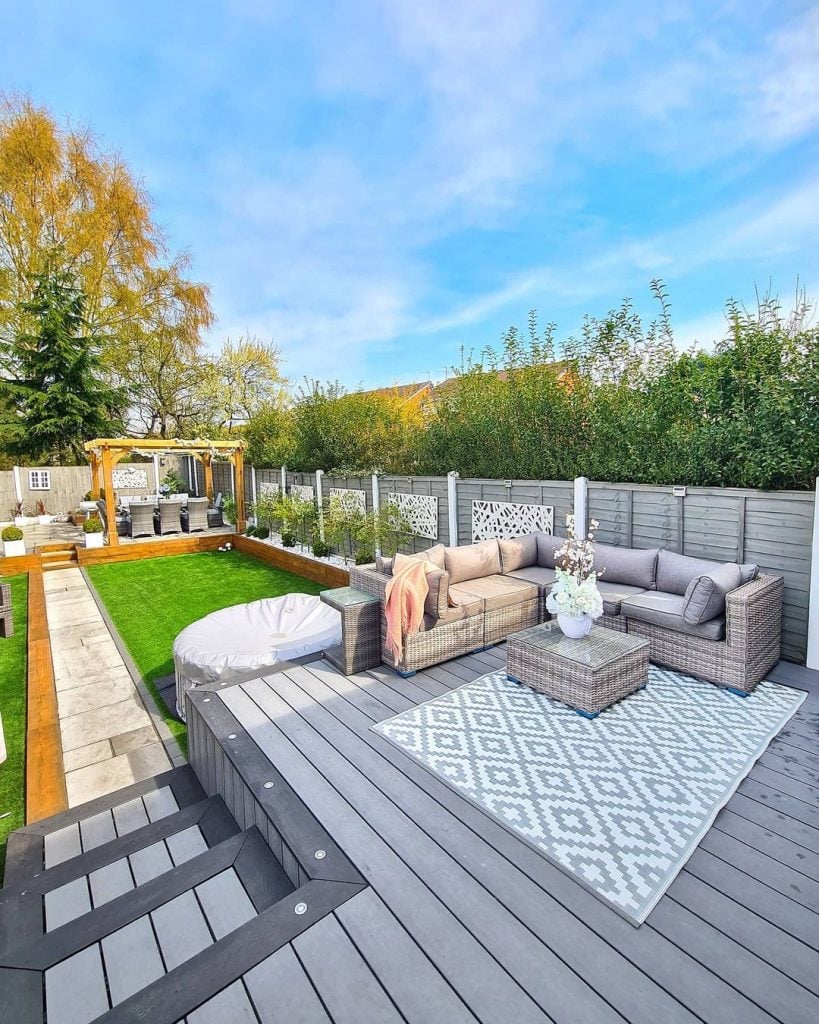 The configuration of a garden is one of the most important planning aspects, consider where the sun will shine for the longest, and create spaces accordingly. For Kerry and John, the garden needed to be a place for the two of them to relax, without comprising on space for their two children and three dogs to hang out "we have a separate section of the garden dedicated to the children's play Area! so it was important to incorporate a chill area for myself and John too". With artificial grass in the centre of the garden, Kerry says that "it's so much easier than normal grass as its easier to keep clean" all of these minor details within Kerry's garden are what makes the space so special.
When designing your own garden, you need to consider what the space will be used for, from garden parties to lounging. The way you use your garden must be considered, as Kerry has done so with her garden by installing artificial grass for peace of mind. A lay-Z-spa also sits on the artificial grass, sadly we've forgotten our swimming costumes  – Can we come again, please?
PIÈCE DE RÉSISTANCE
As we stroll through the grassed area, we lead up to the pièce de résistance that is the patioed section. This area of Kerry's garden is the standout zone, as it brings the entire outdoor space together. The patio section features a rattan dining set that sits beneath a stunning wooden pergola. This stylish section has large trees to the back which ensures privacy when Kerry and her husband host outdoor garden parties. And that's what she has missed the most due to lockdown "I can't wait to have all of my family around for BBQ's and to celebrate the little one's birthday parties." We totally agree with Kerry, it's going to be great when we can invite our loved ones over for BBQ's and summer parties, it's one of the things we here at Rattan have missed.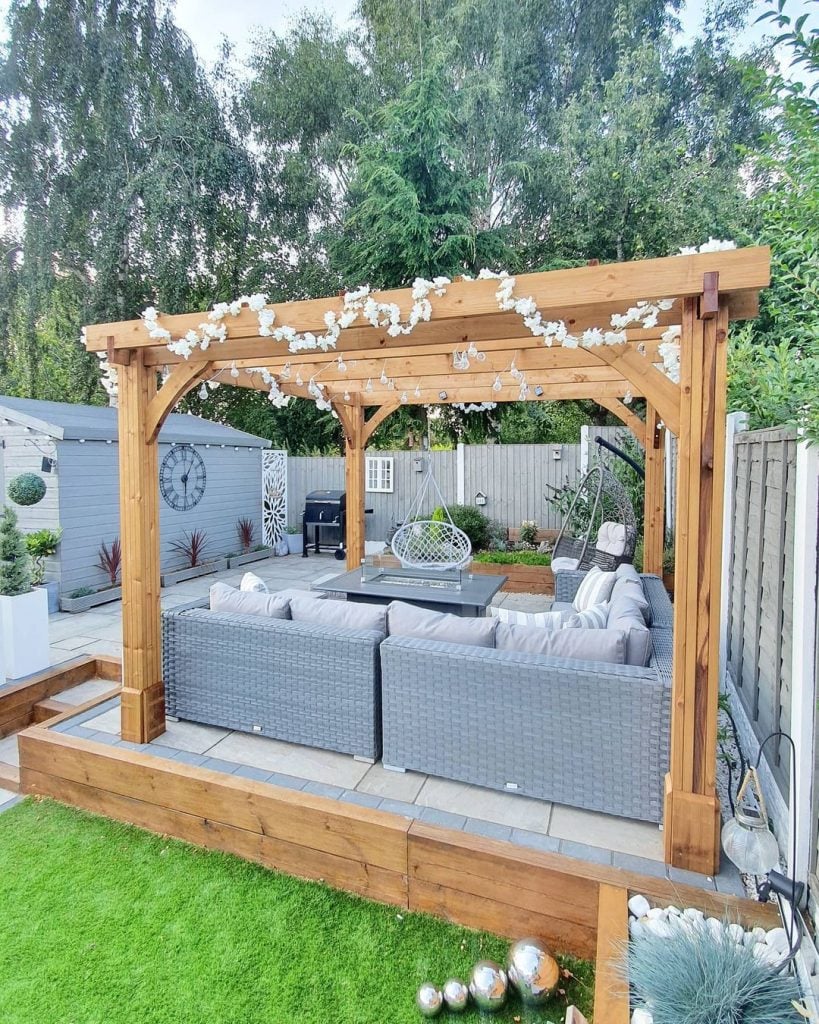 PLANS FOR THE FUTURE
We asked Kerry if she had any future plans for her garden "Our garden is now complete so there are no further plans, however, we are looking for our next project to renovate." She certainly won't be stopped when it comes to renovating her home, as she's recently renovated her front garden, check out the before and after picture below!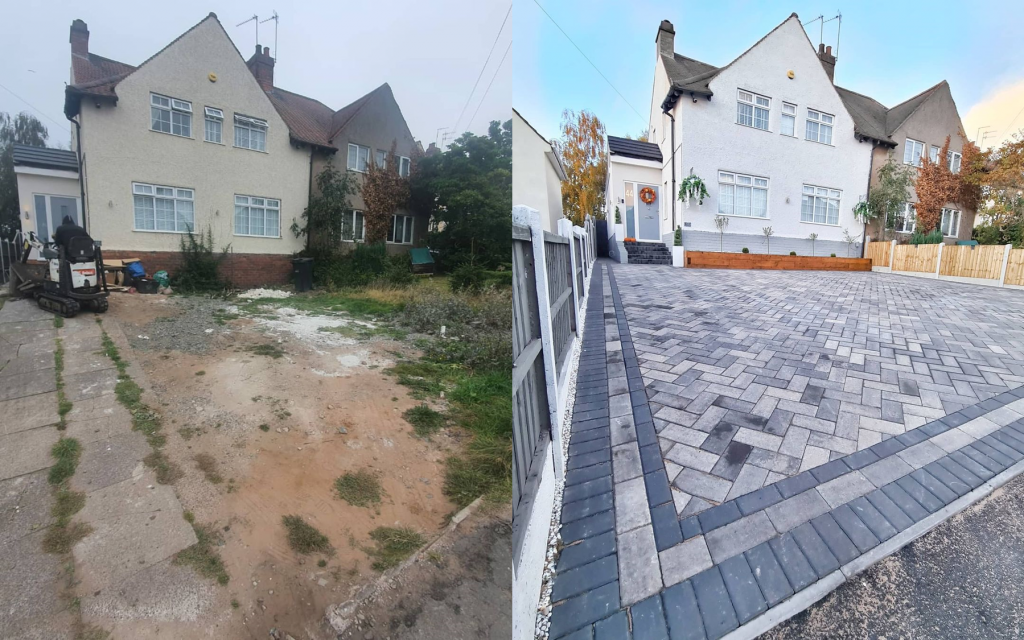 We'd like to thank Kerry and John, their two children and the three dogs for allowing us to talk about their garden and we hope to catch up with them soon.
To keep your eyes on what Kerry is up to, give her a follow on Instagram @rennovation_44, her content will hopefully give you all the tips and tricks you need to create an outdoor space that you've always dreamt of. You can also keep your eyes on our blog page for the next one of our 'An Outdoor Lifestyle' blogs as well as information that will help you create a garden that your neighbours will be jealous of.
Enjoyed reading this?
Sign up for our emails below, so we can send you blogs on gardening tips, as well as updates on our sales, so you don't miss out on those garden furniture bargains!