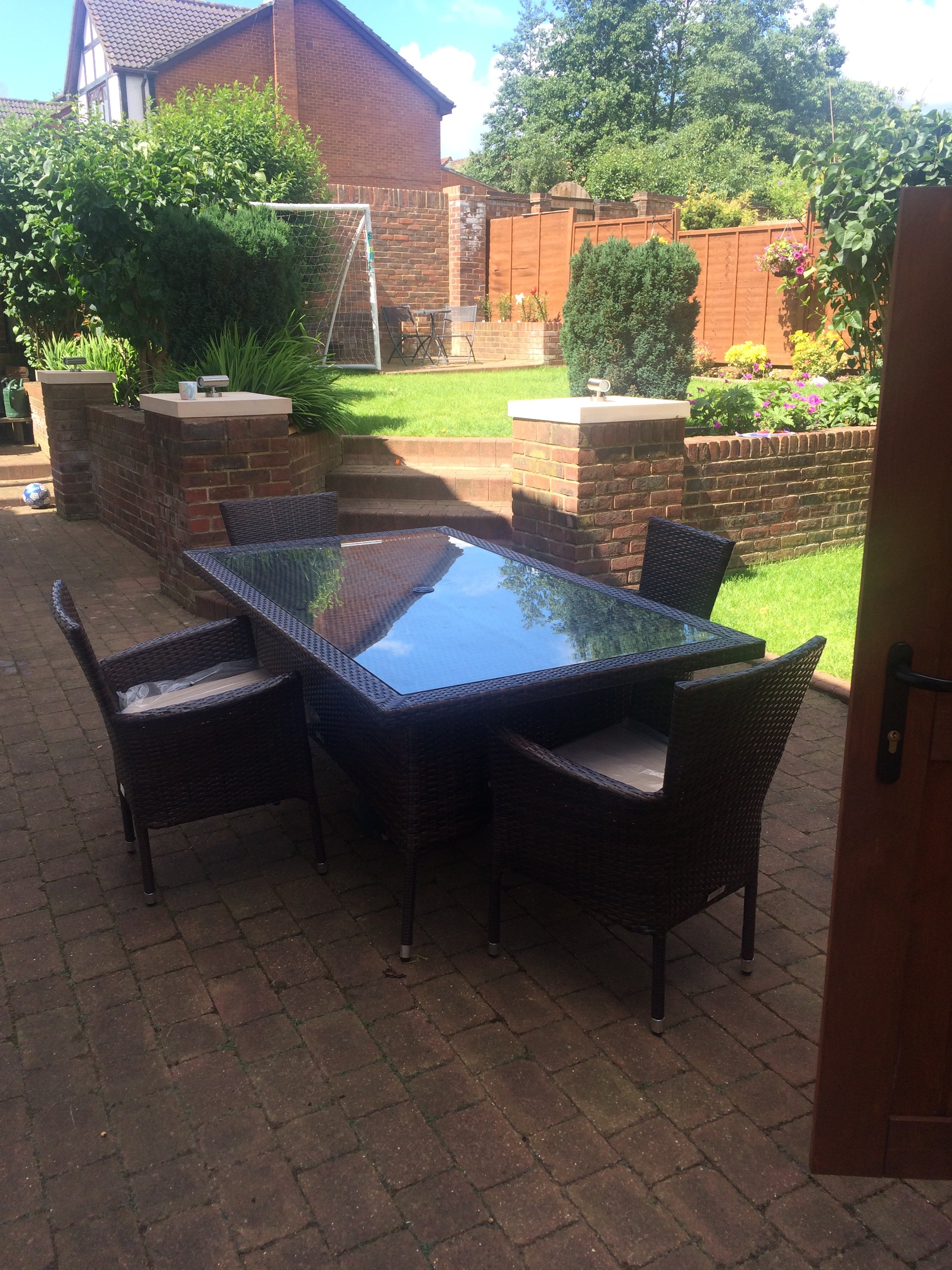 Get ahead of the sunshine curve
When the sun is out we all want to take advantage of it – strolling, sitting, relaxing. Don't waste time later thinking about 'What if ...?' or 'I wish I had ...' – get organised now and be ready! Buy one of our outdoor dining sets and receive a free parasol too. Then you'll be in pole position for sunny days and alfresco dining.
Buy more than one outdoor dining sets and set up a café!
Chocolate and cream, or black and vanilla?
No, not an ice-cream sundae but your choice of colour for one of our outdoor dining sets.
Mmm. Ice cream. Actually we do have a recipe for ice cream but it's for strawberry ice cream and white chocolate chip cookies. Yum yum. Nom nom. It will soon be time for eating ice cream outdoors and you'll need a parasol so it doesn't melt straightaway!
Classic or contemporary dining set?
What kind of outdoor design do you like? We've got a wide range of dining sets so there's bound to be something that fits the bill.
Rectangular tables can give that hint of formality that Sunday lunches sometimes need. They're also great for meetings.
Round tables are good – you can see everyone and with a lazy susan in the middle food gets passed around very easily. And they're great for meetings.
Chairs can be classic 'dining' style or more 'armchair' style.
Have a look.
Parasols are perfect for outdoor dining
The sun is lovely. It makes us relax and it tops up our vitamin D level – essential for strong bones and a healthy immune system. Things look altogether brighter when the sun shines.
Too much sunshine, though, is not such a good thing and that's where parasols come into their own. They give you the option of being in the sun or having a break in the shade.
Sunglasses only go so far – a parasol goes the distance
If the sunshine is bright – and it can be surprisingly bright in spring – a parasol makes all the difference. When the light is bouncing off the walls you'll certainly need an adjustable parasol. This cuts down glare immediately so you and your guests can relax. You can cool down a little and stop screwing your eyes up.
What's more, the delicious food on the table won't dry up and spoil. (Cooks hate that.)
Once again, your choice is chocolate and cream or just black. This parasol has a contemporary design and it's got a smoothly operating crank system (fun!) and extra tilt function (fun!) which will tilt the canopy to a 45 degree angle, left or right.
Roll on spring and summer! We'll be ready!
Enjoyed reading this?
Sign up for our emails below, so we can send you blogs on gardening tips, as well as updates on our sales, so you don't miss out on those garden furniture bargains!