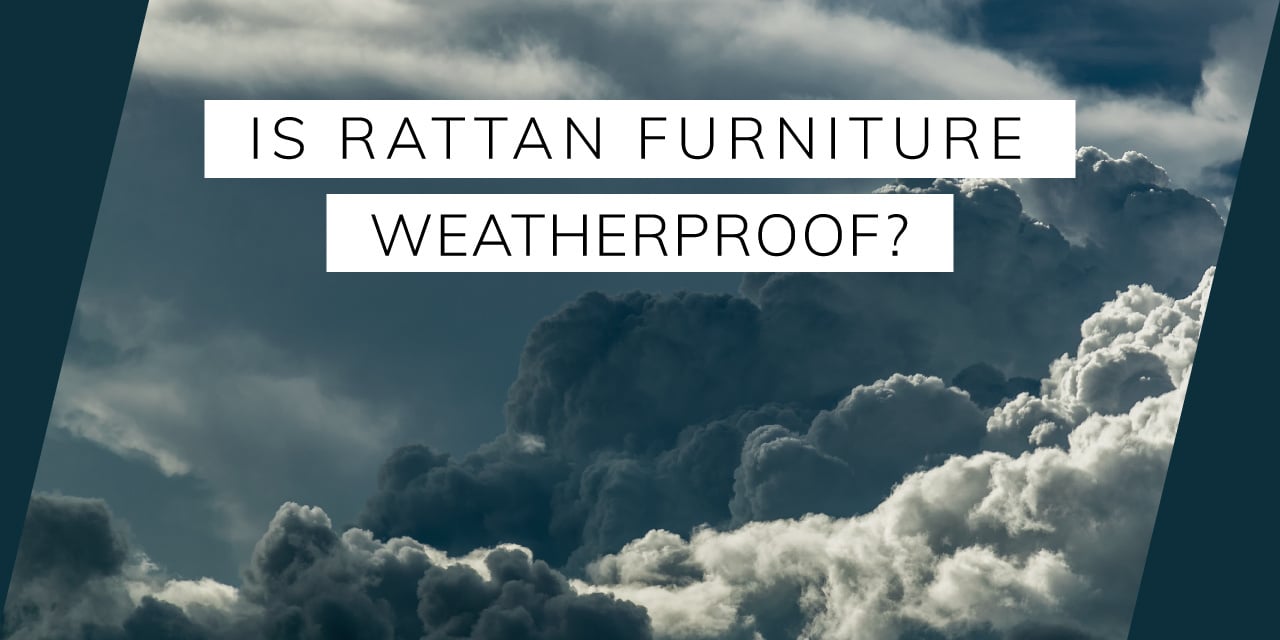 Is Rattan Garden Furniture Weatherproof
Summer is a long way away, and sadly between now and then we're going to experience some amount of rainfall or even worse…snow. But this doesn't mean you can't enjoy your garden or even some new outdoor furniture. And the benefit of buying it at this time of the year is that it's always on offer. So you can get your rattan furniture at a great price. Take a look below to find out why rattan furniture is the perfect choice for your garden this summer. And why you don't need to worry about it during the rain and snowy months.
How is it weatherproof
Rattan furniture is weatherproof, but what does this mean? Weatherproof means that your furniture will withstand all varieties of weather. Rattan furniture has UV protection, although the sun can be scarce at times in the UK you won't want your outdoor furniture to begin to fade when it is being utilised the most. Rain is (sadly) going to fall at some point, so the synthetic rattan is a much better choice than natural, the steel frame that the rattan
Not all rattan furniture is weatherproof. Natural rattan can't stay outside and be left; it will begin to rot, lose its colour and eventually become a mess. This is why the popularity of synthetic rattan has risen. The minimal amount of care that is needed to look after the synthetic version means it is perfect if you don't have the time to be regularly cleaning or varnishing your outdoor furniture to keep it looking fresh.
Is Rattan Furniture Waterproof?
In short, no. Rattan furniture is not waterproof it's a synthetic material, that when wet can become damaged so you will need to protect the set with a cover when it is in your garden.
Can it be left outside?
High-quality synthetic rattan furniture can be left outside, but natural rattan cannot. The natural rattan is much more likely to rot and decay due to it being a natural material. If it rains it can rot, if it gets too much sun it can become brittle, and if it begins to snow or frost, it can split.
Synthetic rattan, however, is incredibly flexible, and this is why it is a popular product, especially in Britain. Due to its powdered coat and aluminium frame, it is strong and won't fade in the sun or rust when the inevitable rain begins to fall.
However, we do recommend using the shield covers that are provided with each set or even buying some of our premium covers for extra protection.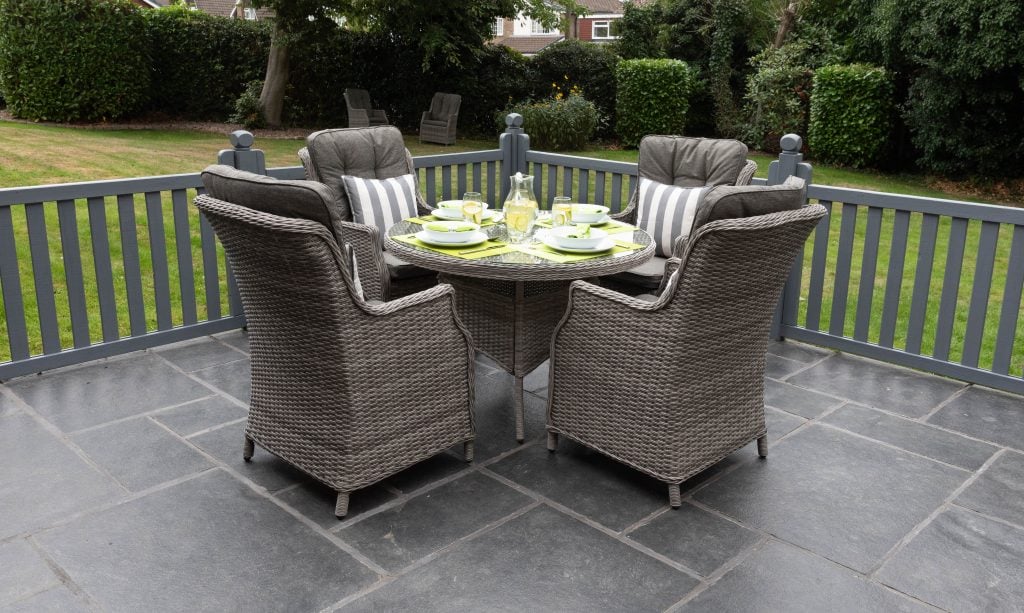 Outdoor cushions
Our outdoor cushions are perfect for unpredictable British weather, due to their robust design. But we recommend bringing the outdoor cushions inside because although they are showerproof, they will begin to lose there shape and colour. We also stock a range of replacement cushions, because there's nothing wrong with having a few extras to be safe! How about our colourful scatter cushions which will brighten up your garden.
Wood or Rattan?
Wooden furniture, or old wicker furniture, can be left outside, but don't expect it to last. And even if you care for it, with regular cleaning, varnishing and polishing, it still won't last anywhere near as long as synthetic rattan. This is due to the UV resistant and anti-fade rattan protection, that comes with synthetic rattan furniture. Saving wooden furniture can be an arduous task, and there is no guarantee that it will last any longer, especially if woodworm begins to form. This is the big difference between wood, rattan and synthetic rattan. Do you want to enjoy your furniture all year round, or have to look after it as the seasons change?
If you're struggling to decide on whether Rattan furniture is for you, the time you save in maintenance makes rattan furniture the best choice. Instead of regularly painting or varnishing your furniture, you can spray it with water and wipe down any dirt. Completing a simple task like this guarantees that your synthetic rattan furniture lasts for anywhere between ten and twenty years.
Why not take a look around our website, where we have everything for your outdoor needs including; dining sets, day beds and even outdoor heaters. Click here to see more.
Enjoyed reading this?
Sign up for our emails below, so we can send you blogs on gardening tips, as well as updates on our sales, so you don't miss out on those garden furniture bargains!