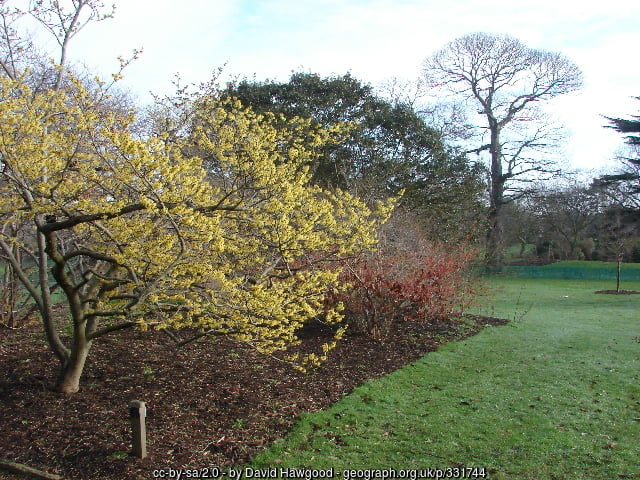 Scented plants add a touch of magic and glamour to your garden. As part of our blogs encouraging you to plan ahead for your garden, today is the day to plan for balmy evenings, a comfortable rattan chair and the heady scents of summer. Scented plants aren't only for summer – the right plants in the right places will fill your garden with scent all year. A few can make the difference, take scent to heart and build scent into your whole garden plan. This Daily Telegraph article offers a great start. Be inspired by visits to scented gardens. Find them in public parks, open gardens, hospitals and more - such as the Jo Malone charity gardens or the scented garden at Kenilworth.
Scented plants: choose flowers and leaves
We often assume that scent only comes from flowers, but some leaves are scented too. These plants are ideal near your seating area, along a path or beside a gate where people brush against them. Plant mint, rosemary, sage or lavender.
The leaves of some trees and shrubs give off heady scents in warm sun. For a feature tree that will fill your garden with glorious scent, plant 'Cercidiphyllum', also known as the Katsura tree, and watch visitors hunt for the source of an intoxicating scent of burnt sugar.
Scented plants for summer
Choose scented roses for a heady perfumed evening. My favourite for scent and good looks is 'Rosa Buff Beauty'. It is a hybrid musk rose that relishes a warm position and only needs light pruning (so it is low maintenance too!). The soft apricot flowers are set off by red-tinted leaves. Many summer annual plants (meaning they only last one year) are scented, giving off their powerful scents in the evening. Plan a good patch or pots of 'Nicotiana' near your garden seating area and you won't want the evening to end. For something different – up close 'Cosmos atrosanguineus' flowers smell of cocoa!
And for a summer shrub that will make your garden zing, plant Philadelphus 'Belle Etoile', the most highly scented 'mock orange' whose white flowers have a maroon centre, and its arching branches are perfect at the back of a border.
Scented plants for autumn
Iris unguicularis needs a warm sheltered spot, ideally against a south-facing wall. So it could suit a sunny patio. Flowers start in November and end in March so its great value. Not outdoors much in November? Cut and bring the flowers and their scent into your home.
Hamamelis x intermedia 'Aurora' is a variety of witch hazel whose orange flowers against bare stems are stunning to look at and scent.
Scented plants for winter
Many autumn plants, such as witch hazel, give lasting joy into winter. You know from our blog that 'Christmas Box' (sarcococca) is a must have tough little winter shrub with a scent to bowl you over.  Don't stop there: there are more lovely winter plants to choose! Chimonanthus praecox is commonly known as 'wintersweet', and that name sums it up! The gorgeous yellow flowers are reddish inside and stand out against bare stems. Plant it near the house to give it shelter and enjoy the spicy scent.
Scented plants for spring
Hyacinth bulbs are a must have spring scent in the garden. Don't forget that after the flowering bulbs you were given at Christmas have ended you can plant them in your garden to flower each year.
The pretty Daphne odora 'Aureomarginata' was traditionally the plant found beside cottage doors and gates. The heady scent and stunning waxy flowers and leaves made it a boost in early spring. But it loves a sheltered site, out of wind, and prefers a dryish soil, so don't choose this if your garden is very shady, wet or exposed.
Scented plants all year
You will find lists of must have scented plants in books and magazines, but remember to choose plants that suit your garden and read our blog for tips to make the most of your garden and investment. Then look forward to scented summer evenings. Now that is a boost to this cold winter day!
Enjoyed reading this?
Sign up for our emails below, so we can send you blogs on gardening tips, as well as updates on our sales, so you don't miss out on those garden furniture bargains!