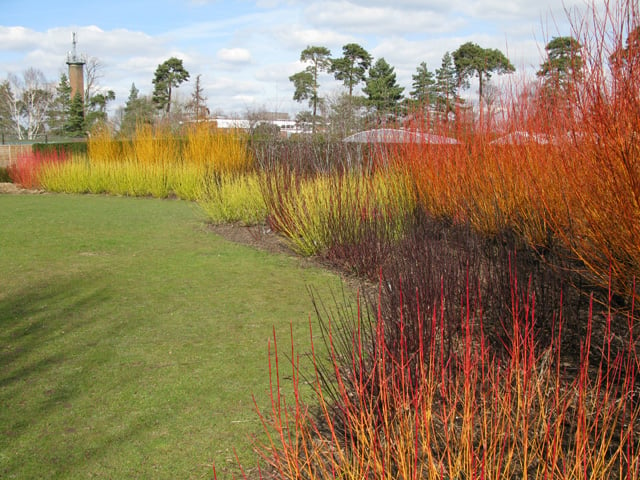 Grey November days make me long for winter colour in the garden. After autumn's bright leaves and berries everything seems on the dull side. This happens every year and every year I promise to do something about it! I planted winter pansies to give colour in the garden and in pots on the patio, but that's not enough for the greyest of days.
Out and about this week I have been looking for what really works for winter colour in the garden. So many lovely things!
Deep dark green box bushes pruned into neat and elegant balls and pyramids
The very early flowers of Viburnum bodnantense 'Dawn'
Ivy flowers covered in cobwebs and rain drops
And the fragile nature of late roses.
But for me the WOW of the week has been winter colour in gardens thanks to the colours and patterns of the bark of trees and shrubs.
Silver birch isn't just silver!
We all know silver birch – it is a great source of light and bright white in the garden, and in winter the bark can almost shine. But there's more to this tree! Shop around for the lightest bark and the best colourings, such as:
Betula utilis var. jacquemontii for a shining white bark, and in a multi-stemmed tree, for a gorgeous shape too
Betula albisinensis var. septentrionalis for cream to pink and cinnamon bark layers that you just want to touch
Betula papyrifera with peeling white bark that shows a soft gold beneath.
These are elegant trees that take up little room and one or two are likely to suit most gardens.
Bark patterns and textures
Other trees with lovely bark that will suit many gardens are the snake bark and paperbark maples. True to their names, these lovely trees offer unusual bark colour and texture. As its name suggests, the paperbark or Acer griseum sports a papery thin peeling bark in shades of red and pink and cinnamon while the snake bark (Acer capillipes) does what it says and its green and white patterned bark really does look snake-like when winter light catches it.
Plant shrubs with colourful stems
If you feel you have no room for a tree – plant shrubs with coloured stems in winter!
Cornus, or dogwood, is, for me, THE shrub for winter colour. Not surprising then that one variety (Cornus sanguinea) which has brilliant orange stems is called 'midwinter fire'. But I have fallen in love with the lime green stems of Cornus sericea 'flaviramea' which lift dark corners, and three are heading straight for the bottom of my garden this afternoon.
My mother's tip was to plant three different varieties of cornus close to each other so that the stems mixed and contrasted with each other. To give the best show these shrubs need to be pruned every spring to encourage the new growth with the brightest coloured bark.
Hard pruning suits Salix alba too. This is a willow and will grow fast if not pruned. Like cornus, different varieties offer different colours. My money is on the golden willow (Salix alba Vitellina) and the breathtaking brassy bronze of Salix alba Britzensis, also known as the scarlet willow.
Plant now for winter colour now and in the years to come.
All the trees and shrubs I have fallen in love with suit most soils and locations. Check out the RHS advice on what each plant likes best before you make your mind up in what will give your garden a winter colour WOW. From now to March is a great time to plant many trees and shrubs, so why not treat yourself to winter colour now that will last for many years to come?
Enjoyed reading this?
Sign up for our emails below, so we can send you blogs on gardening tips, as well as updates on our sales, so you don't miss out on those garden furniture bargains!