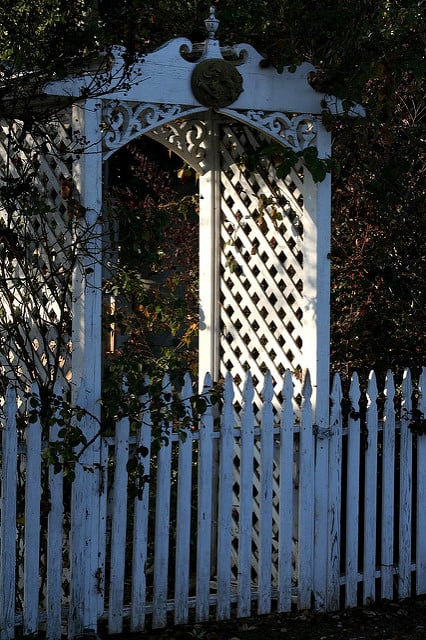 Oh, I do like a garden trellis. I like it if it's smart and upright, and I like it when it's missing bits and lurching unsteadily.
Whenever I see one I feel quite encouraged. I think it shows that somebody cares and that somebody has made the effort. Or at least that they did, once upon a time.
I'm of the opinion that trellises mark boundaries - between outside and inside, here and there, us and them. And using the airy openwork of a trellis in this way says to me that ...
here is a place to relax and enjoy the garden.
Like most things, I suppose, trelliswork ranges from the rough and ready to the beautifully ornate. Garden trellises are traditionally timber but there are metal ones too, from the neatly wrought to metal grids from builders' merchants.
A garden boundary between us and next door
This is a popular use for trellis panels as they can be installed on top of your garden fence (with support posts) to provide more privacy from next door.
You can buy panels or you can make your own from roofing battens (cheap, solid and pressure treated). Making your own is a good way of dealing with awkward spaces. Make sure you check support posts and perhaps put up more to avoid any sagging in the future. Give it two or three coats of paint or stain and it should be OK for a few years. For old trellises, repaint/stain before growth starts again in the spring.
Is a trellis a screen or a support?
I think it's probably both. Two for the price of one!
To frame a view
It's worth considering.
An arch
For an arch, I think I might choose diamond latticework.
On the other hand, metal arches are very solid. Roses like arches as the good airflow reduces the chance of mildew.
A bower
Bower - a pleasant shady place under trees or climbing plants in a garden or wood. I know a garden most of which is used for parking cars. What remains of the garden is a comfortable bench, in front of a piece of ramshackle square trellis propped against a warm brick wall. A rambling rose is growing in and out. There's a lovely view and it's a pleasant place to sit in the summer time. And that's what the people who live there do.
Support for climbers on the side of the house or shed
Trellis isn't strictly necessary for helping plants to cover a building but it can help.
The fan trellis is more restrained.
Strange but true
There is no trellis in my garden and I think I'm missing out. I've made the case. What on earth am I waiting for??
Enjoyed reading this?
Sign up for our emails below, so we can send you blogs on gardening tips, as well as updates on our sales, so you don't miss out on those garden furniture bargains!