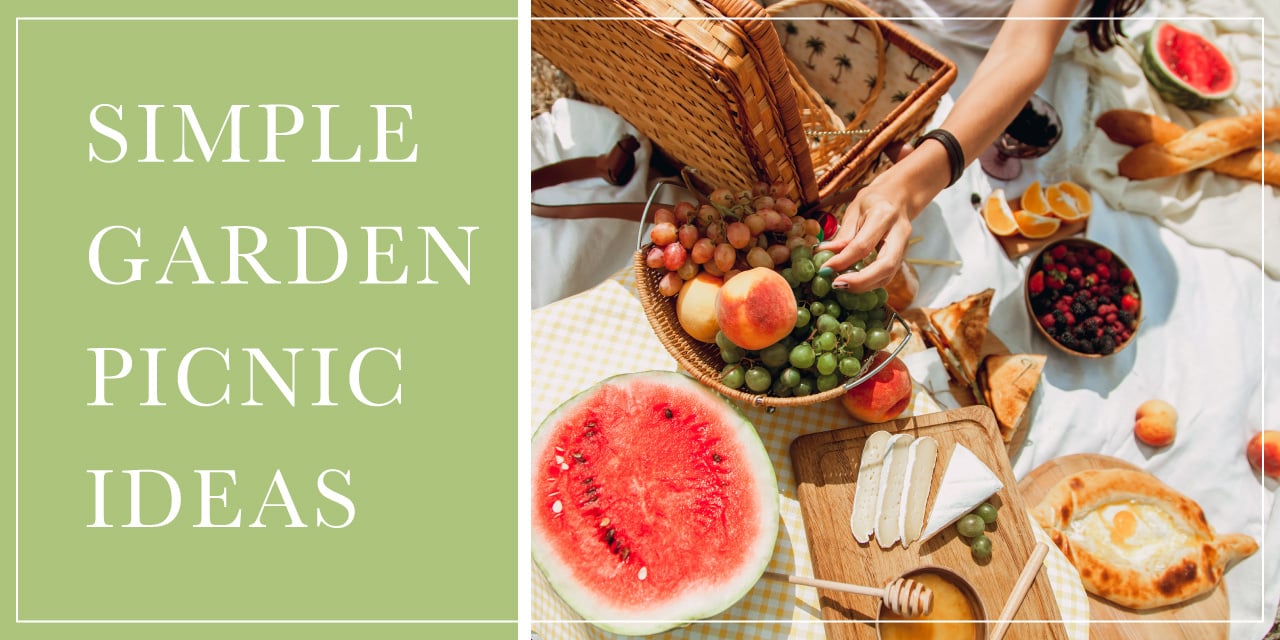 Make the most of the summer holidays by creating your very own picnic in your garden. Nothing quite beats a good old-fashioned picnic, and doing it at home means you can do so on a budget
You can use our budget picnic ideas yourself whether it's for some family fun or a romantic date. Picnics are always a fun activity, so instead of being stuck inside when the weather is glorious, why don't you create a cute picnic in your garden?
Where can I have a picnic?
The beauty of a picnic is that they can be had literally anywhere. With a small bit of prep working, you can have yourself a delicious picnic in virtually any setting. 
In your garden
A park
On a walking trail
In a woods
On a beach
These are just a few of our favourite options but there are so many for you to choose from the list is simply endless. 
Having a picnic in your garden is a really easy way of entertaining your kids during the summer holidays. We love the idea of you recreating the scene below in your own back garden. Using one of our Ascot coffee tables your little ones can sit on the footstools and tuck into the treats that you've made for them.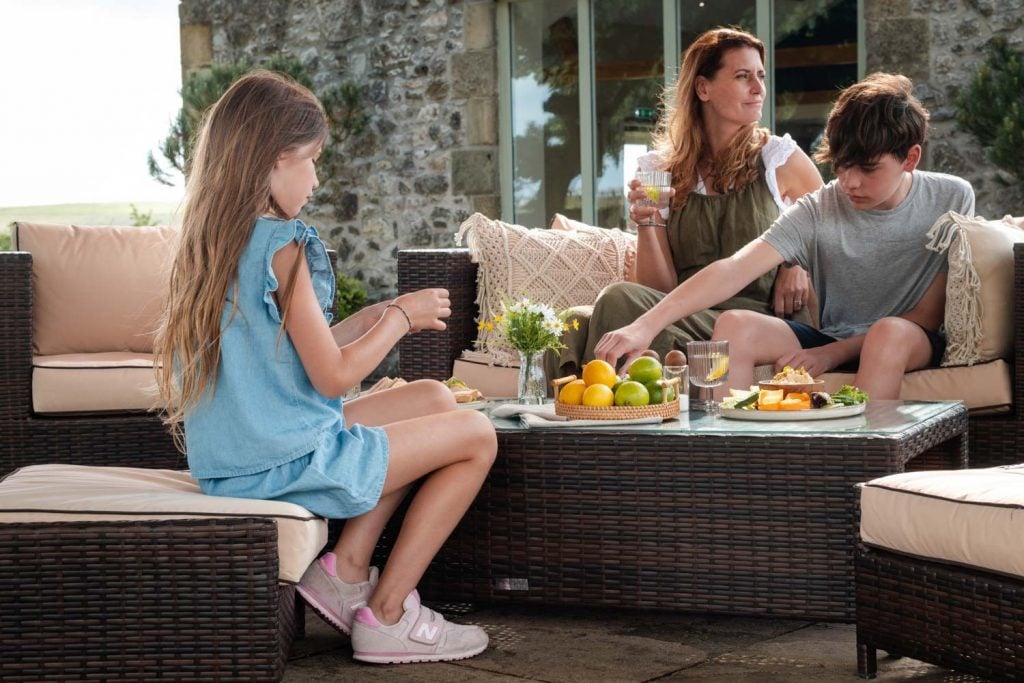 Recreate this picnic in your garden with our 3-seat Ascot set in Chocolate and Cream.
Using our rattan garden furniture you can recreate a stunning picnic in your garden. A picnic in your garden at home is really easy, and if you happen to forget something, you can quickly nip back inside. 
What do I need for my picnic?
Now that you know where you want to have your picnic you need to pick up some essentials (unless you already have them) to make the experience even more enjoyable. It doesn't matter whether it'll be romantic or a family activity, you will most likely need the following items.
9 Picnic Essentials
A blanket - Are picnics even a thing if they don't have a blanket? This is essential and should be the first on your list if you don't have one.
A basket - Bringing a basket is another must-have as they allow you to carry all of your food and drinks. 
Coolbox - If you have food then needs to be kept cold then a cool box is the answer. This will keep drinks or snacks cold so they stay fresher for longer. 
Cutlery - Another important addition and something you'll definitely have at home. 
Plastic or paper cups - These are an easy thing to forget about, but they can be a necessity especially if you're thinking of bringing big bottles of pop or alcohol.
Camping chairs - If you're not wanting to sit directly on your blanket then investing in a set of camping chairs is a top priority. 
Paper towels - Another must, especially if you have little ones with you.
Binbag - Once you clear up it's essential to take all of your rubbish with you.
Paper plates - Nobody wants to wash up after a picnic, so bring paper plates to make tidying away much easier.
Picnic Food Ideas
Food is the number one priority! Deciding on the style or type of food will make your picnic more enjoyable. 
Your budget will also come into making a decision around your picnic food ideas, so we have created a cheap picnic ideas list that will allow you to create a picnic on a budget. 
10 Cheap picnic ideas
Potato Salad - Super easy to make a potato salad. Boil your potatoes, and then wait for them to cool, give them a light coating of mayonnaise and then add in herbs and spices. Chunks of bacon work a treat for a different texture.
Hot dogs - A firm favourite for your kids, and you can cook your hot dogs fresh at home and take them with you (this is even easier if you have your picnic at home), buy some buns to go with it and pack your favourite condiments.
Sandwiches - These are an obvious choice, they're super easy to make and you can put in whatever you like. They're also easy for kids who are super fussy. 
Fruit - Again, it's really easy to pick up some of your favourite fruits from your local supermarket. You can make these more enjoyable by cutting them into fun shapes for your children. 
Crips and dips - If you're not wanting loads of food or you want a quick and easy side dish then crisps and dips are easy. You can buy both from a supermarket or make your own dips like garlic mayo or salsa. 
Jelly and cream - You'll need your cool box for this and to prep the day before. Jelly is really cheap and is sure to put a smile on your children's faces.
Wraps or pittas - Make a typical white bread sandwich more enjoyable with wraps or pitta bread. You can buy both from your local supermarket and they are usually cheap.
Roasted chicken - Pick up a whole chicken from a supermarket and cover it with your favourite herbs and spices. Once it's ready, take it out of the oven and cut it up ready for your picnic. 
Pasta salad - Make this the night before and pack it with veg, meat and your favourite herbs and spices. Put the pasta salad in Tupperware boxes and place them in your cool box so they taste fresh when you tuck in. 
Cookies For a sweet dessert you can eat some pre-baked cookies, the perfect way to round off your BBQ. 
If these ideas don't quite do it for you, then why don't you check out our picnic loaf recipes?
How do you make a picnic fun?
So, you've got all of your food prepped and you know where you'll be tucking into it. Now the final thing you need to plan is your picnic entertainment ideas. There are so many options for you to choose from when it comes to creating fun games at your picnic, so we've made a shortlist to make your decision a little easier. From classic family games to games you can play as adults!
5 Picnic Games
Sack races - These are an absolute classic and you can even get your kids to decorate their sacks before your picnic.
Bean bag toss - Write numbers on your paper plates and through a bean bag, aim to get the highest score!
Twister - This game is fun for all the family, if you don't have kids you can turn this into a drinking game!
Beer (or juice) pong - Depending on who's playing bring some ping pong balls and use your cups to play a game of beer pong.
Board games - Just because you're outside doesn't mean you can't bring some of your favourite board games out with you and play them.
Now you're fully set up to have your own picnic at home with these ideas you can create a fun picnic on a budget.
Enjoyed reading this?
Sign up for our emails below, so we can send you blogs on gardening tips, as well as updates on our sales, so you don't miss out on those garden furniture bargains!