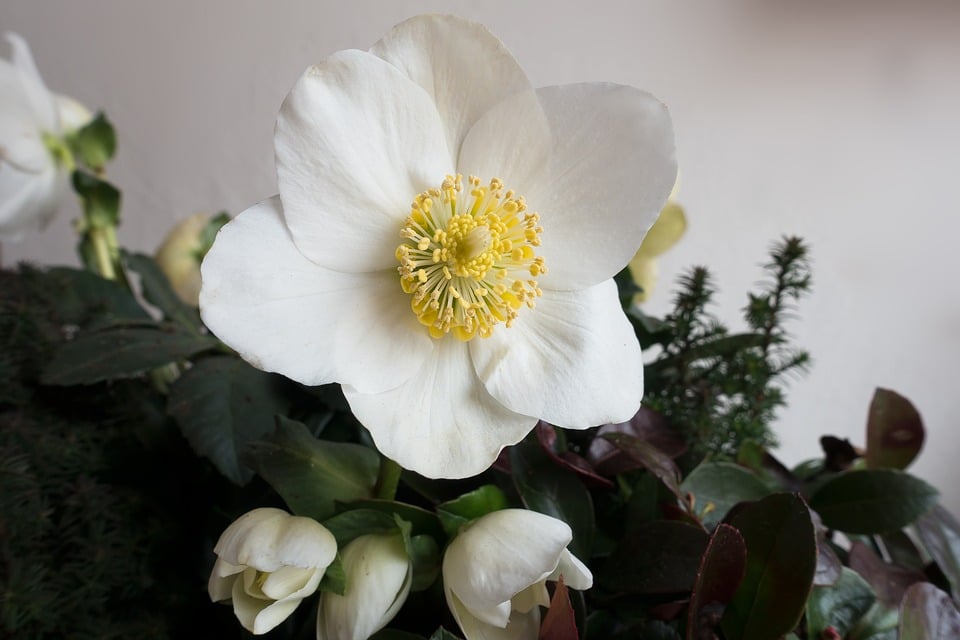 At this time of year, when the focus tends to be indoors, some plant pots can look rather plain and out-of-step with the rest of the Christmas decorations. Are your plant pots looking rather non-festive? It doesn't take very long to transform ordinary pots into festive plant pots, especially if you use ribbon.
Festive plant pots inside
Hyacinths and paperwhites are both traditional bulbs for Christmas. If you didn't get round to planting bulbs yourself you may have bought some in less-than-festive plastic pots.
Here are three ways to help the pot look in the mood. You will need ribbon so choose something seasonal! Red gingham ribbon always looks clean and bright, and is very suitable for presents other than at Christmas time.
1. Wrap the pot
Wrap hessian or other material around the pot in strips and tie it with ribbon or lace. Don't wrap around the bottom of the pot and remember not to overwater.
Or wrap the pot in tinsel.
Or tie a big bow of ribbon round it.
2. Spray the pot
Spray a plant pot gold and wrap an opulent bow of ribbon or other fabric around it.
3. Put the pot in a basket
Buy small baskets from a charity shop or garden centre. Put the pots in, fill any gaps with sphagnum moss (from a garden centre or florist) and add a large bow to the handle.
Festive plant pots outside
How lovely to see your pots all Christmassy as you and your guests come to the house. They will be very welcoming on these cold, dark days.
Here are three quick makeover ideas.
1. Add berries
Adding plants with berries immediately makes a pot look Christmas-ready. Gaultheria (aka 'American wintergreen') with its rich red berries is a good choice. Its glossy, dark green leaves have a strong wintergreen scent when crushed.
2. Add lights
A few outdoor decorations and lights in and around the pots – why not?
3. And don't forget the old favourites
Let's hear it for Christmas roses! A rose is a rose is a rose, of course, except when it's a hellebore. The Christmas rose is actually Helleborus niger (named after its black roots).
It has large, round, flat-faced white flowers which face outwards. They often age from pink into red. It has smooth, almost leathery, blue-green leaves.
Despite its name, not all varieties of Christmas rose can be guaranteed to flower at Christmas so the best way to be sure of getting an early flowering one is to visit a garden centre at Christmas and pick a plant actually in flower. They are usually found in areas with alkaline soil but, of course, you can grow them in pots. Use John Innes potting compost and keep them under cover in a cold frame, garden room or frost-free greenhouse to encourage earlier flowering. Val Bourne has some good tips on growing Christmas roses.
Everyone is very busy in the run-up to Christmas but finding time for this detail can really add that finishing touch!
Enjoyed reading this?
Sign up for our emails below, so we can send you blogs on gardening tips, as well as updates on our sales, so you don't miss out on those garden furniture bargains!