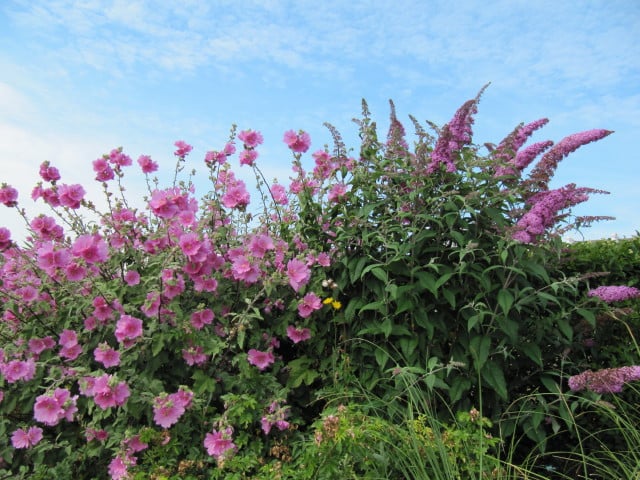 Hurricanes, tropical storms, autumnal gales and all the rest – wind is very much in the news at present. It's a good idea to cut back tall summer-flowering shrubs so they don't get damaged by the wind, but don't go wild. Read on …
Tidy up those vigorous shrubs
Flowering shrubs (including shrub roses) have grown vigorously over the spring and summer and may have become a bit top heavy. Prune them lightly to keep them under control and looking a bit neater through the winter, as well as minimising 'wind rock' to avoid damage to their root systems. Cut back between a quarter and a third of the top growth.
As you're there in the garden it's easy to prune odd stray shoots too, and remove dead and damaged branches.
Don't cut back too much, though!
There are three reasons not to be too gung-ho about autumn pruning.
This is a fantastic autumn for berries. They are almost everywhere you look in gardens and parks. It's a glorious show and you don't want to spoil it in your garden. Now the berries have formed (on your pyracantha, perhaps, or your cotoneaster) you can cut back some of the longer shoots lightly without getting rid of too many of the berries. They will still light up your garden and the birds will thank you.
Leaving old growth on a plant throughout the winter protects the roots from frost. What's more, if you prune hard in autumn and there's a mild winter, the plant might continue to grow and then be damaged by frost in a cold spell.
What do I do with all the trimmings?
Compost the green bits – either shredded with your lawn mower or cut up with secateurs. Pile the more woody material into a 'dead hedge', tucked away behind the shed or the compost, and it will become a very good home for wildlife.
Cut back the summer-flowering shrubs and your garden will start to be ready to handle winter.
Enjoyed reading this?
Sign up for our emails below, so we can send you blogs on gardening tips, as well as updates on our sales, so you don't miss out on those garden furniture bargains!