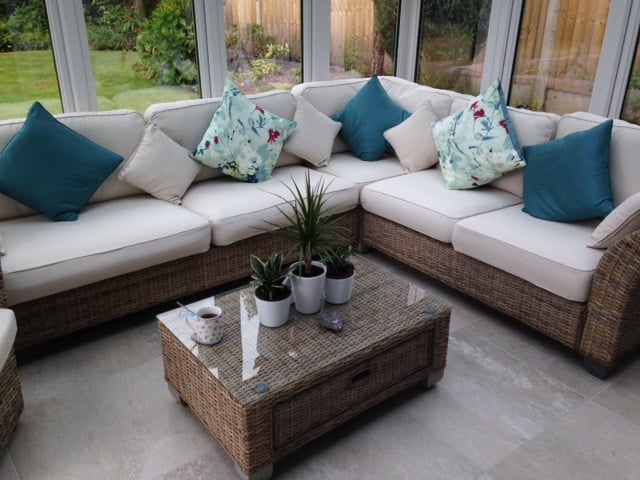 When your conservatory is an all year round room the extra space works hard for you and you make the most of your investment.
In the summer
The expanse of glass in conservatories lets in lots of light and warmth in summer. You have to open windows and doors to stop it getting too hot – it's all part of the garden coming into the house and the house flowing out into the garden story.
In the winter
When the weather is colder, though, the story can be quite different. Just walking past the glass can mean being struck by cold blasts cutting straight through from outside. It doesn't make for a very comfortable and cosy place. What can you do to improve the situation and make your conservatory an all year round room? And, of course, make the most of your investment.
Questions of heating
Clearly heating makes all the difference to using a conservatory but do you want to heat it to the same temperature as the rest of the house? This depends on answers to two more questions.
What do you use the conservatory for?
If you use the space for plants then a minimum temp of 10C will suffice for some plants, and an unheated conservatory is ideal for overwintering citrus plants.
How much insulation is there?
It's worthwhile checking the insulation and taking steps to remedy the situation if there are badly fitting doors and windows. It's also worthwhile considering fitting specialist conservatory blinds to keep the warmth inside in winter and the space shaded in summer.
Planning permission and building regulations
Make sure you don't fall foul of the law concerning planning permission and building regulations. A 'conservatory' (not less than 75% of the roof area made from translucent material; not less than 50% of the wall area made from translucent material) has to be either unheated or heated by a system with its own and separate heating controls and must be separated from the main residence by external quality doors and walls.
Types of heating
Some people decide on portable heaters and thick rugs, others go for under floor heating. Whichever you decide on, remember ventilation is essential too, to disperse condensation.
Furniture and décor all year round
Warm colours and comfortable furniture go a long way to making a space usable, whatever the weather outside. Throws or blankets to snuggle into can make all the difference. Change the cushions and throws to suit the seasons: red and orange for autumn and winter; lime and pale blue for spring and summer.
Good luck!
Enjoyed reading this?
Sign up for our emails below, so we can send you blogs on gardening tips, as well as updates on our sales, so you don't miss out on those garden furniture bargains!