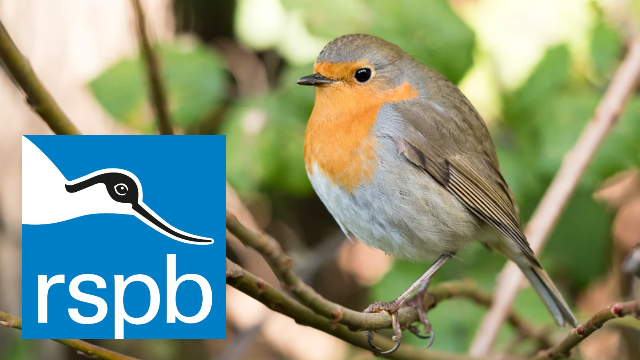 This weekend you'll need to get your binoculars at the ready as the RSPB Birdwatch Weekend is here. The birdwatch weekend organised by the RSPB is a great way to spend a few hours on an educational journey, where you'll be able to learn about all of the wildlife that flies in and out of your garden every day.
There really isn't much to it either, take yourself down to your local park or even stay in your back garden and keep your eyes peeled to see how many birds come into your garden each day.
How to attract birds to your garden
If birds landing in your garden isn't a regular occurrence, then you might need to make a few changes in your garden before this weekend's big birdwatch.
Feeding birds in your garden is the best way to attract a whole range of species. Nuts and seeds are really cheap, and you can find everything you need in your local supermarket. We tend to stock our bird feeders up with sunflower or safflower seeds as well as peanuts and cracked corn, all of which will keep your birds super healthy.
Fat balls are incredibly popular now and you can even make them yourself. Follow the steps below so you know how to make fat balls for your garden.
Take a large lump of softened lard and place it into a heated pan
Melt the lard in the pan and begin to add your choice of seeds
Add in sunflower seeds, peanuts or whatever seeds you decide and mix into the lard but remember to check to see if the seeds and nuts are suitable for birds
Once mixed, add the mixture into a yoghurt pot or coconut with a string attached and place it in the fridge
Once the mixture has hardened, normally after around 30 minutes attach the string to a branch in your tree
Watch the birds swoop in and enjoy their tasty meal
What to look out for
If you're only a beginner or you're not quite clued up on your birds, then take a look at RSPB's handy guide. Click here to download your version of the incredible birdwatch count guide.
This is the perfect guide for all you bird watching beginners, with tips on the distinguishing features of each bird you can get to know which birds are hovering around your garden. Tick the list to count how many of these beautiful creates come in your garden.
The guide to bird watching
Take part in the RSPB Big Bird Watch which starts on 26th January and ends on Sunday 27th and the best part it is it can start and end whenever you want it too. You're guaranteed to attract some birds to your garden with our fat balls, but the key to bird watching is patience so don't get too down if you don't spot as many birds as you had hoped.
The birdwatch weekend isn't just for educational fun in the outdoors, it also helps the RSPB who have been using the data you have sent in for the last 40 years, to get a better understanding of bird trends. The big birdwatch gives RSPB a snapshot of all of the goings-on with birds and can help identify the signs of birds decreasing in numbers.
Any birds you do see flying around your garden can be ticked off your list, and when you've finished bird watching make sure you send your results into RSPB who'll use your data, along with everyone else to analyse the bird trends.
Sign up to RSPB and download the Bird ID and counting chart for free, get exclusive interviews from some famous bird watchers and you can even get creative by baking a bird-inspired cake for you to eat as you take watch out for all the species in your garden.
If you're wanting to become a full member of RSPB you can do so for just £5 a month, and you'll receive a free nest box which makes the perfect home for your regular visitors. You'll also have free entry to over 170 nature reserves as well as a free membership pack. Click here and go straight to the pack request page and become an RSPB member today.
If you have the chance to take a few photos, then do be afraid to do so and upload them to Instagram and make sure you #BigGardenBirdWatch and most importantly have fun bird watching!
Enjoyed reading this?
Sign up for our emails below, so we can send you blogs on gardening tips, as well as updates on our sales, so you don't miss out on those garden furniture bargains!