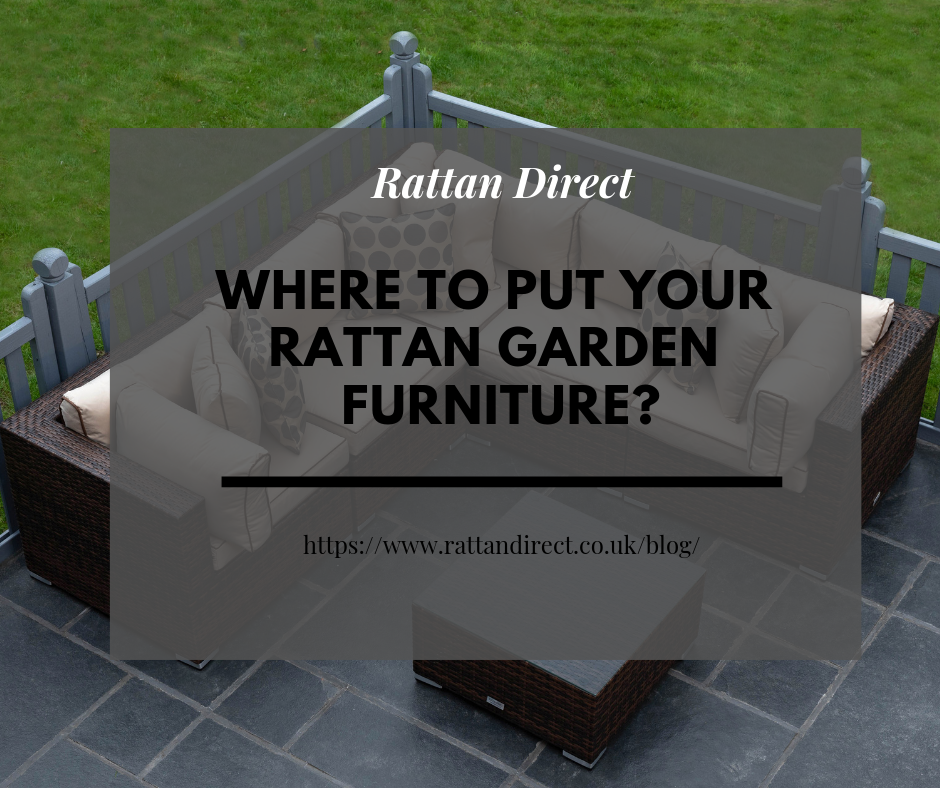 Where can I put my garden furniture?
This question comes up all the time. And in short – yes. You can put Rattan Furniture virtually anywhere, and these three options are all the perfect place to keep your Rattan Furniture. But this doesn't come without potential problems, as with most outdoor furniture taking good care of both the furniture and where you decide to place it means it can last a lifetime or just a few years.
Your garden furniture can change the way you live, so keep reading to find some tips about the best place to keep your rattan furniture.
Size
The size of your garden doesn't make any difference. You need to measure the size of your space, and then get the measurements for the furniture that you are after.
The hardest part comes when you decide on where you're going to place your furniture, this is a handy guide to help you decide on where it will go.

Rattan Furniture on Artificial Grass
Lets firstly get started on rattan furniture on artificial grass. Artificial grass is a brilliant way to save time and maintenance cost as you don't need to change your lawn regularly. Artificial turf costs a lot more than natural grass. But the saving of your time makes paying extra worth your while.
Artificial grass costs around £60 to £75 per square metre. Natural grass costs are as low as £3. The difference being that once you relay your garden with artificial grass, it will last between 15 and 20 years.
Putting rattan garden furniture on your artificial grass is highly unlikely to cause any lasting damage. If the rattan furniture spreads out evenly, it creates a brilliant look for your garden that will last for many years. You can relax all year round knowing that your artificial grass isn't going to be damaged when the summer ends.
If you have children who are likely to play around in the back garden, then artificial grass will solve all your problems. They'll be a lack of dirt in your home and on your children. Whilst the big positive is that your outdoor rattan furniture won't bring long term damage to your grass.
The main difference between the two is that putting rattan furniture on natural grass is guaranteed to cause lasting damage to your lawn.
Although cheaper than artificial grass, as soon as you place furniture on your grass, you will more than likely have to buy new lawn regularly, as it will begin to fade and ruin your grass. However, you can not use your barbeque on here, and the grass will melt and completely ruin the look of your outdoor space. We always recommend using BBQ's on patios, or natural grass.
Rattan Furniture on Decking
Decking can change a very flat looking garden, to a modern must-have. Step outside your back doors and walk directly onto your decking. Decking in your garden is the perfect place to relax on outdoor furniture. Rattan garden furniture looks at home when sat on a varnished decking, with the sun beaming down.
You can completely renovate your garden with decking for around £1500! But with decking also comes problems… And there is an array of difficulties that arise with decking.
Firstly, decking can become slippery and I can guarantee that it will rain at some point this year (sorry to disappoint) in the UK. Decking becomes slippery due to algae growing on the wood after rain falls, but with non-slip varnish and regular maintenance, you can create a non-slip decking.
Without regular care, decking can also fade or become dirty. This again can be easily prevented with painting and varnishing. So, if you want a surface that will look brilliant in the sun and with a bit of care it will create a fabulous look for your garden, then decking is the perfect choice for you.
Rattan Furniture on Patios
This one is a little simpler. Yes. Patios are easy to maintain. But they do come at a cost if you haven't already got one in your garden, prices range from £800 up to £4,000.
There's a lot less maintenance when it comes to leaving your rattan garden furniture on your patio. Once a year it's a good idea to remove everything off your patio and give it a good clean. Cleaning your patio brings a fresh look to your back garden.
Two methods are used to clean patios — the older way which includes soapy hot water, a brush and some old-fashioned elbow grease. Or take the easier but potentially more expensive and could cause damage to your flowers. The jet washer. If you want to keep your patio and garden looking fresh, then jetting washing once a year will keep away any weeds and algae.
So, whether you go for the old fashion or modern method is entirely up to you, but both will keep your patio clean, and with your rattan furniture, it'll create a stunning look for your garden.
Why not take a look at our patio heaters? The heater will keep you warm when you refuse to go inside when the summer nights come to an end. And the patio is the perfect place to put your heater so that you can enjoy your garden into the night.

The choice is yours...
...Whether you want to have little maintenance with the artificial grass. A beautifully designed decking that will make the most of your space, but with regular varnishing and painting needed to keep it looking fresh, this could be frustrating. Or the perfect patio, where one days' worth of maintenance a year with either elbow grease or a jet wash can keep your garden looking fresh.
Whatever you decide, your garden is guaranteed to look amazing with one of our many ranges of rattan garden furniture. Take a look at our rattan furniture here, and we have everything you need from sofas, day beds, sun loungers and shield covers.
Enjoyed reading this?
Sign up for our emails below, so we can send you blogs on gardening tips, as well as updates on our sales, so you don't miss out on those garden furniture bargains!