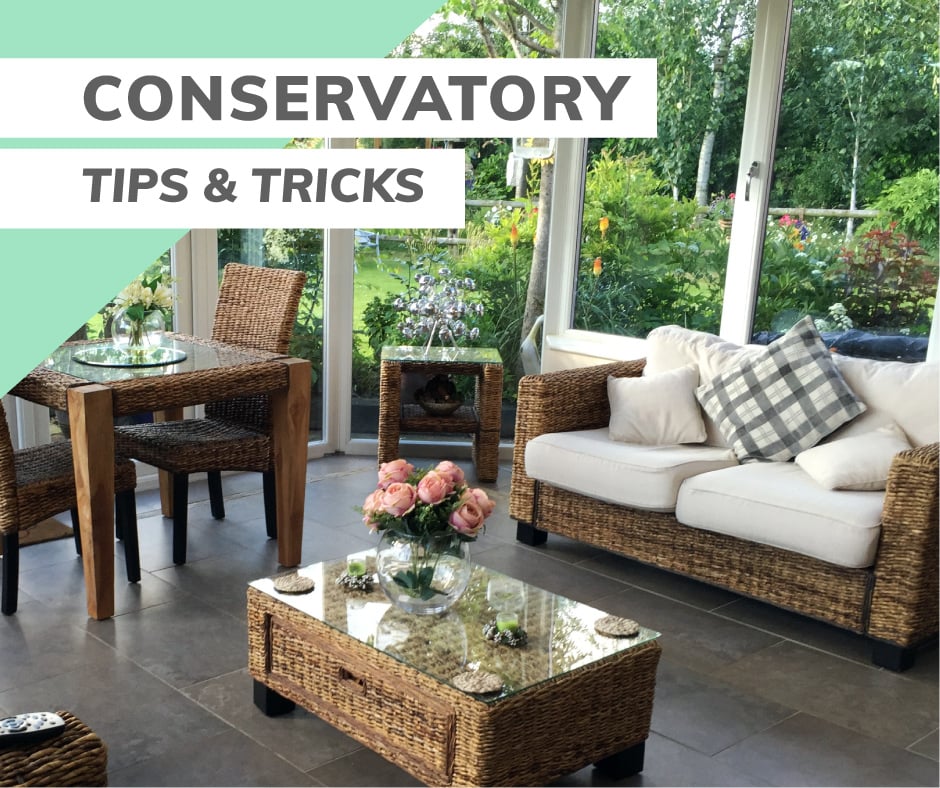 With the summer now coming to a close, you'll probably be using your garden a lot less. So it's time to bring your relaxation time indoors and inside to your conservatory. However, conservatories can quickly become dated as they're often neglected for long periods throughout the year. So what is it that brings a conservatory to life? What're the latest styles to freshen up your conservatory? Hopefully, these tips will get your creative juices flowing and you can use your conservatory throughout the autumn and into the new year.
What furniture do I need?
Ok, so this first part might sound quite obvious, but please bear with us. Getting the latest furniture is key to enjoying time within your conservatory, whether its a place to sit like an armchair or sofa. Or storage units made from the finest wicker, that'll hide away bits and bobs whilst bringing a stylish touch to your home.
L-shaped corner sofas are a great way of adding a sizeable cushioned seating area to your home, often sold with a matching coffee table offering the ideal unit to place magazines or your drink as you lay back on your sofa. Choosing the right colour of cushion on your sofa is also important, earthy tones like brown or cream continue the flow of bringing touches of your garden indoors. Wicker frames are quite often a popular choice for conservatories as they also bring a natural 'outdoorsy' feel and are designed to be longlasting.
Your conservatory doesn't have to be a place where you occasionally read, they can also become an ideal place to dine as the natural lights from outdoors brings a relaxing atmosphere to your mealtimes. Select a natural wooden table with wicker dining chairs for a simplistic look that'll be in keeping with modern trends for many years.
Consider the size of your conservatory
Conservatories are often small spaces so they can easily become cluttered if you add in too much furniture. Assess the size of your conservatory space, and measure your area to ensure the furniture that you want will fit. You certainly don't want to have to squeeze past a dining table set every time you sit down for dinner.
If like most people your conservatory is small you'll need to make smart decisions. Consider the amount of furniture you need and if you can hideaway bits within the tables. Ottomans are a great addition as they convert from a footstool to a coffee table with ease.
Splashes of colour
So far the conservatory you're envisaging may feel a little dull, but with a few splashes of colour, you can rejuvenate the space. Add bold scatter cushions to the sofa, picking bright colours that will pop. Scatter cushions are a cost-effective solution to bring a stylish touch to a conservatory, as you can change the look with minimal effort by replacing the cushions when they become dated.
With our conservatory furniture, you'll find quality as well as plenty of styles to choose from. Our indoor furniture range has five unique finishes that ensure you'll have a style you prefer. But it isn't just our indoor range that you'll see within our customer's homes, as outdoor furniture is now just as popular with grey and black finishes bringing a bold look to your conservatory. You can view our choose my size guide to find the right size of furniture for your space.
Use our tips
Now it's down to you. If you're looking to change your dated conservatory give it a new lease of life with the tips we've just given. Keep a cool head by adding natural pieces before letting your imagination run wild with splashes of coloured scatter cushions and planters giving your own unique look to your home.
Enjoyed reading this?
Sign up for our emails below, so we can send you blogs on gardening tips, as well as updates on our sales, so you don't miss out on those garden furniture bargains!