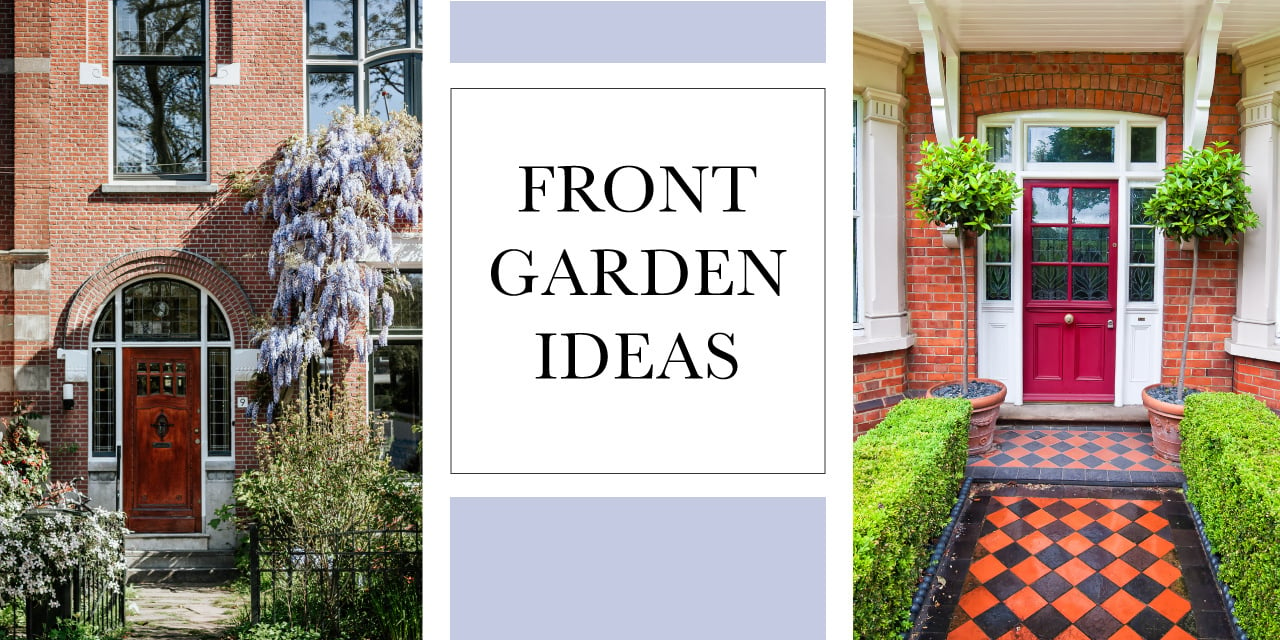 Front gardens are often neglected spaces when it comes to home and garden renovations. Usually, a front yard offers little space in terms of comfort, with some homeowners preferring to pave their space for the use of motor vehicles and for its supposed ease (spoiler alert it isn't easier) but you can read more on that further on. A front garden that features flowers, plants and other greenery can really make a difference when it comes to brightening up a dull looking street. Greenery will not just freshen up your space, but it will also bring wildlife to your garden as well as reducing pollution levels.
So, when it comes to designing your front garden there are plenty of aspects that you'll need to consider to ensure your ideas come to life. Here is a breakdown of things to consider when designing a front garden.
1. Plan what your front garden will look like from inside your home, consider aspects like privacy and how much you want to see through the windows in your front sitting room.
2.Design a space that's easily accessible for visitors, if you create a winding path will have visitors trampling over your lawn or flower beds.
3.Choose a surface that won't cause flooding or long-term maintenance.
4.Always seek planning permission should you decide to pave your garden.
5. Avoid using gravel, wood chippings or any kind of loose material on the ground as it will need maintenance and can get trampled into your home.
All of these tips above are sure to help you when planning the look of your garden. We'll take a look at each of the tips in more detail.
1. PLAN YOUR GARDEN FROM THE INSIDE OUT
Looking out onto your front yard from the inside of your home is something that wouldn't normally cross your mind. However, it's incredibly important to plan how this will look before you even begin to think about sticking a spade into the ground. The key things you need to think about whether you're planning for a large or small front garden is the balance between privacy and blocking your own view. Privacy in a small garden can be easy to implement. Plant trees, bushes or hedges to block the view of nosey neighbours or passers-by. The trouble with creating a space-based on privacy is that it can sometimes impact the view you have onto your street. Not only will hedges and large bushes bring you privacy, but they also won't deteriorate after poor weather conditions. According to our friends over at The Jolly Gardener, a Cherry Laurel plant is a perfect choice when looking at bushes that offer privacy – And we certainly agree with them on that.
2. DESIGN AN ACCESSIBLE PLACE
We've all been there before when visiting a friend's house and you arrive at a path only for it to wind around a tree… Well, the likelihood is you'll cut straight across trampling on plants and grass in the process. It's very important in a small garden design to have a path that takes you from the street right to the front door. Not only does this mean that you'll avoid the prospect of someone trampling over your lovely lawn or your immaculate flower beds, but it also makes it easier for you.
3. CHOOSE A SURFACE THAT WON'T CAUSE FLOODING
Obviously, you want to avoid flooding as best as possible, so when it comes to selecting a surface for your front garden you should choose one that will prevent the likelihood of flooding. If you're wanting to pave your front then opt for paving slabs, this allows the water to flow between the slabs and into the ground.
4. SEEK PLANNING PERMISSION
There is a possibility that if you are laying down tarmac on a driveway that you might have to seek planning permission before doing so. If you're laying down tarmac on an area that is over five metres square then you will need to apply for planning permission. If you are simply resurfacing then you will not need to seek planning permission.
5. AVOID USING GRAVEL, WOODCHIPPINGS OR LOOSE MATERIALS
Okay, okay, so we know we might be contradicting ourselves a little here but hear us out. Gravel and loose stone is a good use of the material as it does prevent flooding. However, you can also end up with loose materials, whether that be stone or wood chippings in your house, on your flower beds and sometimes on your street. This means that you'll need to constantly maintain the material, which isn't what you want to be doing, especially in a low maintenance front garden.
Now we have taken you through the do's and don't of designing your garden, we'll dive straight into how you can make your front garden look nice. With our design tips, you'll be able to brighten up and modernise your small front garden and have it looking exactly how you want to with just five simple tips.
Front Garden Ideas
1.Paint your front door a bright colour
2.Use hanging baskets to add colour and save space
3.Floral borders
4.Get your lawn into shape
5.Modern fencing
COLOURFUL DOORWAY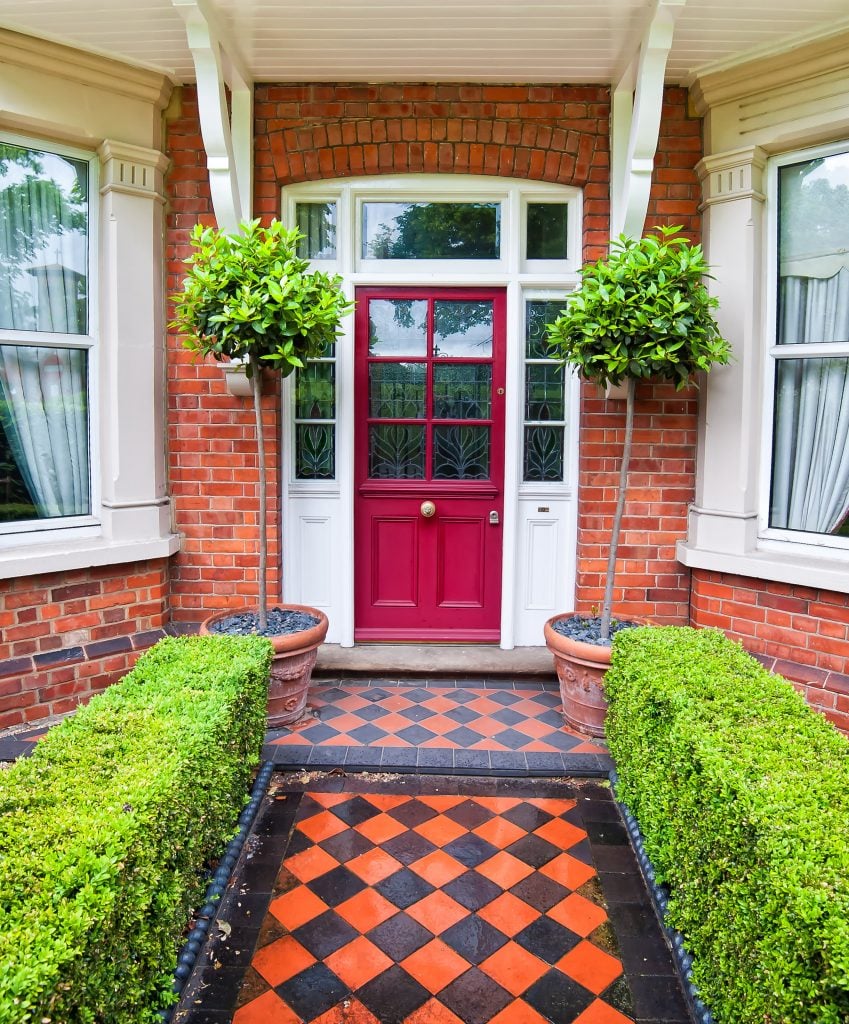 Here is a stunning example of why you should paint your door a bright colour. Not only does it make your home stand out from the others on your street, but it'll also make your home inviting. The best thing about painting a front door is you can go as wild as you want with the colour. We suggest going as bold as possible, think bright pinks, green or even a classy dark blue. You could even paint your front door a colour that matches the plants in your front garden.
FLORAL HANGING BASKETS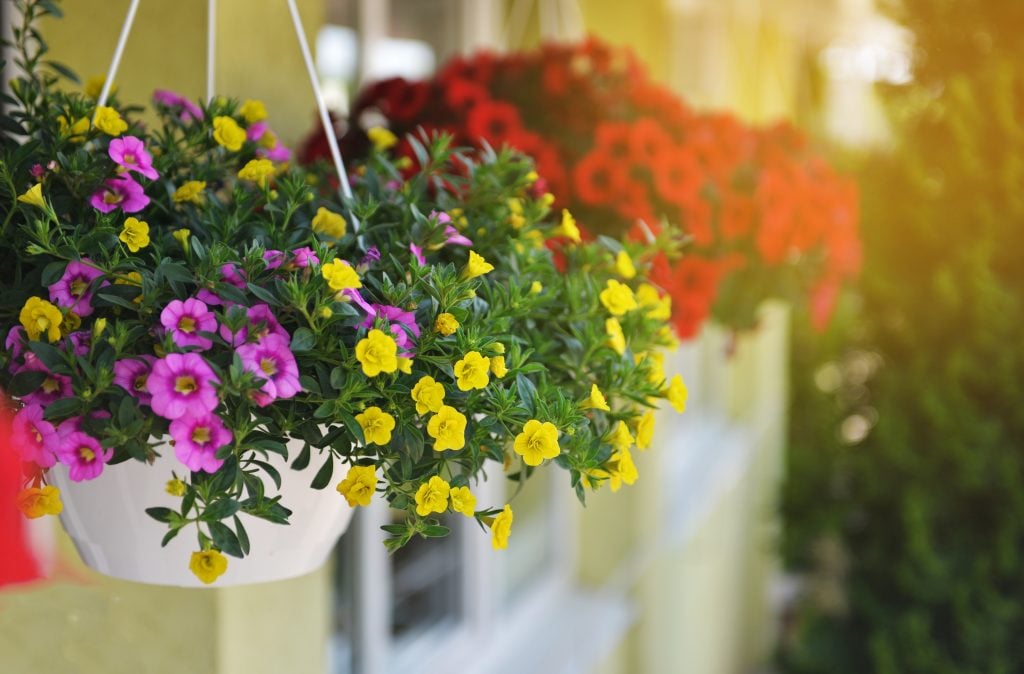 Adding a hanging basket will bring colour to the front of your home. Breaking up the dull look of a brick wall is the main reason why so many of us choose to add a hanging basket to the front of our houses. Not only do they bring a bright and colourful look, but they're also really easy to maintain. We suggest that your water the hanging basket in your front garden early in the morning and then again at night.
BORDERS THAT PACK A PUNCH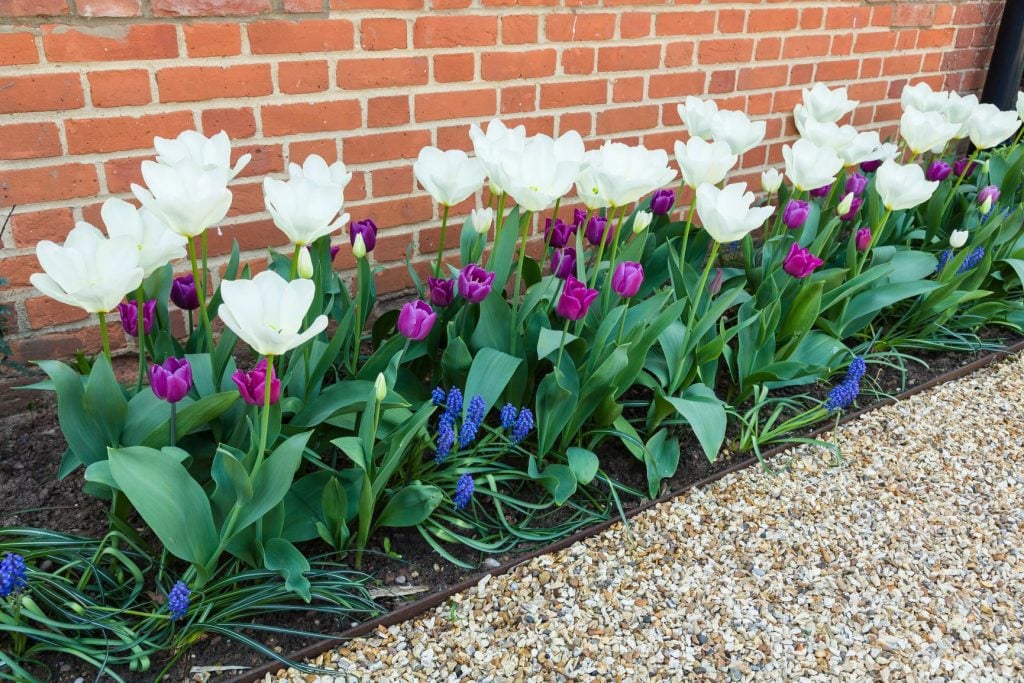 Floral borders, much like a hanging basket will add colour to the front of your garden. Before adding floral borders research flowers that are easy to maintain as doing this will save you time later on, as you don't want to be looking after the flowers every second of every day.  We recommend using Geraniums as they're super-easy to grow and will fill in gaps along your border.
THE PERFECT LAWN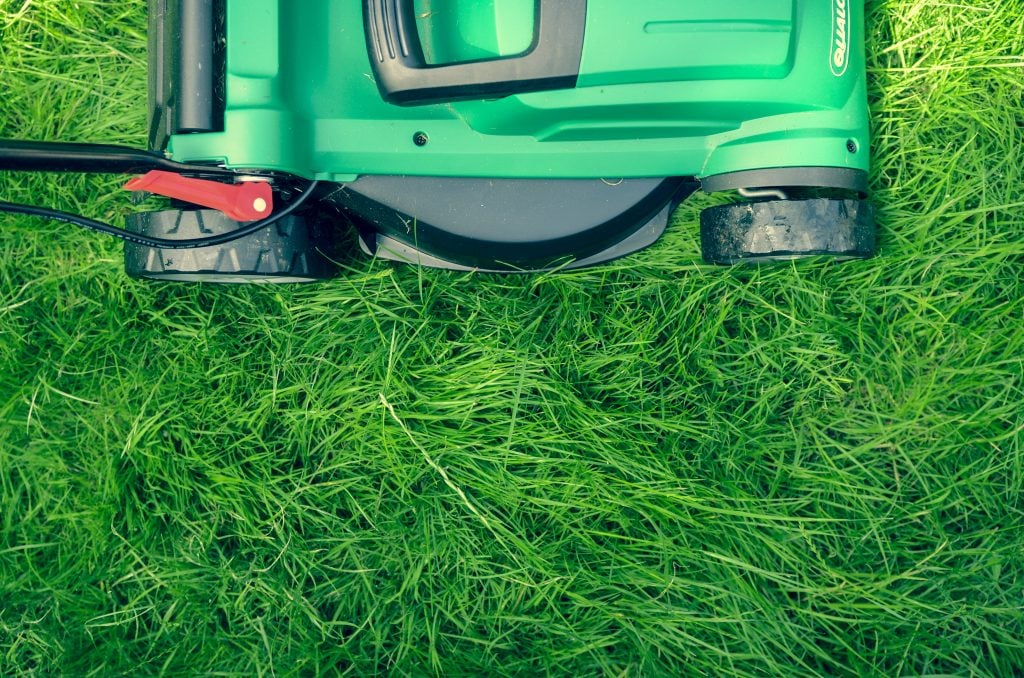 Ensuring your lawn is in perfect condition is also key to ensuring your garden looks the part. To learn more about how to perfect your lawn you can take a look at a blog post that we did a few weeks back on how to create and maintain the perfect lawn.
SLATTED FENCING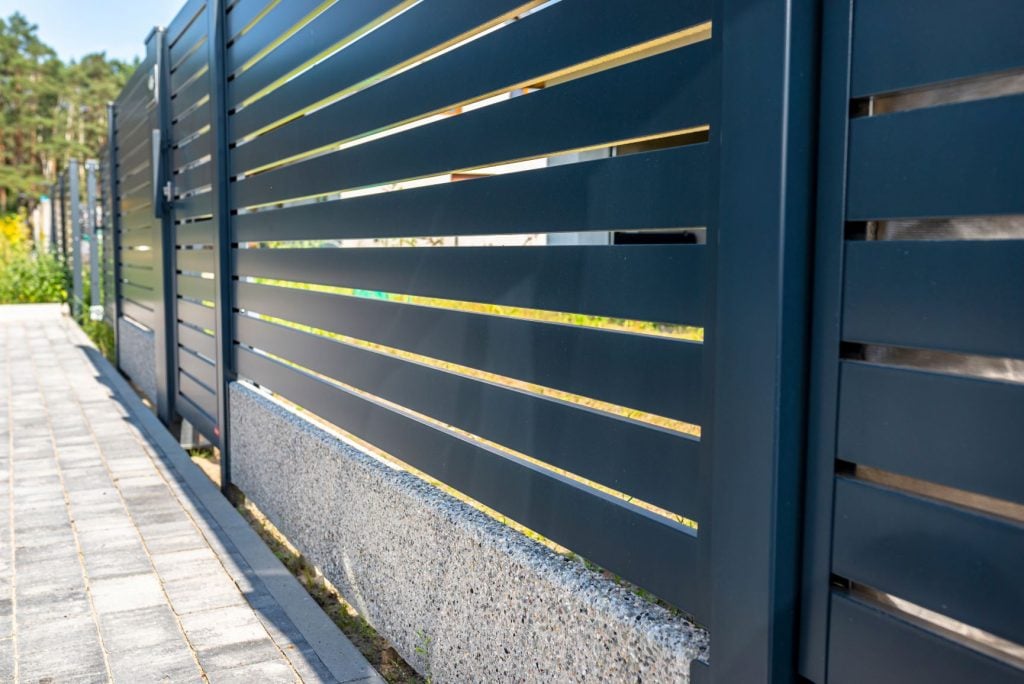 Take a look at modernising your front garden by using an on-trend look with slatted fencing. Slatted fencing which looks like this can be designed with either horizontal or vertical fencing. This style of fencing has become all the more popular in recent times and it isn't hard to see why. Use this style of fencing on the front of your garden to offer an extra layer of privacy. You can create a stunning look with slatted fencing by adding lights to the front.
LOW MAINTENANCE FRONT GARDEN TIPS
Small front gardens are fairly easy to maintain, but we wanted to give you some of our tips to ensure you have a low maintenance front garden. We've brought your five low maintenance front garden tips to finish off this weeks blog post, take a look at them below and have a garden that looks the part but doesn't need 24-hour care.
Don't have more than four or five types of plants
Don't go over the top with colours, keep it simple and choose one or two colours for your theme
Add artificial grass, this means you never have to mow the front lawn again
Choose a plant climber to add colour and to break up the look of a dull wall
Enjoyed reading this?
Sign up for our emails below, so we can send you blogs on gardening tips, as well as updates on our sales, so you don't miss out on those garden furniture bargains!