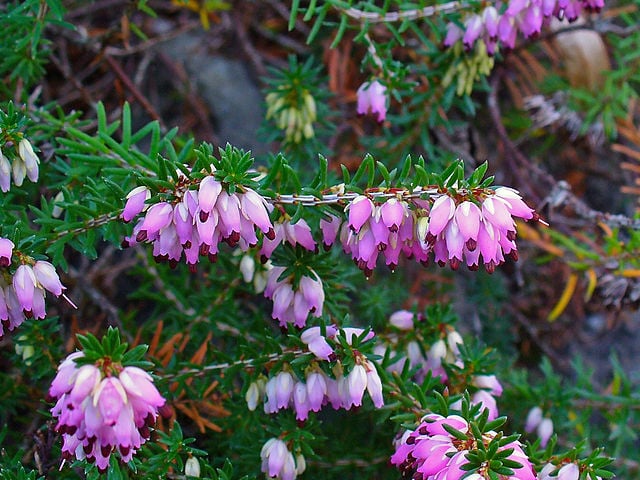 Winter heather has been giving us a good amount of colour for a few months. Up and down the country, in beds and containers, it has been lifting gardens and outside spaces out of drabness. Now it is starting to go over, that is, stopping flowering. It's time to trim it so it will remain bushy rather than grow leggy.
Time for a trim
Trimming winter heather is a straightforward job. After it's flowered, cut it back lightly across the top and round the sides. Remove the shoot tips but do not cut back into old wood. Use scissors if the plants are small or shears if they are bigger. And that's it! This is enough to stop the plants becoming ragged and untidy and they will flower again next winter.
Winter heather – Erica carnea
There are plenty of good things to say about the winter heather (or properly 'winter heath'), Erica carnea.
It's easy to grow and can be grown in all kinds of soil (unlike other heathers which only like acid soil). It is fairly lime-tolerant so it's not necessary to use ericaceous compost. It does like good drainage, though, so mix grit with soil or compost.
It's hardy and very wind resistant so it won't turn up its toes in cold blasts.
It's in bloom for six to eight weeks from November to April, depending on climate. Flowers range in colour from pure white to deep red. Many varieties also have coloured foliage so they look good even when they're not flowering. They look good with evergreen shrubs.
It's compact and makes an excellent choice for colourful winter containers. When it's past its best don't throw it away, plant it out in the garden.
There are lots of good varieties to choose from. 'Springwood Pink', 'Vivellii' with dark foliage and dark pink flowers ageing to deep red, 'Ann Sparkes' with red flowers and orange foliage turning red under cold stress are just some.
Read more from Nigel Colborn here.
You can buy heaths and heathers from good garden centres now to plant outside as soon as you like. Why not?
Enjoyed reading this?
Sign up for our emails below, so we can send you blogs on gardening tips, as well as updates on our sales, so you don't miss out on those garden furniture bargains!