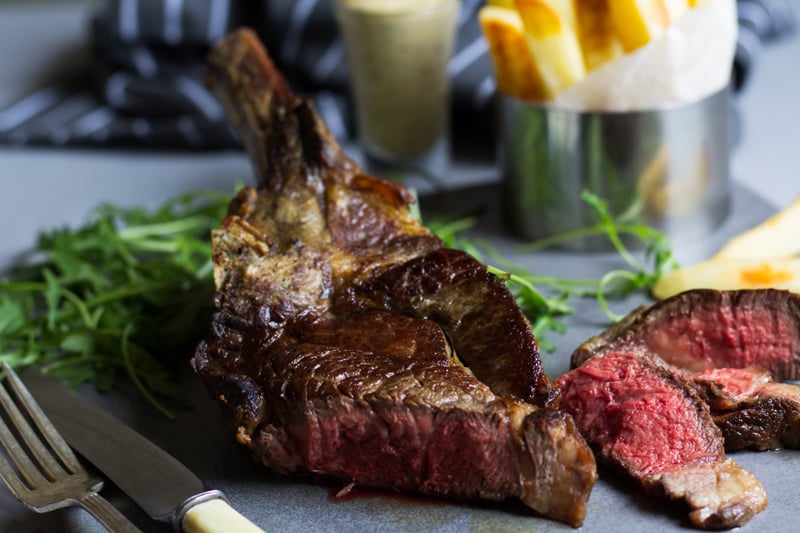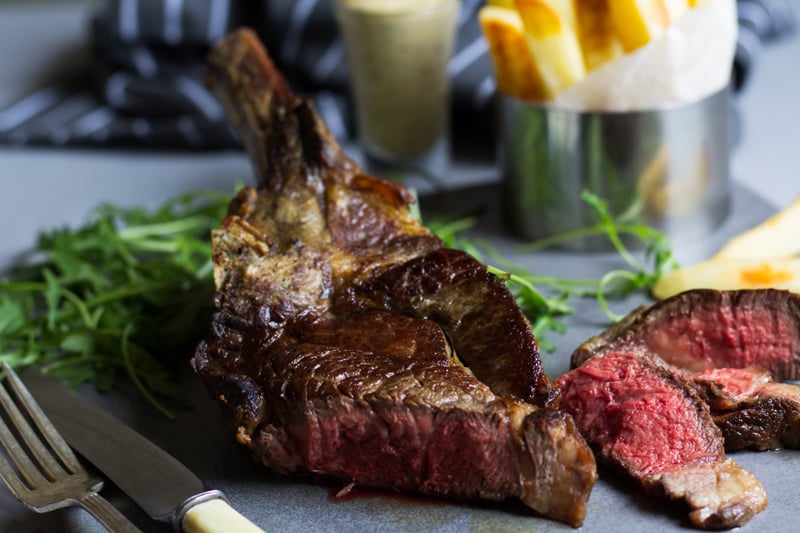 If you have a crowd coming over for the FA Cup Final 2016 on Saturday, then the food needs to be not manly exactly, but strong and sturdy; something with a bit of heft. Nothing quite says warrior like a tomahawk steak and not only will it hit the spot with football fans but it will cook quite happily indoors or out.
The tomahawk steak is essentially rib steak on the bone; so called because it resembles a primitive axe. In some restaurants and butchers the bone is left particularly long, so it is pretty visually stunning when brought to the table. Popular for a sharing board, as a 40oz monstrosity (over a kg), or as smaller steaks for individual servings, the tomahawk steak is far easier to cook to perfection than a T-bone.
Meat on the bone will remain more tender and have a meatier flavour than its naked counterparts. Rib steak is particularly forgiving and requires far less precision than a fillet or sirloin. Put the two together and you have possibly the best steak to cook for a crowd, however inexperienced you may be.
Whether you cook the steak in a hot cast iron frying pan, griddle pan or over the BBQ, the principles are the same. Try not to use anything non-stick as it just will not reach the required temperature for the perfect steak.
Any steak over 2 inches thick may be best off finishing in the oven; not so bad if you are indoors but if you are outdoors with the BBQ then this is a bit of a pain. Rather have 2 big steaks than 1 really thick one in this case.
Buy your steaks from the butcher then you have far more control over what you get.
Bring your steaks to room temperature before cooking.
Oil either side lightly and salt the side that will hit the heat immediately before cooking. Only salt the other side once you are ready to turn.
Test meat by pressing it gently at the thickest part. The more it yields, the rarer it will be.
If using the BBQ there are a few extra tips to be aware of…

The more fat on the steak (one of the joys of rib), the more likely it is to flare up. Keep a spray bottle handy for extinguishing unwanted flames.
The thicker the steak, the farther away from the heat source you want to be. You need the heat to be fierce, but if the meat is too close then you will char the outside before the inside is cooked.
Resting still applies; it can be easy to forget when cooking outdoors.
For an average 1-inch-thick steak, you want to give about 2.5 minutes on each side for a medium steak. For a 2-inch-thick tomahawk steak you may need to more than double the time, to allow the heat to penetrate right to the centre. Times will vary according to thickness and temperature but you should achieve medium doneness at a slightly lower temperature and about 7 minutes on each side. That really is a rough guide and the best way to steak perfection is to get used to knowing by touch when it is ready.
Now all we need is some sunshine and to back the winning team. Come on.
Enjoyed reading this?
Sign up for our emails below, so we can send you blogs on gardening tips, as well as updates on our sales, so you don't miss out on those garden furniture bargains!