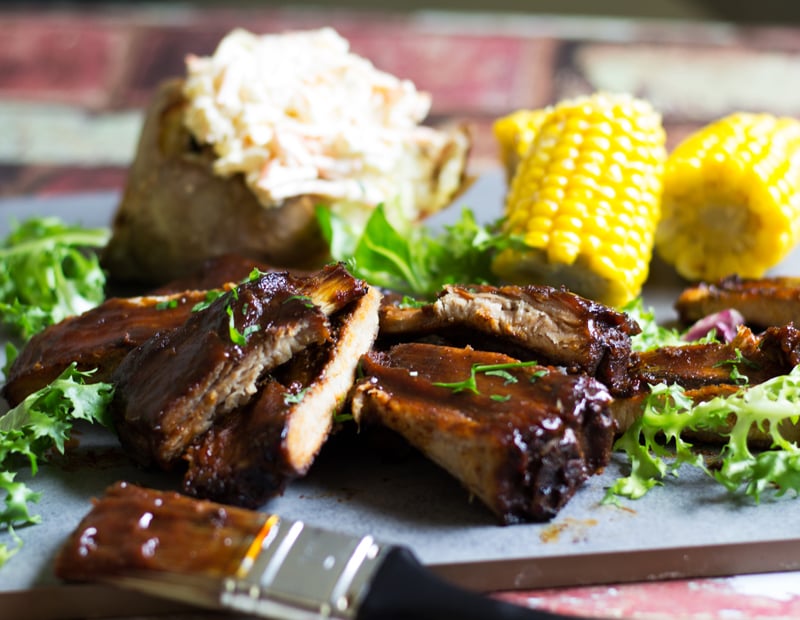 These are scratch made sticky ribs, cooked indoors in the oven for ease. Try to get baby back ribs as they are more sweet and succulent than the spare rib end. Aim for about half a rack of ribs per person, or more if you fancy a bit of a meat fest. Ribs take a while to cook, and are only on the meat counter during summer, so you may as well make the most of them. You will get ribs from your butcher all year round but may have to ask for them. If you want to do this properly and cook on the BBQ, see our tips on low and slow BBQ cookery coming up soon. I've gone for a classic American style flavour rather than an Asian profile. You don't have to make the sauce from scratch; use bottle ready if you want. Use about 1/2 of the recipe for the ribs and serve the remainder at the table.
Note - I learned several years ago not to turn my nose up at garlic powder. Fresh garlic is all very lovely and is usually all I would advocate. Apart from in rubs for barbecue. Not only can you make up a jar of spice mix that will keep, but as fresh garlic burns so easily you are far better off with the mellow sweetness that the powdered stuff brings. Same thing with onion powder too.
Preparation Time: 10 minutes
Cooking Time: 3 hours and 30 minutes
Total Time: 3 hours and 40 minutes
Servings: 4
2 full racks baby back ribs
For the rub
1 tbsp. dark brown sugar
2 tbsp. paprika
1/2 tbsp. garlic powder
1/4 tsp ground ginger
1/2 tsp dried thyme
1 tsp freshly ground black pepper
1/2 tsp flaked sea salt
For the BBQ sauce
300 ml white vinegar
150 ml ketchup
3 tbsp. soft brown sugar
2 tsp salt
1 tsp tabasco
1 tsp hot smoked paprika
1 tsp freshly ground black pepper
Pre heat the oven to 160C
Mix together the ingredients for the dry rub and rub all over the ribs, massaging into the flesh.
Lay the ribs on a baking tray, cutting to size if necessary, cover with foil and cook for roughly 3 hours or until soft and tender.
Meanwhile, whisk together the ingredients for the sauce and boil for about 3 minutes over a medium heat. Just enough to create a sauce that will cling (not clag) to the meat. Taste and adjust as you like. Set aside to cool.
When the ribs are ready, remove from the oven and brush all over with sauce. Turn the oven up to 200C and put back the ribs to finish. Turn and brush with more sauce every ten minutes or so, for about 30 minutes or until you have sticky, glossy, browned ribs.
Serve hot with baked potatoes, coleslaw and buttered corn. And plenty of napkins or a finger bowl.
Enjoyed reading this?
Sign up for our emails below, so we can send you blogs on gardening tips, as well as updates on our sales, so you don't miss out on those garden furniture bargains!