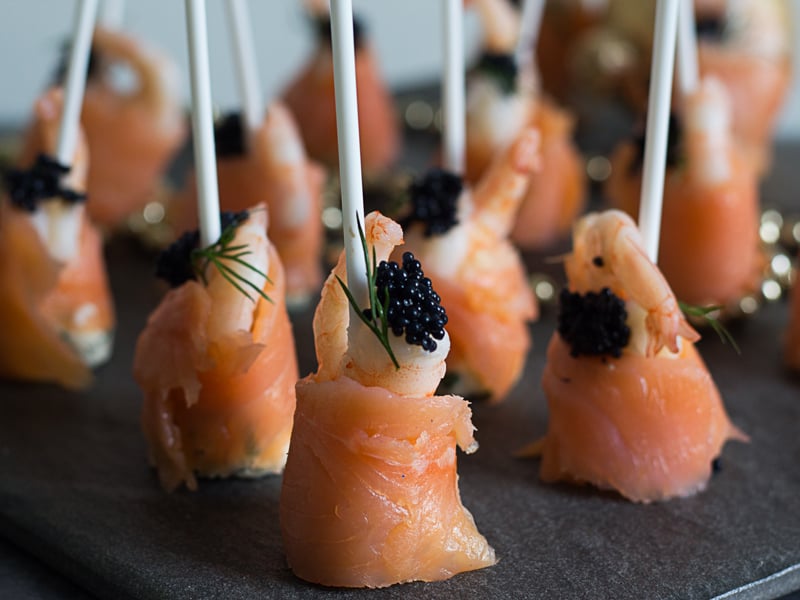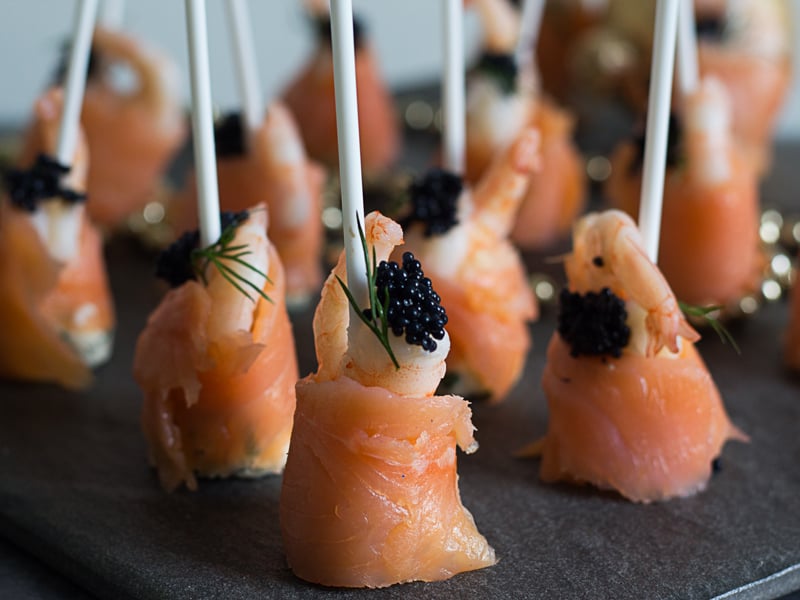 The party season isn't quite over yet, and these smoked salmon lollipops will set your New Year's celebrations off with a swing. Very simple to make, and lovely to look at, they are the perfect canape; elegant, and easy to eat.
Lollipop sticks are not hard to find, but you could use canape skewers or even cocktail sticks, at a push. We used inexpensive lumpfish roe as a garnish but feel free to use a more expensive version if you wish. A little gold leaf on the top would make an excellent flourish of excess.
The centre is made from cream cheese mixed with herbs. Most commercial cream cheeses are too soft for the purpose, so we used Boursin with black pepper (the garlic variety is not right here). If you can get proper cream cheese, solid stuff with a bit of a grain, then by all means use that. Black pepper Boursin used to be rolled in barely cracked black peppercorns but unfortunately, they seem to have tamed it.
Recipe for smoked salmon lollipops
18 lollipop sticks or equivalent
200g smoked salmon slices, torn into strips
1 pack black pepper Boursin
1 heaped tsp fresh chives, snipped
1 heaped tsp fresh parsley, finely chopped
1 heaped tsp fresh dill, finely chopped
18 cooked king prawns
1 small jar caviar
18 tiny sprigs dill
Mix the herbs with the cream cheese.
Roll into 18 tsp sized balls.
Skewer a ball onto each stick.
Skewer a king prawn onto each stick, tail pointing up.
Wrap smoked salmon around to conceal all but the tail.
Fill the gap between the salmon and the tail with caviar and a dill sprig.
Chill to serve.
Enjoyed reading this?
Sign up for our emails below, so we can send you blogs on gardening tips, as well as updates on our sales, so you don't miss out on those garden furniture bargains!