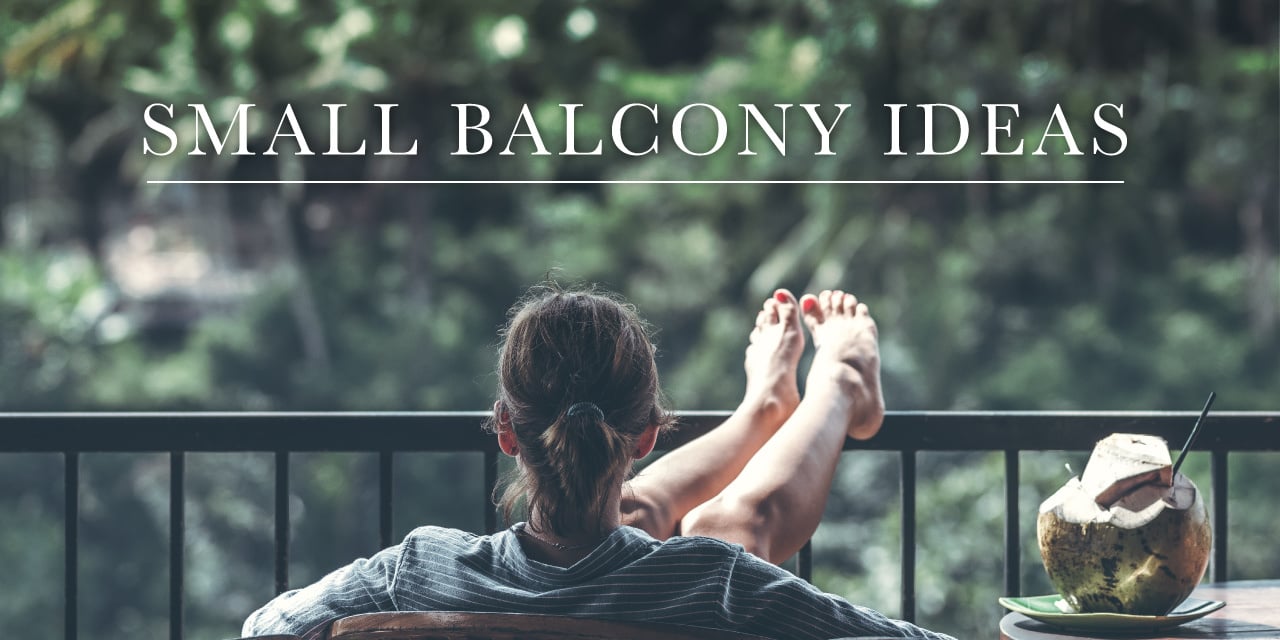 A balcony is a platform that is enclosed by a wall on the outside of a building—first invented by the ancient Greeks to increase the airflow within their heated climate. Nowadays, balconies come in all shapes and sizes. However, small balconies are the most difficult to look after as they offer little in space, meaning there is less choice in what you can do with them. This is why we are here to bring you small balcony design ideas to ensure you maximise the space, so you're fit to host and entertain your friends and family in an on-trend setting. 
Whether you own an inner-city apartment or a suburban house, we can bring you small balcony ideas to ensure you make use of the space and have an on-trend look. 
How to give your small balcony a makeover in 5 easy steps:
Make use of all the space available

Utilise the angles with small balcony furniture

Add plants and other natural elements

Use lighting to bring an atmospheric touch

Purchase privacy plants or fencing
We'll go into more detail about the five simple steps for you to transform your small balcony. These simple and cost-effective ideas will ensure you make the most out of your small patio.
Makeover ideas
Our 5 tips will leave you with a space that you can be proud of. You'll be able to entertain your friends and family on any occasion. 
1. Assess the space before you begin renovation
Measuring the space before you begin renovating will save you time further into the project. You can sort all the measurements and then look into buying the appropriate pieces of furniture.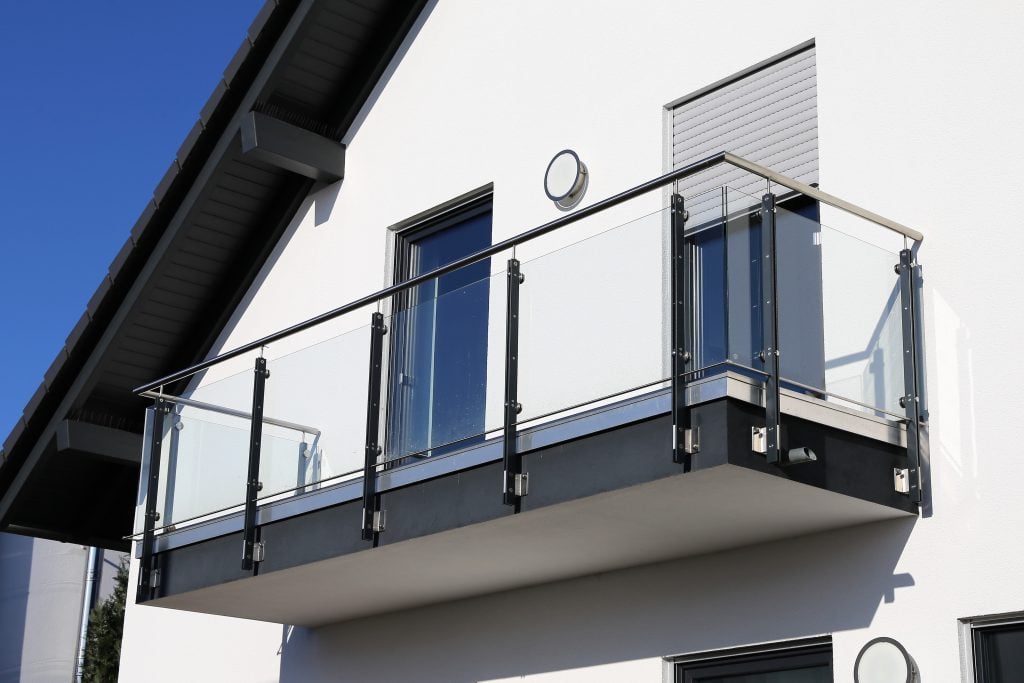 The best thing you can do with your balcony is maximising the space. The reason you're here is that you want small balcony tips, and this is our number 1 tip. You can maximise the space by adding minimal furniture, which will give you more room to entertain. We do get that minimalist design isn't for everyone, but when you lack space, then "less is more". If you buy furniture or accessories that are too big for your balcony, the space will feel cramped. So, it's best to go with small pieces of furniture to ensure you maximise your balcony space. 
How to maximise your small balcony with 5 steps
Use the balcony railing as a breakfast bar.
Fit your furniture in the corners of your balcony.
Buy foldable furniture so you can save space when it is not in use.
Add an L-shaped sofa into the corner.
Use the wall space to add hanging plants or lights. 
2. Make use of every angle.

Furniture that neatly tucks into the walls on your balcony will ensure you maximise the space of your small patio. This seated area, although small, will be able to fit up to five people on - not bad for a so-called small area. Finding the right balcony furniture is key to ensuring you make the most out of your small balcony space. We have a vast collection of small balcony furniture, so you'll be able to browse and find your favourite with ease. The likelihood is that your small balcony will only fit on a small two-seater dining set. So you can enjoy a morning coffee or a late-night drink with your nearest and dearest, whilst sat around a square or round dining table. 
3. Add plants and natural elements.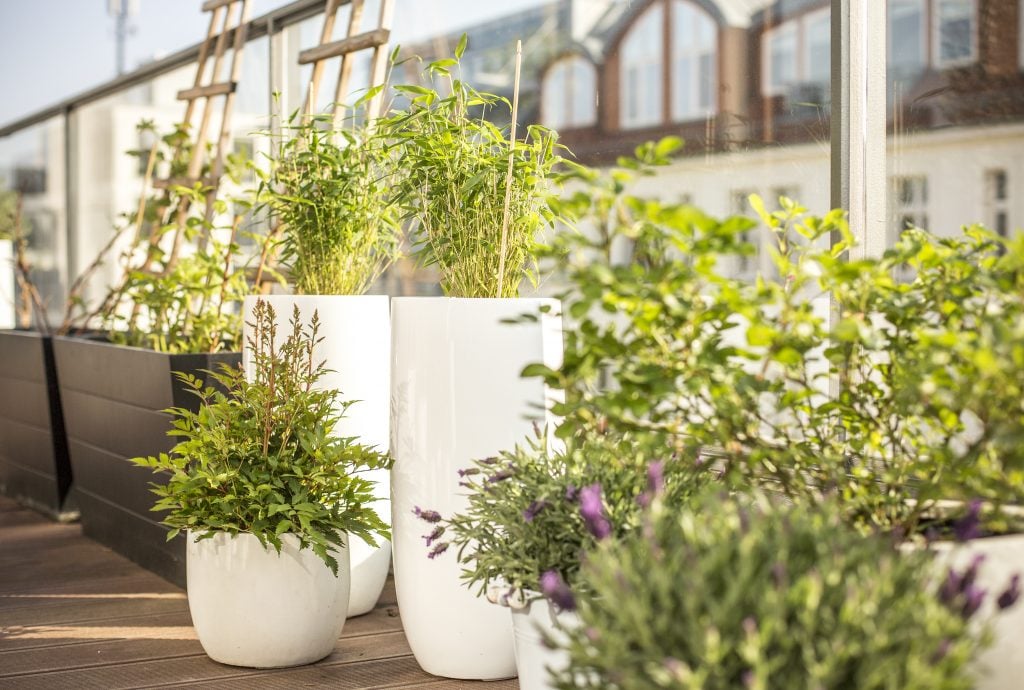 Plants are a great way of accessorising your balcony. They'll bring colour to your space while also bringing additional privacy. When it comes to small balcony plants, you have a whole range of options. Plants are perfect, not only because they add colour to your space, but they'll also add privacy. However, you can get lost in a world full of plants when it comes to trying to find the right ones, so we've given you a little breakdown of the best small balcony plants:
For shaded balconies, you should opt for begonias and nicotianas.
Sunny balconies should have bedding plants like zinnia's, pelargoniums and coleuses.
Hanging baskets are an excellent way of adding in plants without taking up your limited amount of space.
Grow your own fruit and vegetables; strawberries and tomatoes are easy to maintain.
The choice is yours when it comes to selecting what type of plants you need on your balcony. It's all dependent on whether you want to add plants for privacy or their vibrant colours. With loads of choices, you can create a natural look in your garden with those simple tips.  
4. Use lighting to brighten the space and to add an atmospheric touch.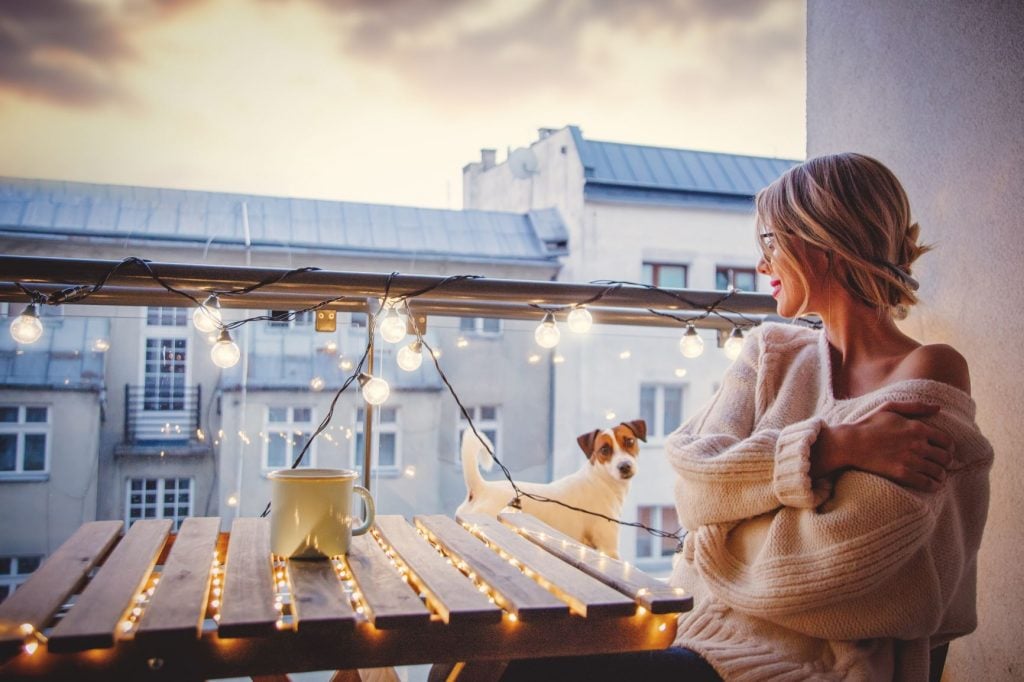 We love the lighting on this balcony. It's been wrapped around both the balcony fencing and the square dining table, it's unique, and we think it's a balcony idea you could use in your own space. Add lighting to your balcony. Lighting will brighten up space on your patio so that you can sit outside long into the night. The lighting you use is also crucial, as you don't want to use harsh lighting. We suggest hanging up fairy lights on the wall of your balcony or along the fencing. You can also use candle lighting, perfect for a date night at home. 
5. Add privacy plants or fencing for small balcony.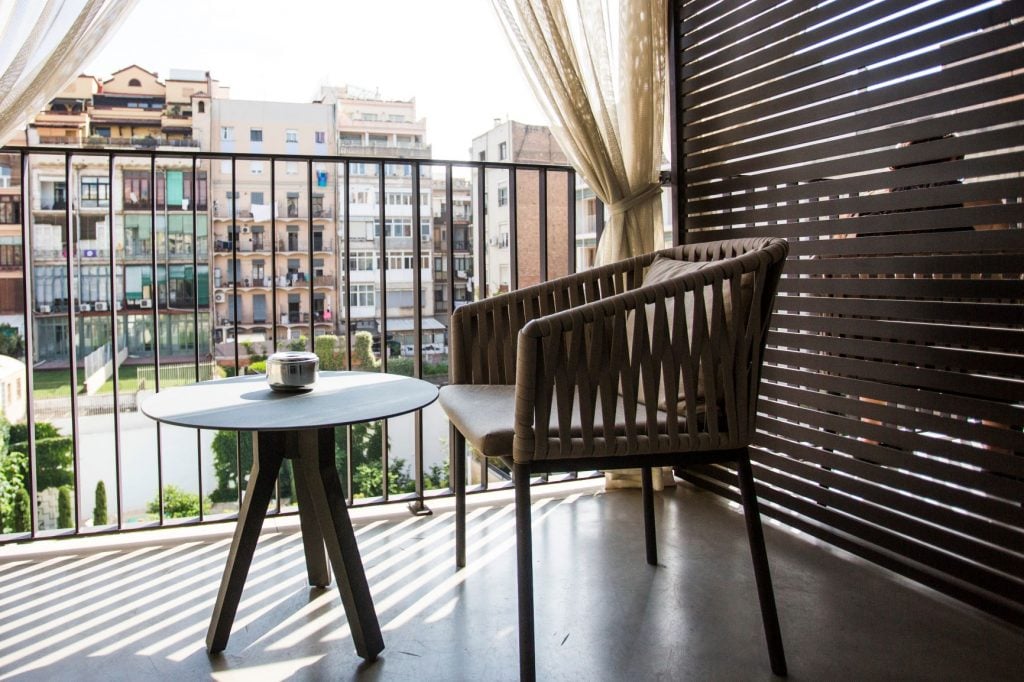 Neighbours can often overlook a balcony, whether it be people across the street or people above you in the same apartment block. We love the use of the slatted fencing on this balcony, and it breaks up space without losing all of the natural lighting that will come through from the summer sun. Also, with our small balcony privacy ideas, you'll be able to relax in your garden without the worry of nosey neighbours. So, you might be wondering, along with the fencing, what to use for balcony privacy:
You can tie in the idea of having plants with the small balcony privacy ideas by adding large planters or hanging plants that cover sections of your balcony.

Install a glass privacy windscreen like the one

here

.

Old-school curtains or beads are an affordable way to add privacy to your balcony. 
Enjoyed reading this?
Sign up for our emails below, so we can send you blogs on gardening tips, as well as updates on our sales, so you don't miss out on those garden furniture bargains!