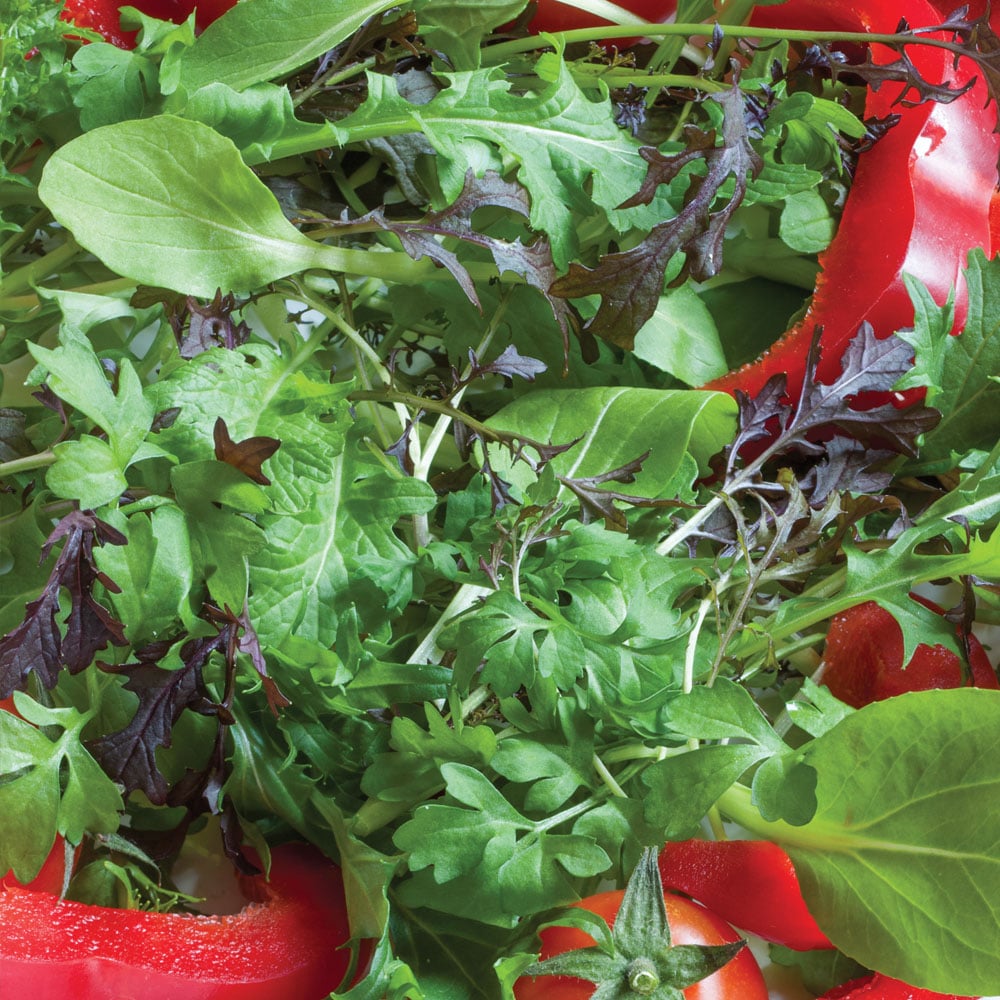 Home grown salad leaves are so much tastier than shop bought packets. They are fresher and crisper, less waste (because you pick what you need when you need it), easy to grow, good for you and good value. So many reasons to grow a range of salad leaves in gardens and pots. Here we go!
First, what are salad leaves?
Lettuces: different varieties offer different flavours, textures and leaf colour. They like different soil types and weather. Try a range to find a favourite.
Corn salad: the dark, tender green leaves are popular in supermarket winter salads, and it is good to grow all year.
Rocket: the peppery taste of fresh rocket is superb. Of all the salad leaves rocket grows in drier soil. Too dry and plants bolt and turn to seed, so don't be lured into thinking because it's growing fast it doesn't need your attention.
Pea shoots, and the young leaves of spinach, beetroot, mizuna and mibuna: plants like these aren't just about leaves so if you have space in your garden they offer double produce: snip off young leaves for salads, and eat other parts of the plant late in the summer.
Parsley, sorrel and other herbs: added sparingly these add bite and flavour to a salad. I don't have much success growing herbs from seeds so now I buy a supermarket pot and plant it into a larger pot in the garden. Don't do this with basil – which likes more warmth than most gardens can offer so it's a windowsill favourite.
Where will salad leaves grow?
Sunny veg plots and garden corners.
Grow-bags: a quick addition to your space. Watering is easier and less mess if you cut the bottom from a large plastic bottle, insert it neck down in the centre of the grow bag and regularly fill the bottle with water.
Windowsills (read about that in our earlier blog).
Pots and containers: anything goes! Be inspired by this wonderful picture from the 2016 Chelsea Flower Show: be sure to keep containers well watered.
Things to remember when growing salad leaves
Successional sowing for a steady supply: every couple of weeks sow seed thinly in a drill about 30 com (12 inches) long, water in well and keep the soil moist but not wet as the seeds germinate. This gives you a constant flow of new plants and salad suppers!
Sow where they will grow. Moving the plants that give us salad leaves often leads to salad leaves bolting (growing tall, thin and bitter). This is because disturbing their roots slows their growth (lettuce particularly are not keen on this) and the warmer weather (we hope) of June and the summer to come slows them again. If you do transplant, water well and keep the soil moist.
Thin and eat the thinnings. Gently pull our overcrowded plants and eat the leaves.
Cut and come again: my Dad used to dig up a lettuce plant and present it, roots and all, at the kitchen door like a bouquet – a wonderful sight. But the best way to use home grown salad leaves is to cut and come again. Start cutting leaves when the plants reach about 10cm (4in) high. New leaves will grow and plants can be trimmed several times. To keep plants strong, cut a few leaves at a time from several plants to fill your salad bowl. As lettuce, mizuna and mibuna grow and form distinct 'heads', use a sharp knife to remove the head.
Water water water: luscious salad leaves are full of water, and they don't like to be dry. A ritual here is to keep a sprinkler watering can filled with water so for those days when it hasn't rained, a morning watering is quick and easy to do before the day takes off.
P.S. Don't forget to sow some radish! A perfect quick crop for an empty patch and after one taste I am sure you will not buy supermarket radishes again!.
Enjoyed reading this?
Sign up for our emails below, so we can send you blogs on gardening tips, as well as updates on our sales, so you don't miss out on those garden furniture bargains!