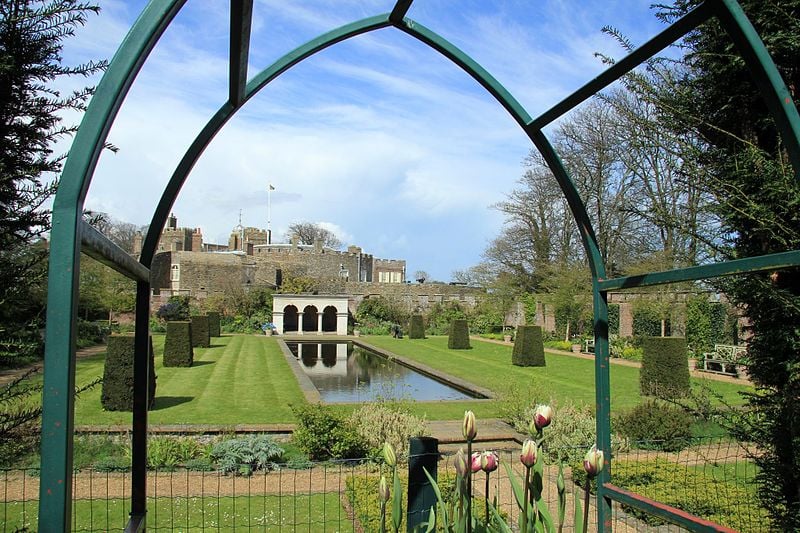 Celebrate the Queen's 90th birthday with days out in royal gardens
What better way to celebrate than to visit royal gardens? Where to start? Or end? So many gardens to choose from. Here are a few that provide enjoyment, relaxation and inspiration.
But first - does the Queen 'garden'?
TV and radio coverage, books and magazine articles are filled with information about a remarkable life, lived to a great age and with style. Mesmerising. At the Bishops' Palace in Wells, Somerset, I read that the Queen, in her busy life and with hundreds of people working for her, likes to feed her own dogs.
That set me wondering about what the Queen thinks about gardening and gardens. And does she 'do' gardening herself? I don't know. But many monarchs have been keen gardeners, hands-on or inspiring gardens great and small. Visiting royal gardens might give us the answer, and a great way to celebrate the lives of our longest reigning Monarch and many royal gardeners before her. Let's go!
London's royal gardens
Described as an oasis in central London, highlights of Buckingham Palace's gardens are included in tours of The State Rooms. Or visit the gardens, and find out about who designed them and works there now, with Alan Titchmarsh's TV programme, and his book, Royal Gardeners  (there's an idea for Father's Day!).
Like so many royal gardens, those at Buckingham Palace have grown from the plans and ideas of a succession of members of the Royal family, and a troop of wonderful gardeners. One of the stories told is of the mulberry trees planted by James I to create a silk industry. However, the variety of mulberry that produces leaves which silk worms don't eat was planted (not only here, but across the land). Instead the variety that produces delicious fruit to eat was planted – and many old gardens still reap the benefits. It's an ill wind!
Another oasis in London are the gardens of Clarence House, now the official residence of TRH the Prince of Wales and the Duchess of Cornwall. Tours of the pretty gardens on set days of the year take your mind away from the hustle and bustle of central London.
Head west from central London to Kew Palace, set within the wonderful Royal Botanic Gardens at Kew. To mark the Queen's birthday a Diospyros virginiana - a persimmon tree known for juicy berries (think mulberries again, is there a theme here?) – was planted this year, remembering a tree of the same species brought to Kew Gardens by Princess Augusta in 1762 and which was destroyed in 1916. The gardens are open every day. (If you live in or near London - how about a season ticket for Father's Day?).
A (long) walk along the river and you reach Hampton Court Palace and Gardens. It is home to the annual flower show and open daily for walks in the riverside park and fantastic gardens (not least the maze).
Go west!
Further along the Thames is Windsor Castle and Great Park and Frogmore House and Gardens. Often described as the Queen's secret garden, Frogmore House and Gardens are open to the public on particular days each year. You can enjoy long walks, great views and loads of history in the Great Park every day, but plan ahead to enjoy the peace, charm and beauty of Frogmore.
Family homes and royal gardens
In Gloucestershire, Highgrove Gardens are a youngster among the royal gardens. Around 35 years in the making, the organic gardens, associated with the Duchy of Cornwall, and the house make up the family home of TRH the Prince of Wales and the Duchess of Cornwall. Like other royal gardens, Highgrove has been inspired by it's residents, and inspires it's visitors. Open on selected days and for invitation-only garden parties and tours, these gardens are very different from the royal gardens in London and a must-see if you're in the area. And Highgrove is another garden to enjoy at home with Alan Titchmarsh, again.
The gardens at Sandringham, Norfolk are said to be perhaps the finest of all the royal gardens in Britain. Since 1860 each generation of the Royal family has added something of their own times and tastes. Now there are woodland walks, rockeries, formal gardens and stream walks. Open on certain dates each year, could this be the temptation you need for that Norfolk holiday?
Scotland is famous for wonderful gardens, including royal gardens. Open on selected days each year, the Castle and Gardens of Mey in Caithness, and especially the rose garden, was much loved by the late Queen Mother.
Glamis Castle, Angus, has links to generations of the Royal family. Most recently as the childhood home of the late Queen Mother. Open from March to October, it's a great gardening day out.
But I do love to be beside the seaside...
Queen Victoria's love of Osborne House, on the Isle of Wight, is clear throughout the estate. Open daily from 10-6, this is a great day out in every way. The gardens offer lots of chances to say WOW, to unwind, and to find out how Prince Albert encouraged the royal children to garden, grow and cook their produce. Just like home!
Walmer Castle and gardens is another royal garden near the sea. A special garden was designed for the 95th birthday of  the late Queen Mother. That set me thinking...
... How about another birthday garden? Where and what sort of garden might be created for the Queen's 95th birthday?
Any suggestions? I am sure dog-friendly planting will be essential!
Enjoyed reading this?
Sign up for our emails below, so we can send you blogs on gardening tips, as well as updates on our sales, so you don't miss out on those garden furniture bargains!