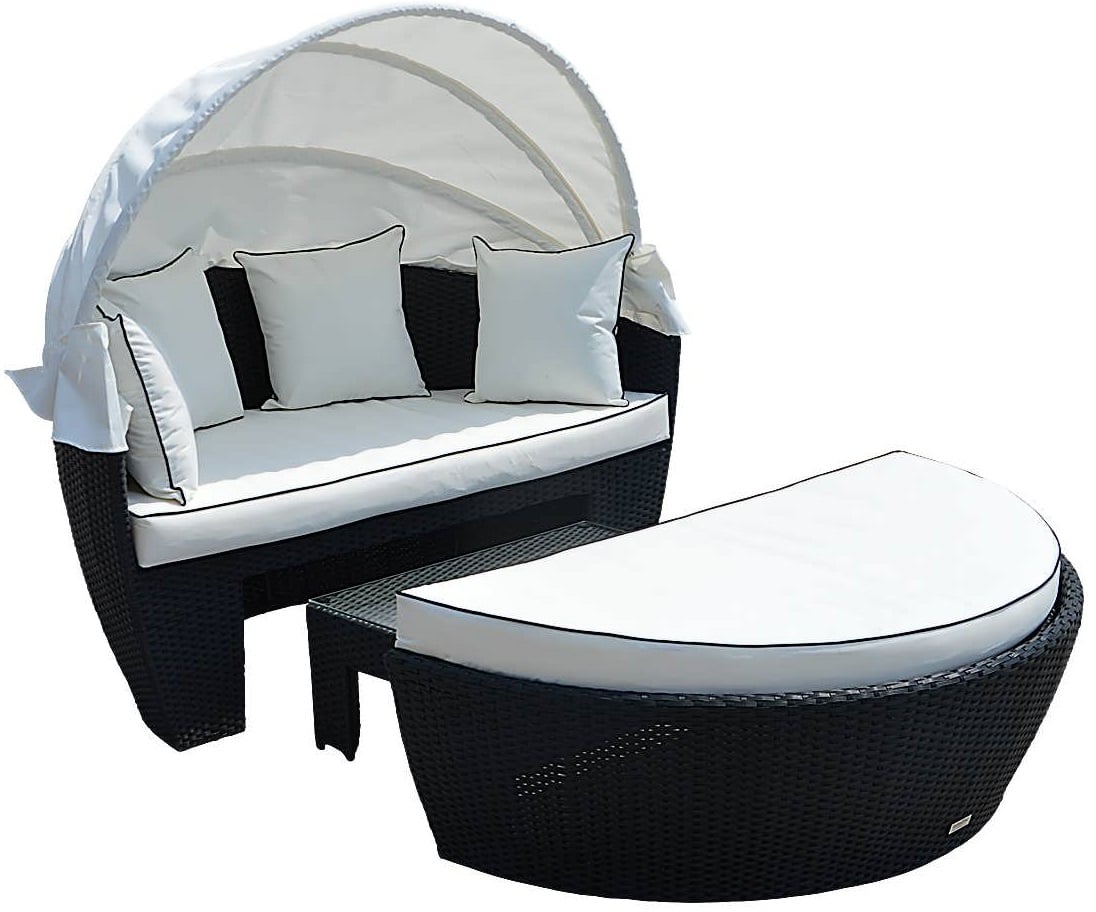 Rattan garden furniture has a strong aluminium frame. Around this, strong and flexible synthetic rattan is easily woven into elegant furniture.
Rattan garden furniture's aluminium frame
Rattan garden furniture has a strong frame of aluminium, an excellent metal for this purpose. Aluminium (known as aluminium across the Atlantic) is:
strong
lightweight
resistant to corrosion
easily formed into the shape required
easy to machine.
It's used for drinks cans and window frames, boats and aircraft; and good quality aluminium will last for years.
Aluminium doesn't rust like steel or iron and it is resistant to corrosion. To increase the furniture's resistance to corrosion even more, and to make it look good, the frame is powder-coated.
The weaving
High quality synthetic rattan is woven around the frame. This is a type of plastic and it has a number of qualities. It is:
very flexible and easily woven into elegant furniture
even lighter and stronger than natural rattan
doesn't mind being in the rain – will not swell, rot or get mouldy
doesn't mind being around the pool – has no issues with chlorine
doesn't mind being at the beach – has no issues with salt
resistant to ultraviolet light so will not become brittle and crack, and colours will not fade.
Vertical strands of rattan are fixed firmly to the piece of furniture with staples. The horizontal strands are then woven in and out to create the finished product. When completed, the frame is entirely covered. A skilled weaver will create a dense and regular rattan weave but there may be very slight differences between pieces of furniture. That's the beauty of hand-made items!
Maintenance? It's really very easy
A quick spray with a garden hose will do the job. If something has been squished into the weave, vacuum it out or use a small brush or toothbrush, and then use the hose. If necessary, wipe with a soft cloth and very diluted washing-up liquid and then rinse.
Clean wine stains up promptly, though, as red wine particularly can leave a mark.
We provide a 5 year structural warranty but with some care and attention, your rattan garden furniture could be going strong in 20 years.
Enjoyed reading this?
Sign up for our emails below, so we can send you blogs on gardening tips, as well as updates on our sales, so you don't miss out on those garden furniture bargains!