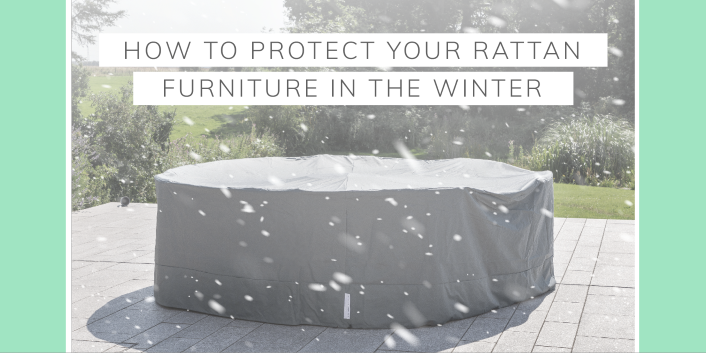 Rattan Garden Furniture
During the summer months, the hot sun allows us to get the most of our outdoor spaces, whether that be with barbeques, garden parties or a sport of al fresco dining, and what all of these outdoor activities require is stunning garden furniture. But with the summer months now at an end, its unlikely you'll get much use out of your garden furniture, so protecting it is key. This blog post will take you through everything you need to know to protect your garden furniture in the winter.
Here at Rattan Direct, we supply furniture that ensures you don't need to fret about the winter months, as our furniture is well protected with anti-fade technology. However, not all garden furniture is made in in the same way as ours, and it is often constructed from natural materials like wood or wicker, which can easily be damaged in harsh weather. You'll be pleased to know though, that there are some simple steps to protect your natural garden furniture from damage in the winter.
Varnishing and Waxing
One way to protect your garden furniture through the winter months is by waxing or varnishing it. Coating your wooden garden furniture gives it an added layer of protection against the elements. Varnishes and waxes treat the wood with much-needed moisture, which protects against rain and frost, and prevents your furniture from degrading.
Wood is a natural substance, and its lifespan can be extended if it is properly cared for. There are a wide variety of varnishes available, in colourless or coloured shades. If you'd prefer to use something more natural, beeswax makes a great alternative.
You need to know though, that you need to treat your furniture with a coat of varnish during the sunnier months, as it can begin to deteriorate when wet, so wait for a dry day to coat your furniture. To ensure your furniture is coated properly, you'll first need to brush the wood down to remove any dirt or debris. You also might want to quickly sand off any uneven areas to remove the original varnish. This allows the wood to absorb the new varnish speedily and evenly. Use a straight ended brush to apply the varnish in even strokes. Leave it to dry for a couple of hours before applying a second coat. Once you've done this your furniture will be protected be more protected from the elements.
Protective Covers
You're probably wondering how you should protect your Rattan furniture if the rain begins to pour. Well, some outdoor furniture, like cushioned furniture and patio heaters for example, can't be adequately protected from the elements simply by varnishing. They require more robust protection against winter weather – in the form of a protective cover. You will often find protective covers for these online or, Rattan Direct have a great selection of outdoor furniture covers available. It's worth investing in some protection at any rate, as your barbeque could rust if repeatedly exposed to wet or icy conditions. Although we're confident in the furniture we produce lasting throughout the colder months, we always provide a free outdoor cover with most of the sets we sell, doing this means you won't even need to invest in a cover!
Indoor Storage
With certain outdoor furniture like cushions it's just not viable to leave them outside during the winter months. They would undoubtedly be damaged beyond repair, and you'd have to fork out for new ones come springtime. If there isn't anywhere suitable for them to go in the house, you might want to consider investing in one of our outdoor storage units, that you'll be able to find here. These storage units come in a range of colourways that will match your current dining or sofa set. Grab an outdoor storage unit and protect your garden cushions so they still look picture-perfect when the sun comes back out.
With all of these options in place to protect your furniture you can rest assured that your furniture will still be in good use when it comes to spring next year. For more information on protecting your garden furniture take a look at our clean and care guide now for plenty of helpful tips and tricks.
Enjoyed reading this?
Sign up for our emails below, so we can send you blogs on gardening tips, as well as updates on our sales, so you don't miss out on those garden furniture bargains!