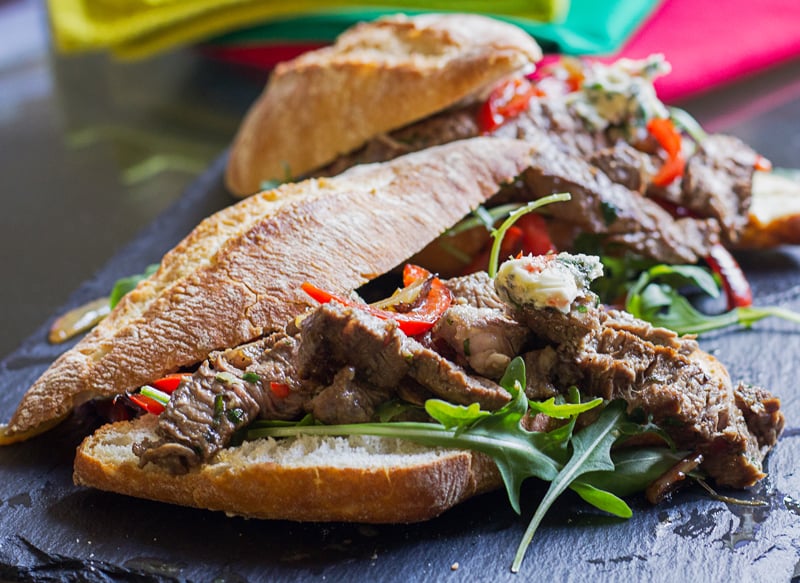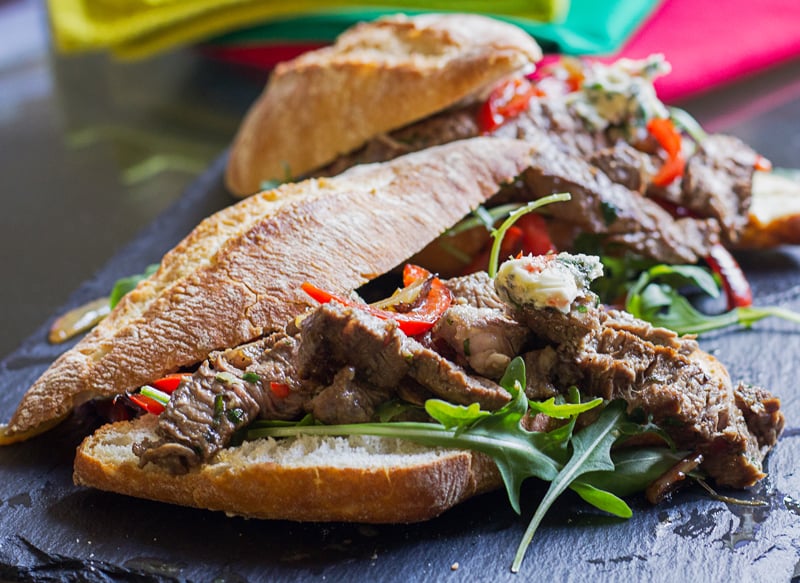 Why a Prego steak roll? Well, a true Prego steak roll is Portuguese, and a very yummy thing it is too. Many people are familiar with the Nando's version, and of course Nando's is Portuguese/South African. I used to live in South Africa, where Nando's is far better than here in the UK. A tenuous link at best, but what I really wanted was to create a lovely steak sandwich without reverting to my usual classic form.
A proper Prego is a full piece of meat, something like a minute steak, but I feel that no matter how tender beef is, it has no business as a sandwich filling in one piece. My version is sliced rib eye, soft onions and peppers, and spiced butter in a continental type roll.
This recipe is perfect for the BBQ, although as it was raining when I wrote it I did mine in the frying pan.
Preparation Time: 10 minutes
Cooking Time: 10 minutes
Total Time: 20 minutes
Servings: 2
2 ciabatta type rolls
1 large rib eye steak
1 onion, sliced
1 red pepper, sliced
2 tbsp. olive oil
salt
freshly ground black pepper
1 handful rocket
For the butter
30 g salted butter
1 red chilli, finely chopped
1 clove garlic, crushed
1 tbsp. fresh parsley, chopped
1 tbsp. fresh coriander, chopped
Remove the meat from the fridge 30 minutes before cooking.
Fry the peppers and onions in the olive oil, with a pinch of salt, until soft and sweet.
Whilst the peppers cook, mix the ingredients for the butter together and set aside.
Rub the meat lightly with olive oil.
Heat a heavy, preferably cast iron, frying pan until smoking hot. Salt one side of the meat and lay that side down in the pan. Cooking times will vary with the width of the steak, but for a 1/2-inch steak cooked to medium it will need around 2 minutes on each side.
Give the cooked steak a minute to rest before carving into slices. Toss it back into the frying pan with the spiced butter, just enough for the butter to melt and coat the meat.
Pile into sandwiches with the cooked peppers and onions. Finish with a scant handful of rocket to add a peppery green bite.
Nutrition Facts
Nutrition (per serving): 718 calories, 49.6g total fat, 16.3g saturated fat, 91.2mg cholesterol, 479.3mg sodium, 33.6g carbohydrates, 8.3g sugar, 4.4g fibre, 36.4g protein, 3630IU vitamin a, 110.1mcg vitamin b12, 2.9mg vitamin b6, <1mg vitamin c, <1IU vitamin d, 5.8mg vitamin e, 11.3mcg vitamin k, 140.3mg calcium, 72.1mg iron, 98mg magnesium, 445.5mg potassium, 37.8mg zinc.
Enjoyed reading this?
Sign up for our emails below, so we can send you blogs on gardening tips, as well as updates on our sales, so you don't miss out on those garden furniture bargains!