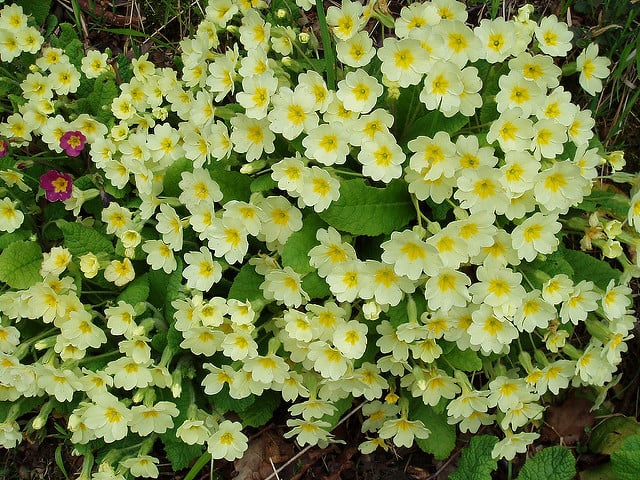 Primroses come from a big family called Primula. It's a family much like anybody else's – ask too many questions and it starts to get complicated. Here, we'll talk about primroses, cowslips, polyanthus and drumstick primulas but there are many, many more members of this lovely family. These beautiful flowers really come into their own in spring but also sometimes make early appearances in winter.
Pale and interesting primroses
The usually pale yellow primrose, Primula vulgaris vulgaris, flowers in early spring and is my favourite. I say 'usually pale yellow' because sometimes a pink variant will pop up as in the image above. It loves to flower, seed and spread in short, damp, shady grass although it will also grow in bare soil between and under shrubs. It likes woodland and hedgerows and carpets some motorway banks and verges. Like all wild flowers, it's illegal to pick or remove it from the wild.
Brightly coloured primroses
Some primroses are very brightly coloured, the result of plant breeding which started back in the 19th century. They are very popular and for sale in every garden centre, supermarket and nursery from just after Christmas. Keep them in a sheltered place (like a porch) until March or April until the weather becomes reliable enough to put them outdoors.
Do you know the cowslip?
The pretty cowslip, Primula veris, is another native primula.
It flowers from April to May in clusters of yellow tube-like flowers on a tall stem. Unlike the shade-loving primroses, cowslips like full sun and also prefer a limey soil. Cowslip seed is often part of wildflower seed mixes used by landscapers and so beautiful swathes now grow on sunny motorway banks and verges.
Polyanthus
Plant breeding has also produced many varieties and colours of polyanthus, a cross between the primrose and the cowslip. They carry their flowers on tall elegant stems.
The drumstick primula
The drumstick primula (Primula denticulata) grows up to 30cm/1ft and has a spherical head on a long stem (hence its 'drumstick' name). In pink, mauve, white and red, it's one of the first spring flowers and pretty reliable in the garden. Plant it in moist soil in partial shade. You'll find that it self-seeds readily.
If you don't have primroses or their cousins in your garden, what are you waiting for?
Enjoyed reading this?
Sign up for our emails below, so we can send you blogs on gardening tips, as well as updates on our sales, so you don't miss out on those garden furniture bargains!