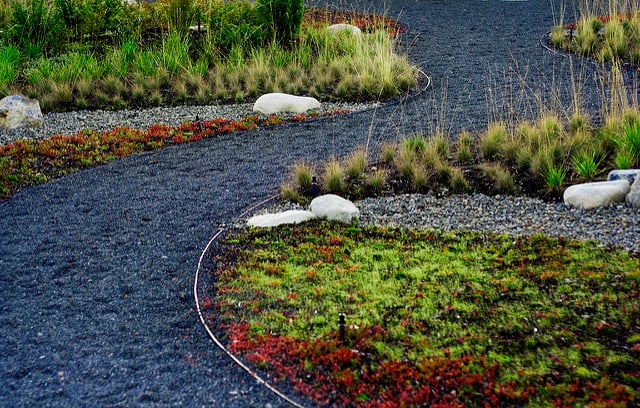 Grass is lovely but it's not always the best surface for what we want to do outdoors. And a lawn takes regular maintenance to look good, of course. If you're thinking of putting down a different surface in your garden or outdoor space, here are some points to bear in mind, and some pros and cons about different solutions.
Seven things to bear in mind
Purpose. What are you planning to use the new surface for? For sunbathing you'll need an area where you can stretch out, preferably with a stable surface for a drink and perhaps something interesting to gaze at from time to time. Parties need space and level ground. Gardeners need good paths – from the kitchen to the compost bin, from the kitchen to the borders, from A to B.
Traffic. Will the area be busy with people, wheelbarrows, other things?
Location. Where are you planning to install the surface and is it possible to make it level? Will garden chairs and tables wobble? How easy will it be to move a wheelchair or a wheelbarrow or a wheelie bin?
Drainage. How will rain drain away? You don't want your property flooded! Paved-over gardens don't soak up rainwater so street drains get overloaded, and then flooding occurs – possibly back into your property.
Budget. We've all got one. Work out what materials and labour will fit your budget.
Fitting in. Will the new surface fit in with the look of your house and garden or will it stand out like a sore thumb?
Cleaning and maintenance. How much cleaning and maintenance will be required to keep the surface looking good and to prevent slips and trips?
Artificial grass
Artificial grass is great for balconies and other tiny outside spaces. It requires minimal maintenance and green is a very calming colour. On the other hand, it's not the real thing.
Decking
Decking gives you a warm, level surface which makes it good for parties and sunbathing. You can use it to cover an uneven surface without having to do any levelling and it can be extremely good when building out over a slope. It's quick and relatively cheap to install and can be stained or painted different colours.
On the other hand, decking needs regular refinishing to keep its colour, regular maintenance to replace rotten wood (which can be expensive) and regular cleaning. It can get very slimy and slippery, especially in areas of the garden without much sunshine. Decking is also popular with rats and mice who like eating the bits of food that fall to the ground and nesting in the warm dark places underneath.
Hardwood decking is more difficult to cut accurately and cheaper softwood tends to warp. It can stand out in the garden, or even dominate it, which may not be what you want.
Crazy paving, paving slabs or pavers
Paving slabs have been the usual choice for British patios and crazy paving seems to be making a retro appearance. This could be your thing! More modern slabs and pavers are available in different colours and they all offer a sound, level surface which is good for sunbathing and parties.
Paved surfaces don't need a lot of maintenance, just use a power washer or a stiff broom and outdoor disinfectant. Consult Tony McCormack, paving expert, of AJ McCormack and Son on the need (or not) for sealants.
Looking on the negative side, it is true that glasses and crockery are likely to break if dropped on paving.
A brick, stone or slate surface?
Slate might sometimes be a bit slippery and bricks can sometimes flake but these hard-wearing traditional materials can blend in nicely to their surroundings. Unfortunately, they can also be expensive.
Shingle or gravel and paving slabs of some kind
The contrast provided by these is very good. The slabs (you could also use slate or stone) are easy to walk on and the gravel or shingle provides texture.
Gravel is relatively cheap and very quick to lay (make sure you put down a permeable membrane). It's very good at absorbing rainwater. On the other hand, it can spread where it's not wanted, and it's difficult to wheel over.
Rachel de Thame outlines a few more useful materials here.
Now is the time to plan and implement your ideas for a new surface in the garden!
Enjoyed reading this?
Sign up for our emails below, so we can send you blogs on gardening tips, as well as updates on our sales, so you don't miss out on those garden furniture bargains!