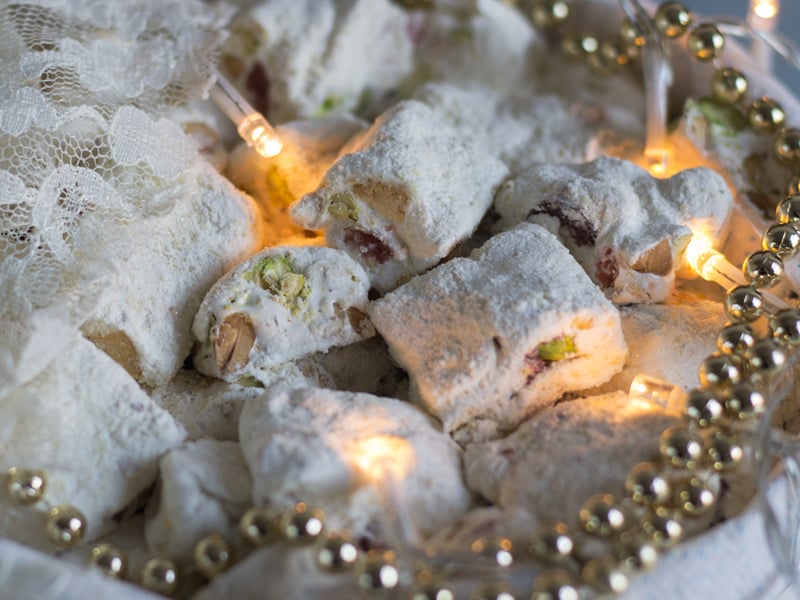 If you have ever wondered how to make nougat, then this recipe is for you. Proper nougat is a wonderful thing, but getting a hold of the good stuff is not always easy. The answer, as always, is to make your own.
This nougat recipe is not difficult, but you need to work quickly and not be afraid of a little sticky mess. OK, quite a lot of very sticky mess. An electric whisk or standing mixer is a must. A sugar thermometer is recommended for accuracy. And greaseproof paper.
How to make cherry and pistachio nougat
1 x 20cm non-stick square baking tin, lined with paper
150g blanched almonds
150g pistachio nuts
110ml cold water
225g granulated sugar
140ml runny honey
1.5 tbsp liquid glucose
100g halved glace cherries
2 tbsp ground almonds
2 tbsp icing sugar
Edible glitter optional
Roast the almonds at 180C for about 20 minutes or until golden.
Roughly chop the almonds and pistachios together and keep warm in a low oven.
Add the water to a medium sized saucepan, with the sugar, honey and glucose.
Bring the sugar to a boil over a gentle heat, giving it time to dissolve into syrup.
Once dissolved, turn up the heat, add the thermometer, and boil rapidly up to 160C or hard crack stage.
Meanwhile, beat the egg whites to form soft peaks.
Once the syrup reaches temperature, pour it gradually just off centre into the egg whites with the whisk running. Beat the hot sugar into the egg whites.
Keep beating until the mixture becomes so thick that the mixer struggles to beat.
Quickly mix in the nuts and the cherries.
Scrape the mixture into the prepared tin.
Smooth another sheet of paper over the top, weight down with another tin, and leave to cool completely.
Mix the ground almonds and icing sugar together, with the glitter if using. Scatter half over the work surface.
Remove the weights and the top sheet of greaseproof. Tip out onto the surface.
Peel away the rest of the paper, cover with the rest of the almond sugar mixture.
Slice into squares and store in bags or a give as a gift in a pretty box.
Enjoyed reading this?
Sign up for our emails below, so we can send you blogs on gardening tips, as well as updates on our sales, so you don't miss out on those garden furniture bargains!