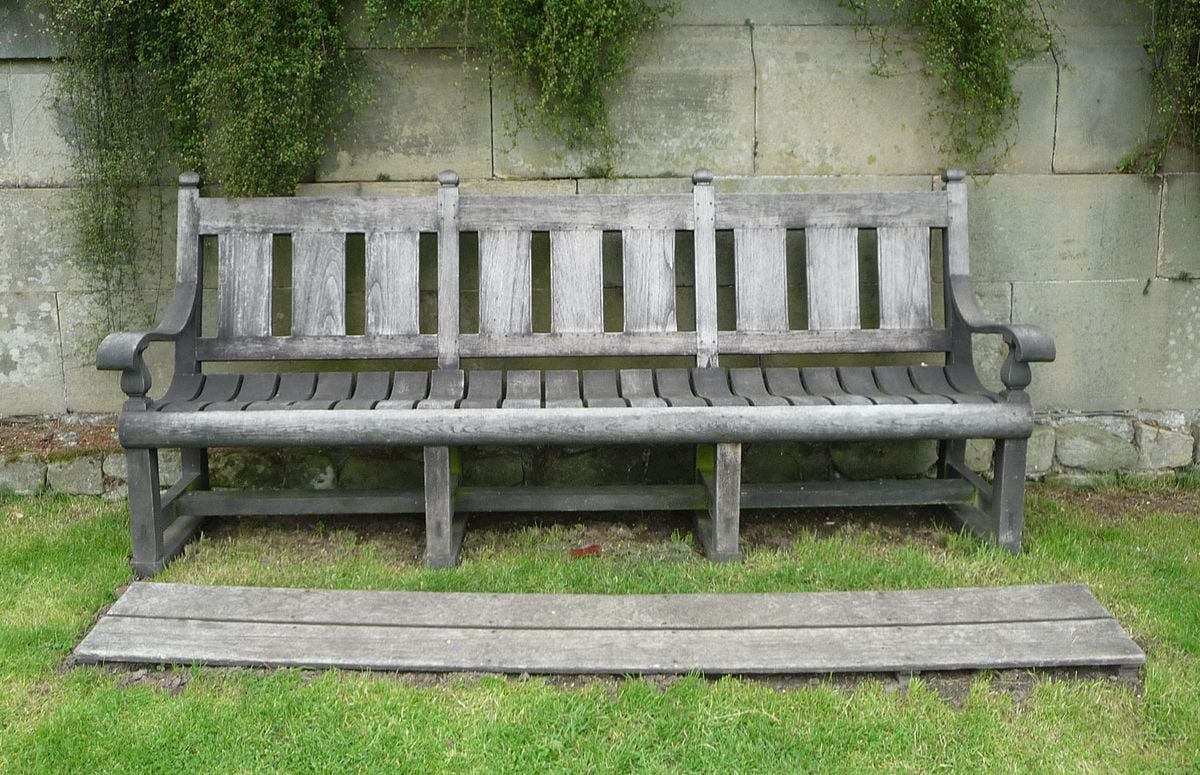 The clocks have gone back and the leaves are coming off the trees. Like it or not, we're doing less and less sitting out in the garden.
Garden furniture and BBQs are an investment and we want them to be in good condition next year. What's the best way of looking after them until spring is here again?
Looking after your wooden garden bench
Your wooden garden bench is best left out in the open air. Don't put it under a plastic cover as this will trap moisture which can cause rot and encourage mould. This means, of course, that the bench will be all ready for you and your cup of coffee whenever there's a sunny midwinter morning.
Garden benches are usually made out of hardwoods such as teak. This is so hard that it doesn't need any preservative and, as it ages naturally, it develops a beautiful silver patina and looks very good. Give it a scrub once or twice a year to get rid of any dirt. If you prefer the honey-coloured look you'll have to sand and then oil the timber with teak oil.
Looking after your rattan garden furniture
Rattan garden furniture is made of synthetic rattan on an aluminium frame. To store the furniture for winter, wash it with soapy water, like you've been doing through the summer and allow it to dry. Then store it somewhere warm and dry, like a garage or spare room, to avoid mould and mildew which are difficult to get rid of and can be damaging. The furniture covers will protect it from dust and dirt but, every so often, take them off and put your furniture in direct sunlight as a additional way of avoiding these annoying fungi.
Looking after your BBQ in the winter
Clean it
It's essential to clean your barbecue properly before putting it away for the winter. Yes, it can be a miserable job but better this than being faced with rust or rot, mould or mildew, hardened grease or elderly embers in the spring. And perhaps bacteria, leading to food poisoning and …. Well, you get the picture so we shan't go there!
Calor offers advice on cleaning your BBQ.
Protect it from damp and rust
Store your BBQ in a shed or garage, away from rain, frost and freezing temperatures. If this isn't possible, buy a well fitting cover with strong ties so it won't blow off in the wind. You could also use a rope to tie it on.
Treat different grills differently to prevent any damage where rust can take hold.
Cast-iron grills rust easily unless they're kept seasoned. Clean the grill with warm soapy water and use wire wool to remove any rust, dry thoroughly and then wipe over with a highly saturated solid fat such as lard or palm oil. Put them back in the BBQ with the burners on medium heat for a while, then leave to cool before storing.
Clean stainless-steel grills with a steel brush and warm soapy water. Dry and apply a light layer of vegetable oil before storing them away.
Wash chrome-coated wire grills with hot, soapy water. Use a chrome cleaner if necessary but don't use wire wool which can damage the surface. Rinse and dry, and then wipe with cooking oil.
Check the gas bottle and hose and store carefully
Check the rubber hose that connects the gas bottle to the BBQ for kinks, splits and any signs it's perishing. Remove any fat or oil deposits. Order a replacement hose before next spring, if necessary. Store the hose away from frost and direct sunlight.
Store gas bottles in an upright position in a well-ventilated place or outdoors. This should be away from:
direct sunlight
heat and ignition sources
any corrosive, toxic or oxidant material
building entrances or exits
drains
frost.
Gas bottles should not be stored below ground level.
Spring will soon be here!
And then you can get out your your garden furniture again and your clean BBQ, ready for grilling.
Enjoyed reading this?
Sign up for our emails below, so we can send you blogs on gardening tips, as well as updates on our sales, so you don't miss out on those garden furniture bargains!