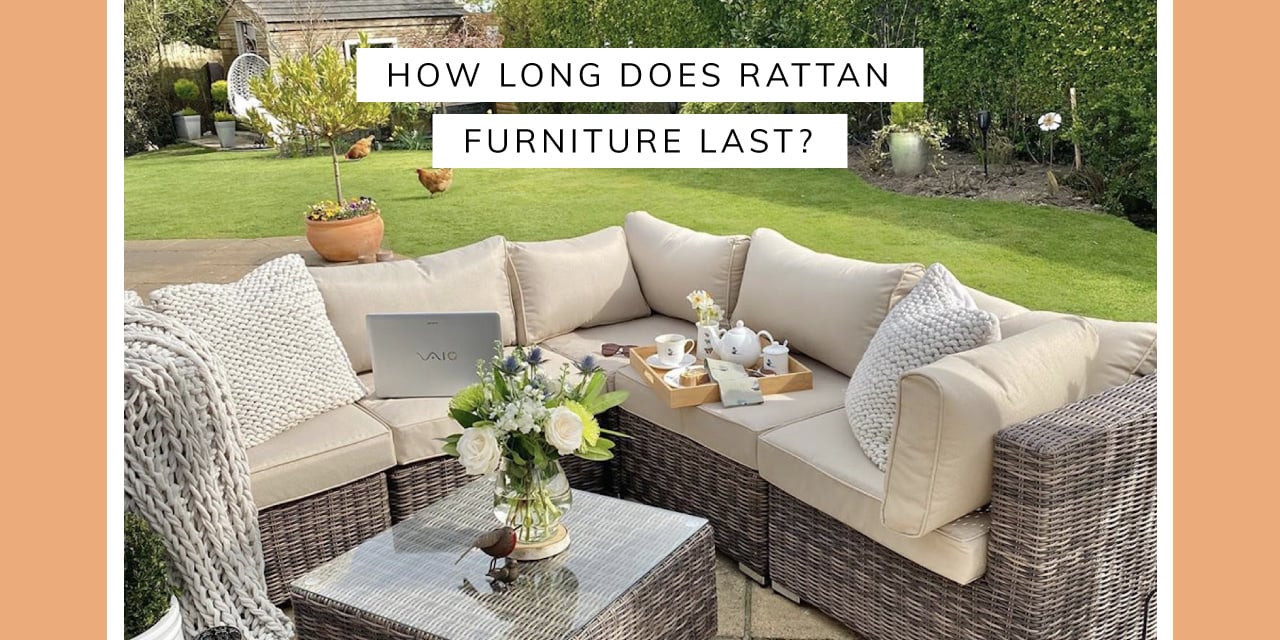 This post will take you through everything you need to know about how long rattan furniture will last, with helpful tips about the different materials used for indoor and outdoor rattan pieces, as well as how to clean and care for your furniture.
How long does rattan furniture last outdoors?
How long your rattan garden furniture will last is dependent on where you keep it in the summer and winter months, and how well you look after it.
The beauty of rattan furniture is that it doesn't require too much looking after, so with minimal effort, you could be enjoying your furniture for twenty-plus years.
If you want your rattan furniture to last longer, there are some things you can do that will help you keep it in good condition year after year.
How do I know my furniture can be used outdoors?
Before purchasing your furniture, whether that be online or in store, you need to understand what it is made from. Our sets are made from long-lasting materials that make them the ideal pieces to be used outdoors.
Take a look at the benefits of rattan direct furniture below:
Weatherproof weave - Our Rattan is a high-quality advanced resin weave that is UV-resistant, anti-fade and anti-mould meaning you're covered across the seasons.
Lightweight sets - The lightweight material on this product ensures manoeuvring can be done without breaking a sweat.
Designed in-house – Our specialist team design all of our sets in-house to ensure each set is designed specifically to our matching standards.
Anti-rust frame - Lightweight but strong – our premium built aluminium frames ensure practicality, durability and are powder coated to make them completely anti-rust.
Keep it covered when it's not in use
One of the most important ways to keep your rattan furniture looking fabulous for longer, and to extend its lifespan significantly, is to make sure that it is covered when it's not in use.
This primarily goes for the colder months, so now is probably the best time for you to cover it, whether that be with one of our free covers, or locked away in a storage space.
A cover is going to be the easiest way to keep your outdoor furniture safe, and luckily for you, we supply for free with most of our sets. The covers prevent mould from building on the sets and prevent water and potentially snow from sitting on the furniture, causing it to become damaged.
Cleaning your outdoor furniture
If you notice a spillage or stain on your rattan furniture, don't panic. Most stains can be removed with relative ease, if you act quickly.
Removing stains when you first notice them is essential for if you want your rattan furniture to last a long time, failing to do so could result in the stain being impossible to get rid of later on.
Top tip: to remove a stain from your rattan furniture, mix some mild detergent with some water and gently scrub out the stain.
Not sure what type of furniture you want to buy? Visit our rattan buying guide here.
How long does rattan furniture last indoors?
Having read how to keep your outdoor furniture long-lasting, you'll now need to know about our conservatory pieces. Our indoor furniture is made from a different rattan material, this time a natural abaca or wicker wave, unlike the synthetic one used for our outdoor sets. Natural rattan is designed for indoor use in the conservatory or anywhere in your home, although its inside it still needs regular care. Unlike the outdoor sets, the indoor sets don't need to be covered over when not in use. Although, indoor sets will pick up dust so you should get into a routine of dusting the sets in order to keep it looking in good condition.
Cleaning your indoor furniture
Use a handheld vacuum or a brush attachment to remove loose dust and soil
Use a toothbrush, cocktail stick or any other fine tool to remove stubborn soil or debris
Using a bowl of warm, soapy water or a garden hose, remove all soil and debris and rub thoroughly
Collect only the bubbles with a soft cloth and wash the rattan surface with this
Use a toothbrush to apply the bubbles to cracks and crevices
Place the furniture outside in the sun, or a well-ventilated area and allow it to dry thoroughly
Can I use natural rattan outdoors?
In short, no. Natural rattan furniture should not be used outdoors, the wooden material when wet and cold will become brittle and break. The sun can also damage these natural wicker sets so under no circumstances should they be left outdoors.
For more information on rattan furniture sets and how to clean them, check out our clean and care guide for more helpful tips.
Enjoyed reading this?
Sign up for our emails below, so we can send you blogs on gardening tips, as well as updates on our sales, so you don't miss out on those garden furniture bargains!