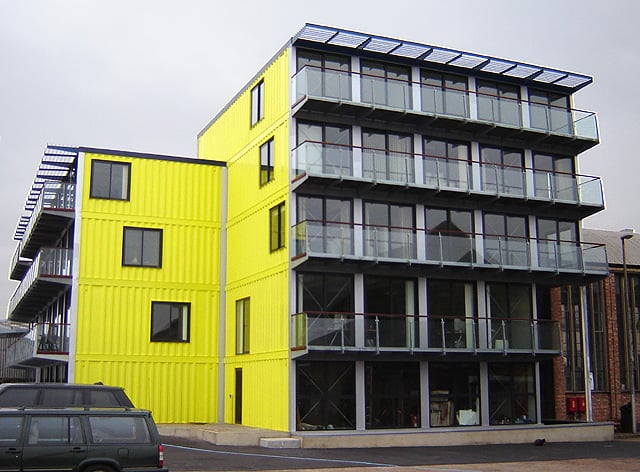 Modular architecture on World Architecture Day
Modular architecture is celebrated today for the part it plays in designing a better world. Its furniture cousin is also popular because it's simple, versatile and saves space.
Four things you can do with a modular system
Connect separate units together.
Customise standard basic units.
Add, take away or replace units without affecting the rest of the system.
Reconfigure components. A desk, for example, can turn into a bar. An emergency dwelling can turn into a hospital. Shipping containers can turn into living and working space (see picture below).
Modular architecture
Buildings can be put together quickly and easily from prefabricated units, often made of simple materials. They can be:
Modular furniture
This probably first saw the light of day when Harvey Probber invented modular, sectional seating in the 1940s. This very simple concept has gone on to be applied elsewhere in the home and office.
Four great things
A simple series of geometric shapes is straightforward and sleek.
Units can be rearranged for different environments and needs.
Furniture can often be stored in very small spaces.
Standardised furniture units can be customised.
The modular rattan chairs and footstools in our garden furniture cube sets come in different colours. They store neatly and compactly under the table, and can then be protected with an outdoor cover.
You start seeing it everywhere
Once you start thinking about modular furniture and architecture, you start to see it everywhere!
Enjoyed reading this?
Sign up for our emails below, so we can send you blogs on gardening tips, as well as updates on our sales, so you don't miss out on those garden furniture bargains!