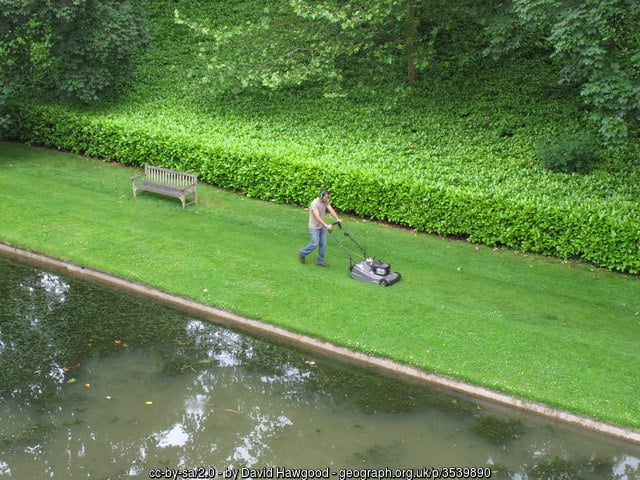 Mowing lawns
The sound of lawnmowers on sunny evenings means summer has arrived with me. Just as lawns are central to summer gardens, so is mowing them. Mowing lawns once a week is usual from May to September or October. In damp, warm weather grass grows faster and you may want to mow more often. In dry weather leave it to grow a little longer and mow less often (and put your feet up!).
If you have newly laid turf, make sure the turf has rooted firmly before you mow (or you will simply lift the turf off the soil). If the grass has grown tall while you waited, lift the mower blades to their highest setting for the first cut.
If you have new grass grown from seed, put the mower away! Once there is an even spread of grass about 5cm (2 inches) high, use sharp hand shears to nip the tops off. Cutting it like this encourages the plants to thicken out. Make sure your shears are sharp because young grass is not well rooted and blunt blades might simply bend and pull the grass out (I write from experience here!). Do this until the grass is thick and well rooted, then mow with the blades high for a week or two before including this area in the weekly mowing regime.
Weeding lawns
Mowing the grass will keep many weeds in check. A job for a sunny day (and knee pads) is to crawl over the lawn carefully digging out deep rooted weeds, such as docks and dandelions (unless like me you love the brilliant yellow dandelions….). You need an old blunt knife, or a long screwdriver, or buy the real thing called a 'daisy grubber'. You need to slide the blade in beside the root, twist and lift as much of the root out as you can without making a gaping hole in the turf (that's why you must not use a trowel for this job).
Watch out for ant nests
Ant nests often appear on lawns in May and June. Look out for small patches of fine, dry  crumbly soil among the grass, that grow to the size of a large egg cup or small tea cup. Mowing the lawn stops them growing to cushion size or larger. Look out for woodpeckers on the lawn because ants are a favourite foodstuff. Ant nests aren't too unsightly but to ensure you don't create muddy smears, rake or brush the soil into an even spread before you mow. Ants don't in general damage plants or lawns. But few gardeners, or those seeking a quiet sit down in your garden, like ants because red ants bite and black ants crawl over your feet and shoes. It's not very nice.
At the first sign of ant nests, flood the area with water. Stand with a watering can and pour the contents all over the place. And do it again the next day, and the day after, and the day after until there is no sign of ants rebuilding their nests. Old gardening lore suggests using hot water. Don't. It kills the grass as well as the ants and is a waste.
If ant nests show up at the edges of patios or paths,  do the water trick. Old gardening lore suggests that planting pennyroyal (Mentha pulegium) keeps ants away, and this does work. These lovely plants prefer a dampish spot so will not enjoy a warm, dry soil, but they are lovely to brush against as you sit in the sun.
Last chance to summer feed lawns
May is the latest time to summer feed lawns, and often the best time for cold areas and lawns on heavy or wet garden soil. But if you enjoyed a warm (or hot) and dry spell - do something different (anyone for a cuppa in the garden?). Because, as Alan Titchmarsh's great gardening book (The Gardener's Year) says: "hot, dry conditions and lawn feed don't mix".
In March I blogged about summer feeding lawns so if the weather where you are is right for summer feeding, read about what to do and how to do it there.
Prepare for tea on the lawn
Set up your garden chairs and parasol and enjoy the summer!
Enjoyed reading this?
Sign up for our emails below, so we can send you blogs on gardening tips, as well as updates on our sales, so you don't miss out on those garden furniture bargains!