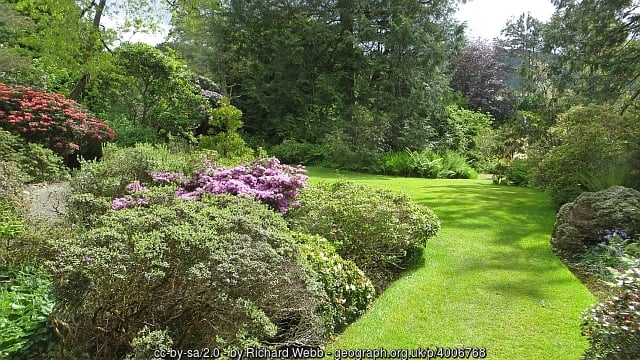 Untidy lawn edges say a garden is not cared for. And they make cutting the grass harder. Spring (and despite such a long winter, spring really is around the corner!) is a good time of year to reshape or rethink lawn edges. Here are some suggestions.
Create or renew lawn edges
Cutting lawn edges
Use a half-moon edging tool and simply neaten the edges of your existing lawn, cutting in about 5cm (2inches) from the (probably) shaggy edge of your border. To re-form or start a new straight, edge, lay a plank along the line you want and cut against it. For a curved edge, lay a rope or hose pipe where you want the edge to be and cut against it. This 'Gardeners World' advice sheet provides more information and clear pictures on how to DIY.
If the lawn meets a path use a sharp knife to cut back to the edge any grass that has grown over the path, and trim the grass edge with shears.
Adding lawn edges
If your lawn is always moving away from the edge you want it to have, consider adding 'edging strips' that hold the lawn in position. Buy purpose made wooden, plastic or metal 'edging strips' or rolls to create a neat edge. Use wooden planks for a rustic (and often a lower priced) straight lawn edge. For a cottage garden look, make an edge from reclaimed bricks, laid flat or at an angle. Grass cutting against bricks at an angle can be tricky but plants peeping or tumbling over look so pretty.
The trick with lawn edging with purpose-made strips, planks or flat bricks is that you make sure the tops are level with the surface of the lawn. That way they are not a trip hazard and cutting the grass is much easier.  Dig and hammer the edges deeply enough and firmly enough into the soil so that they won't lean as the lawn starts to grow towards a bed, border or path.
A wobbly edging strip looks worse than a wonky lawn edge.
As grass grows along these purpose-made edges, cut right up to the edge. Each winter or spring spend some time to ensure the edges remain tidy.
Repair broken lawn edges
Broken edges happen as borders tumble into lawns and lawns grow into borders. Now is the time for quick and easy repairs. Use a half-moon lawn edging tool to cut a square behind the section of turf that contains the broken edge. Push a sharp spade under the turf so you can lift it up. Turn the turf around so that a straight edge is on the edge, and the broken edge is inside the lawn. Fill in the gaps with sieved garden soil or potting compost, firm it down hard and re-seed with fresh grass seed.
Enjoyed reading this?
Sign up for our emails below, so we can send you blogs on gardening tips, as well as updates on our sales, so you don't miss out on those garden furniture bargains!