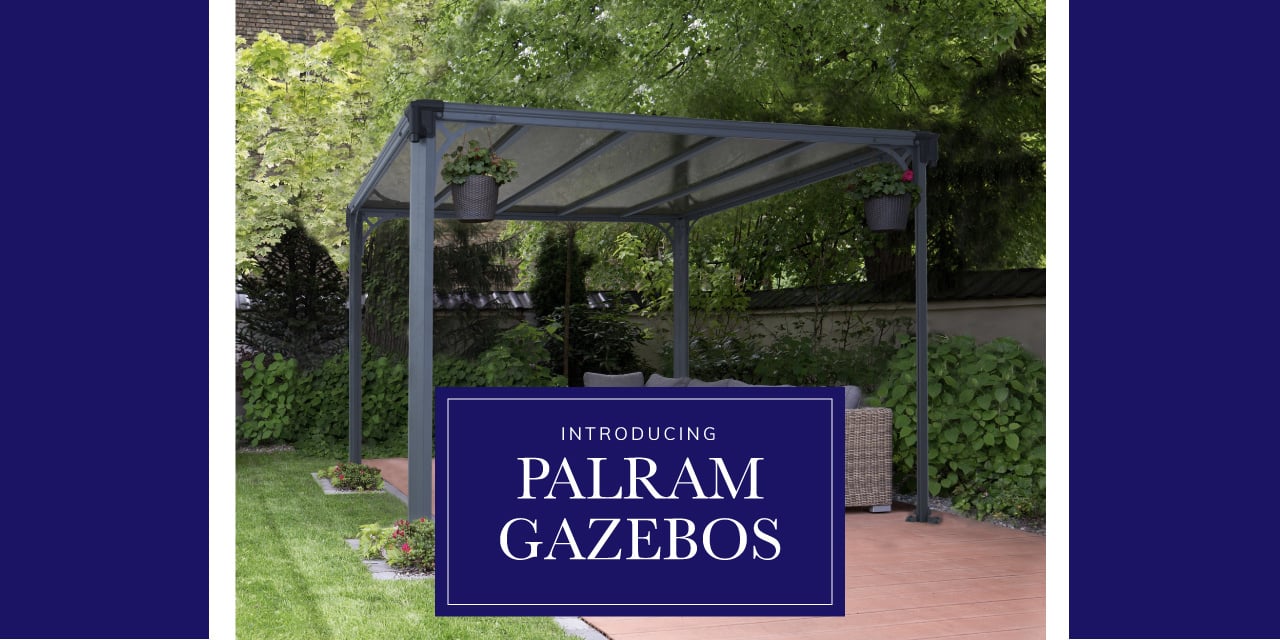 We're super-excited to let you all know about this gazebo range, a collection that'll transform your garden. If outdoor dining is your thing then these new gazebos will be the ideal choice for your garden, as they'll offer protection no matter what the weather is like.
Cosy on up with your nearest and dearest and add extra living space to your garden, with one of our many Palram gazebos. With easy-to-assemble kits delivered to your door, you can erect a Palram gazebo up in no time at all. The polycarbonate roof panels are UV protected so these gazebos won't begin to fade when they're sat in direct sunlight for long periods. Check out the new range below, we've handpicked some of our favourites, you can view them all here, but scroll down below to find a little bit more about our brand-new range. With such a huge choice, you've got a difficult decision to make - which is the perfect gazebo for your garden?
MARTINIQUE RANGE
We want your garden to be central to your summer this year, with holidays in doubt you can create a luxury look in your outdoor space with one of these gazebos. Choose a large Martinique gazebo like the one below and place a sofa or dining set beneath, which offers as the ideal spot to entertain.
The Martinique gazebos are a simple look, so if you're after something a little more out there, then check out the Monaco gazebo. Host those all important garden parties (socially distanced, of course) underneath this gazebo. With lockdown seemingly ongoing, for now, you should create an outdoor space that you've always dreamt of. We suggest you place a large dining set or sofa set beneath this gazebo and relax outdoors, all summer long. The hexagonal shape is bound to stand out, with an in-built guttering system your gazebo can provide water flow, should it rain.
MONACO RANGE
SIERRA RANGE
Bring protection to a dining set, play area or parking space with our Sierra range. This range is slightly different from our other gazebo pieces, as it attaches to an outside wall, and features a roof that allows for full outdoor protection. If 2020 was anything to go by then we'll likely be spending our summer holiday at home, so a structure like this will give you all the more reason to stay at home and enjoy the summer in your back garden.
VICTORY RANGE
Our outdoor gazebos aren't just for outdoor dining and entertaining, as the Victory range is a large greenhouse that makes growing plants and veg, super-easy. With two window vents in the roof, you'll be able to have constant airflow in this greenhouse. The greenhouse is eight feet tall, allowing you enough space to stand up. Make the most of your garden with this Victory design that'll change the look of your garden, for the better!
Now you've gotten to know about our new range, you've got to make a decision on which one you want for your garden. All of the Palram gazebos are now available online here. Find your favourite and transform your outdoor space with one of these must-have pieces.
Enjoyed reading this?
Sign up for our emails below, so we can send you blogs on gardening tips, as well as updates on our sales, so you don't miss out on those garden furniture bargains!