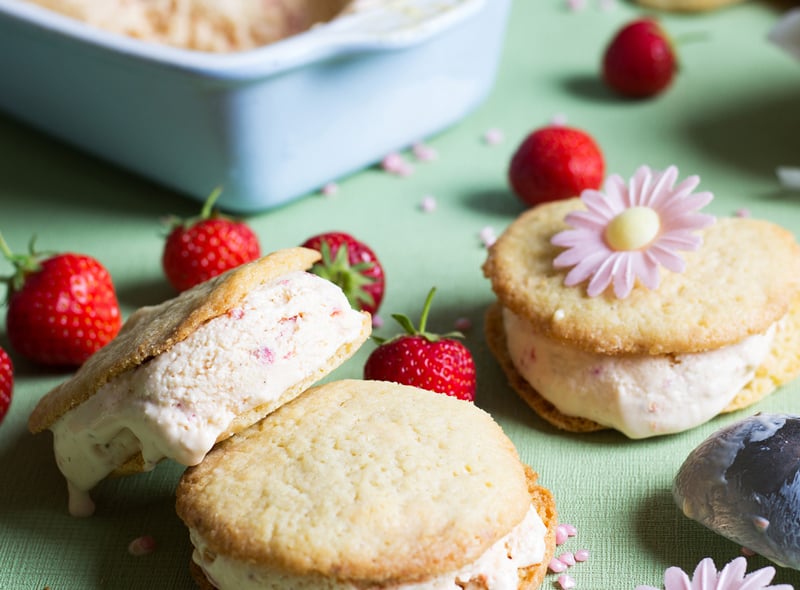 No matter how good, or expensive, your ice cream may be, nothing is quite comparable to the real thing, made at home, with fresh in season British strawberries. If you have an ice cream maker, then all well and good, if not then don't worry as it is really simple to do without. If you have any doubts following the method then you can see the video via our YouTube channel.
Make the ice cream first, get it in the freezer, and then the cookies. If you do not serve the ice cream sandwiches straight away, then they freeze well and can be eaten straight from the freezer. This also gives you a chance to tidy them up a bit with a cutter.
Recipe makes 12 ice cream sandwiches.
Ice cream needs 30 minutes' preparation and overnight freezing.
Cookies take 30 minutes to make, bake and cool.
Recipe for fresh strawberry ice cream
600g strawberries
175g caster sugar
2 tablespoons liquid glucose
1 vanilla pod
10 egg yolks
500 ml milk
500 ml double cream
1 tablespoon lemon juice
Remove the stalks from the strawberries and chop into quarters before sprinkling with some of the sugar and the lemon juice. Set them aside whilst you get on with the custard.
Pour the cream and milk into a large saucepan with the vanilla pod and bring almost to the boil. Set aside for the liquid to cool and the vanilla to infuse.
In a large bowl, whisk the egg yolks with the rest of the sugar and the liquid glucose before adding the now warm milk and cream. Pour it all back into the pan and heat very gently until it coats the back of a wooden spoon. The custard does not need to be as thick as you may think. It need only lightly coat the spoon and when you swipe a finger across it the line stays put. Once you are satisfied with the consistency, pour it into a clean bowl and leave to cool. Don't worry about skin.
Mash the strawberries and add, with the juice, to the custard. Pour into a lidded container to freeze or follow the instructions for your machine.
If you are freezing by hand, place the container in a stable part of the freezer and freeze until solid. Theoretically, you are supposed to stir it every hour to distribute the ice crystals but you really do not need to. The liquid glucose helps keep things soft, and the whip in the blender once frozen sorts things out nicely. If you work quickly, you may be able to go from blender to sandwich, but most likely you will need a quick freeze back to a more solid state.
Recipe for white chocolate chip cookies
I have followed the US convention of using cups to measure, but purely for the dry ingredients as I find it easier. Everything else is measured in grams or spoons.
2.25 cups plain flour
1/2 tsp baking powder
250 g unsalted block butter
1.5 cup golden caster sugar
1/2 tsp salt
2 tsp vanilla
2 large eggs
150 g white chocolate chunks
Pre heat the oven to 180C.
Using an electric hand whisk, or a free standing mixer, beat the butter and the sugars together until pale and creamy. Next, beat in the eggs, salt and vanilla.
Finally, fold in the flour and chocolate until well combined.
Drop scant tablespoons of mixture onto a baking tray, about 6 per tray, and bake in the oven for around 10 minutes.
The cookies are ready when they are starting to brown at the edges but the centre remains pale and soft. Remove to a wire rack to cool.
To serve, sandwich a scoop of ice cream between 2 cookies. They will freeze well to eat straight from the freezer too. If you are entertaining, then cut the frozen sandwiches into heart shapes and tie with a pretty ribbon.
Enjoyed reading this?
Sign up for our emails below, so we can send you blogs on gardening tips, as well as updates on our sales, so you don't miss out on those garden furniture bargains!