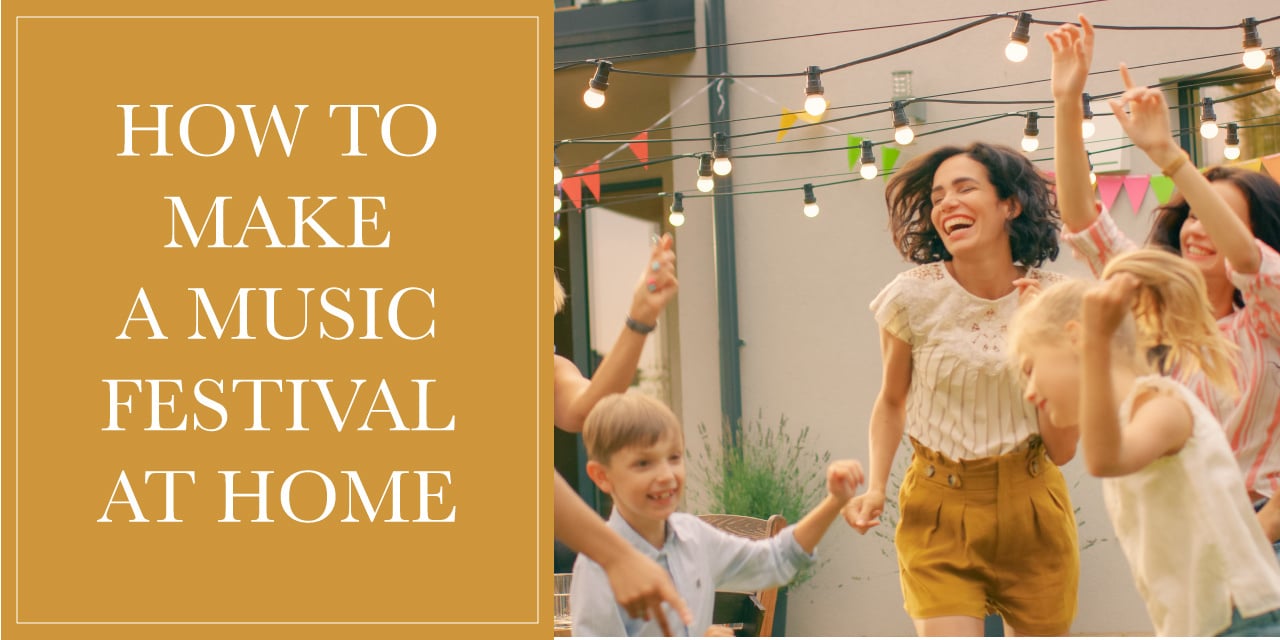 In 2020 music festivals in the UK were cancelled, and in 2021 music festivals are slowly coming back. Plenty of festivals are sadly still cancelled, and the tickets you had for events might not be of any use. So, we thought we'd put together a plan for you to host your own music festival at home. We take a look at music, food, drinks and decorations so you can create a super-cool music festival in your garden, with our festival party ideas.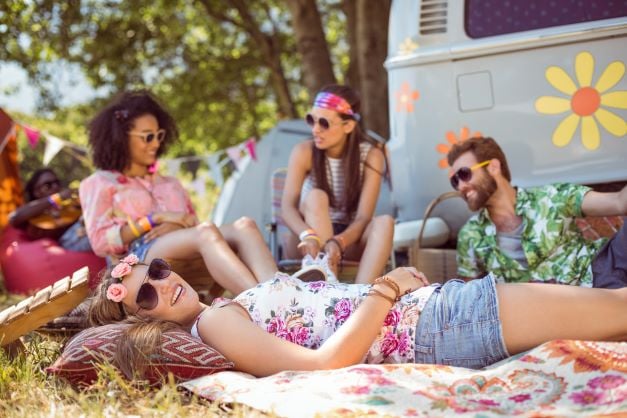 Music
Festivals are all about the music, it's the reason we travel up and down the country, with our bags full of beer, baby wipes and wellington boots. And if you're hosting a mini-festival in your garden you can go to town on creating a brilliant playlist for your garden festival. You can create your dream playlist, with your very own headliners, listen to this through your own speaker or share AirPods and have your own silent disco at home, Get your guests to create their own playlists, so they can feel a part of the day. 
Food
We all love a bit of festival food, and you can get some really tasty dishes when you're at UK music festivals. There are so many options that the 2-3 days that you would usually spend at a festival isn't long enough to sample all of the culinary delights on offer. The beauty of creating your own music festival at home is that you can make food for those picky eaters, while you can create some fabulous for yourself! We suggest a buffet or barbeque as these can be full of tasty dishes, while also being exciting for your little ones to tuck in. 
Festival Drinks
Booze, booze and more booze! It's what gets you through music festivals, especially if it's raining. The one thing you won't want to be doing )especially if you have lots of guests) is constantly serving up drinks. It can become tedious, so create a "self-serve" area that allows for your guests to tuck in whenever they please. To create a self-serve area you can either leave drinks on a table for your guests to use, or you can create a 'bucket' drink that makes the self serve option a little more fun. Poor your favourite cocktails and all the ingredients into a large bowl or if you want to go mad a large plastic container. Fill it with decorative fruits and top it up with ice to keep cool. Your guests can then dunk their glasses inside and serve themselves a stunning cocktail of your choice.
Music Festival Decorations/Styling
You want to create a real festival feel, and with our home festival ideas, you'll be able to do just that! The list below has everything you'll need and why you need them because without them your festival party won't be perfect.
Festival party ideas:
Chairs - You'll be dancing for hours on end, so you might want to take a quick 5 minutes to sit down. 
Gazebo/shelter - We do live in the UK so there is no guarantee that the weather will be perfect, and even if it is a little bit of shade will be needed.
Lights - This might be strobe lights so you have the full festival vibes, or fairy lights so when it starts to get a little darker you can create a cool atmosphere. 
Glow sticks - Is it really a festival without them? 
Tipi - Grab yourself a tipi like the one below, for a fun place for your kids to play as you dance the night away. 
Speaker - How could we forget? This is a necessity so you can blast your music.
Glitter - Go wild a glitter you and your friend's faces.
Camera - If you're wanting to get snaps of those glittery faces you'll need a camera, grab yourself a disposable one for some authentic pics. 
Tent - If you want to go all of for your music festival you and your guests can camp outside (you can always sneak back in if it gets too cold)
Enjoyed reading this?
Sign up for our emails below, so we can send you blogs on gardening tips, as well as updates on our sales, so you don't miss out on those garden furniture bargains!