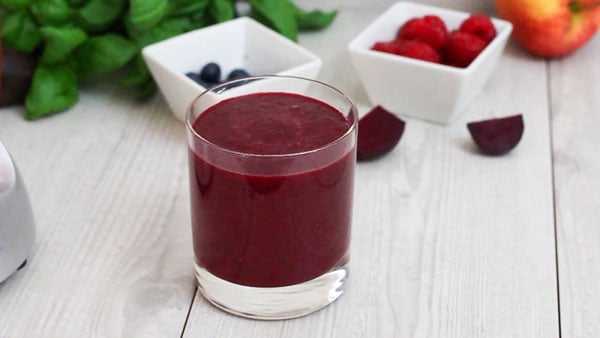 January means one thing: health kick. And the best way to get healthy stuff into your body, as you sluggishly wake up from hibernation, is to bundle as many colourful fruits and veg into a delicious smoothie recipe as possible. It's like a glass of health. A healthy smoothie can deliver a good dose of fibre, minerals and vitamins and two of your five a day in one glass! Another excellent thing about smoothies is that you can sneak in vegetables like carrots, celery and spinach, without being able to taste them. This can make them your secret health weapon to give to the kids when they need a boost of Vitamin C.
The key to an epic smoothie is ensuring that the majority of the ingredients have a bold, vibrant colour. Phytochemicals, are a biological compound found in plants; it's what gives watermelon a lovely pinky-red flesh and blueberries their dark purple tone. Anything with a strong colour like this, is full of fibre, minerals and vitamins. All the good stuff that keeps your body working at its best. In some foods, such as beetroot, onion and blueberry, the phytochemical is so strong, the food can be used as a natural dye for clothing.
You can add incredibly rich and nutritious powders to your smoothies, such as spirulina, full of B vitamins, zinc and magnesium. Alternatively, use hemp powder, which boasts twenty amino acids. Or if you're spending a lot of time at the gym, add a scoop of your favourite protein powder to your post-workout smoothie.
An essential tool for becoming a lean, mean smoothie drinking machine, is of course a decent blender. The NutriBullet has established quite a name for itself, as it blends quickly and the plastic tumbler is detachable, so you can whizz up your ingredients and take the container with you, making it the ideal tool for any busy bees. However, many similar, unbranded blenders are available from Amazon, without the price tag. Just make sure your blender can handle a few cubes of ice, as many old school blenders can't handle anything too solid.
Berry, Beetroot and Ginger Smoothie
A healthy smoothie like this can blast any cold or flu away, and is chock-full with anti-oxidants due to the deep colour of the berries and beetroot. Beetroot is also the number one vegetable for cleansing the body. Similarly, ginger is among the most healthy spices you can use to really give your good a kick. Always try and use fresh root ginger, it even smells like it has magical powers. Ginger is famous for helping with nausea, especially morning sickness, but it can also be used to help menstrual cramps and chronic indigestion. Apple delivers a good dose of soluble fibre that also helps to remove toxins from the body.
This is in every way, a super smoothie; it could probably even help you fight crime. Or just set you up for a really good day.
1 apple
100g raw beetroot, peeled and chopped
75g blueberries
75g raspberries
1 inch ginger, peeled
200ml (roughly) water
Blend the lot together in a blender or smoothie maker. You may want to thin the consistency down further. The powerful bullet type smoothie makers really do give the best results as they obliterate any trace of seeds or fibres.
Enjoyed reading this?
Sign up for our emails below, so we can send you blogs on gardening tips, as well as updates on our sales, so you don't miss out on those garden furniture bargains!