Halloween cocktails
So, Halloween is upon us once more and with it comes every bit of madness and mayhem we can muster. Well, any excuse for a party.
On the one night of the year where anything less than garish is deemed a capital offence, we bring you our selection of ghoulish cocktails to get the party started. Largely chosen because of their colour attributes, although they taste great too, these Halloween cocktails will get everyone talking.
The range of Halloween items on sale this year is undoubtedly bigger than ever, and you will find all sorts of things to liven up your cocktail making with novelty straws, glasses and glass clings.
You will find a step by step video guide to making these Halloween cocktails, over on our YouTube channel.
The Bloody Martini
A classic super dry martini is given a vampish yet stylish look with some awesome edible fake blood. Made with liquid glucose and food colouring powder, the blood not only sticks but tastes great too. For a less dry martini, alter the ratio of the vermouth.
For a Bloody Martini, you will need:
Type of glass = cocktail
2 tablespoons of liquid glucose
1 teaspoon of red powder food colouring
Handful of ice cubes
5 mls dry vermouth
50 mls of gin
Method: Freeze the glass. Mix two tablespoons of liquid glucose and one teaspoon of red powder food colouring into a thick paste. Dip and roll the glass in the resulting sludge. If you run the rim under the cold tap now, the blood will set, but in this instance, you want it to drip. Add the ice to the glass, gently stir or shake the gin and vermouth together, before pouring over the ice.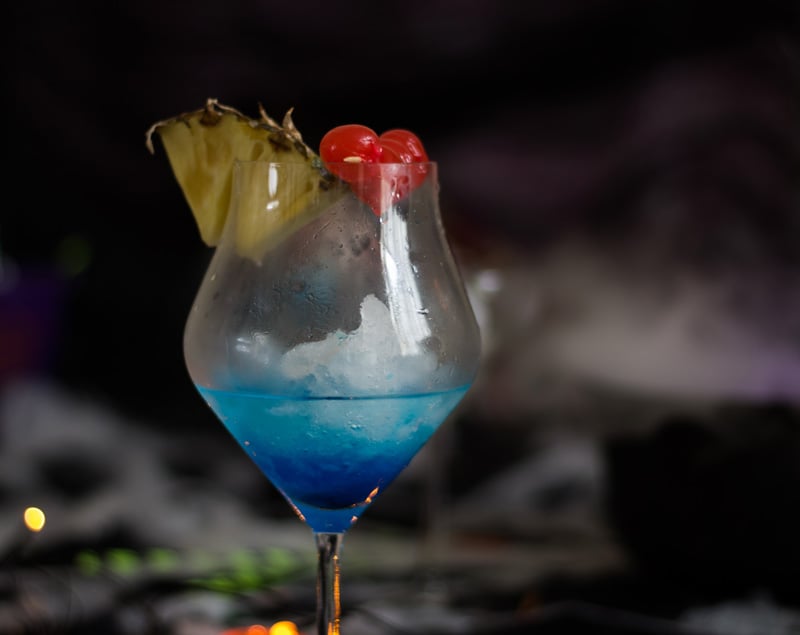 The Titanic
For a Titanic, you will need:
This one is just such a gorgeous colour and is delightfully retro to boot. Our version has no mixer, just ice cold alcohol, but you can add pineapple juice if you wish. Pour the pineapple juice over very slowly and you should get an ombre effect.
Type of glass = small hurricane or goblet
1 measure of blue curacao
Crushed ice (this can be done in a strong food processor)
1 measure light rum
2 measures of coconut rum
Chunk of pineapple and maraschino cherries for decoration
Pineapple juice – optional
Method: Freeze the glass. You can crush the ice in a strong processor or blender such as a Nutribullet. Failing that, put the ice in a tea towel and bash to a powder with a rolling pin or hammer. Fill the glass with ice, pour over the blue spirit and then the rums. Top with pineapple juice if you want a longer drink. Garnish with pineapple and cherries for a retro look, or choose your own garnishes.
Ghostly Pale
This is a lovely ethereal looking drink that is not too heavy on the alcohol either. Served in a margarita glass it has a wraith like elegance rather than a bolt through the neck. A drink for a corpse bride perhaps.
For a Ghostly Pale, you will need:
Type of glass = margarita
Glucose syrup
Crushed boiled sweets (we used a Halloween lolly)
1 bottle of pink fizz
Pomegranate juice
Crushed ice
Method: Freeze the glass. Rim with glucose syrup and dip in the crushed sweets. Fill with crushed ice, pour over pink fizz and top up with a dash of pomegranate juice, staining the ice as you go.
Zombie Sunset
A non-alcoholic offering that makes the most of the fake blood effect to decorate a plastic fang garnish. Instead of mixing the paste, add liquid glucose to the fake teeth and dip into the red powder. Dip into water to activate the colour and set the fake blood. Stick a spider to the glass with the liquid glucose. It won't stick forever and will fall off, which is quite a nice touch rather than a design flaw. Honest.
For a Zombie Sunset, you will need:
Type of glass = hurricane
Fresh orange juice
Cranberry juice
Glucose syrup
Red food colour powder
Plastic fangs
Spiders
Method: Pour orange juice into the decorated glass, to just over half way. Get a spoon, and place upside down just above the surface of the juice, touching the side of the glass. Pour the cranberry juice slowly over the spoon where it meets the glass, keeping the spoon above the surface of the liquid.
Enjoyed reading this?
Sign up for our emails below, so we can send you blogs on gardening tips, as well as updates on our sales, so you don't miss out on those garden furniture bargains!